Best Bank Accounts for Freelancers and Self-Employed
Written by:
Trevor Mahoney
8 min

read
197 Views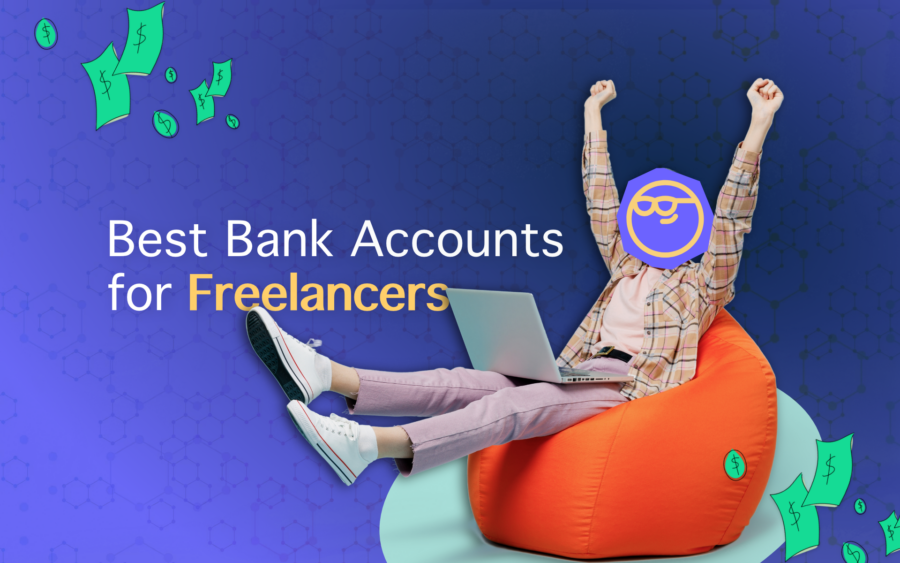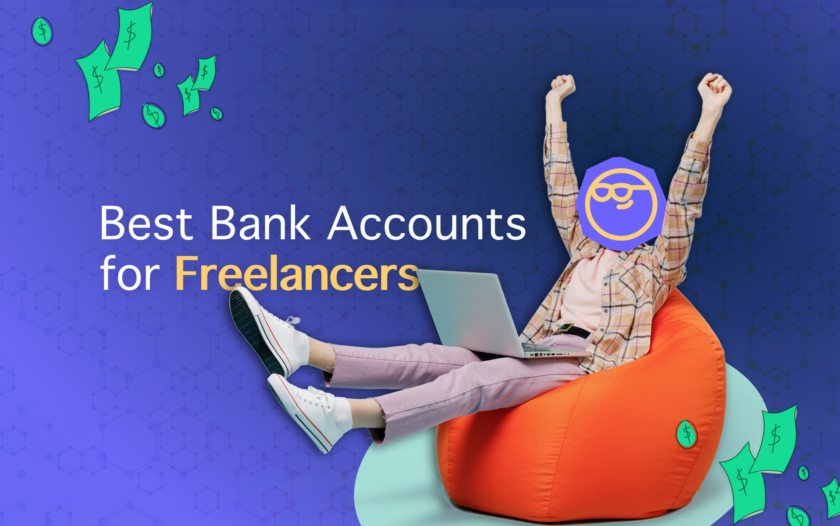 At a Glance
Following the Covid-19 pandemic, remote work exploded in popularity around the world. While many workers have returned to offices since then, a large number of people tasted the lifestyle of remote work and decided to stay. This has led to a steady rise in self-employment and gig economies. As more people begin to grow their businesses, though, it may become necessary to have a business bank account. Learning the best bank for freelancers can help a person set their business up for success.
In this article, you'll learn:
Comparing the best banks for freelancers
Determining which bank offers the best services for your business can be challenging, but the following summary table of some of the best bank accounts for freelancers options can help a person narrow down their decision:
| Bank | APY | Fees | Minimum Deposit |
| --- | --- | --- | --- |
| Chase | N/A | $15/Month | $0 |
| Wells Fargo | N/A | $10/Month | $25 |
| Bank of America | N/A | $16/Month | $100 |
| Novo | N/A | $0 | $50 |
| LendingClub | 1.50% | $10/Month | $100 |
| Axos | N/A | $0 | $0 |
| Blue Vine | 2.00% | $0 | $0 |
Featured Checking Accounts from our partners
Advertiser Disclosure
A closer look at the top banks for side hustlers
Even after reviewing the above information, it may not be abundantly clear which bank offers the best services for your self-employed business needs. To that end, review the following key specific details for each account which can help ease the decision-making process:
Chase
Key features:
The Chase Business Complete Banking account offered by JPMorgan Chase & Co is excellent for those just getting started with their business. Specifically, this account doesn't come with an APY, but it does feature free cash deposits and a $300 sign-up bonus if the requirements are met. A major feature that also makes this one of the best banks for gig worker options is the $0 minimum opening deposit.
Pros:
There is no minimum amount required to open the account
There is a welcome bonus for new customers offered
A business banking account provides user access to the full suite of Chase services
Free cash deposits of up to $5,000 per month
Cons:
The monthly fee is only waived if a relatively large $2,000 minimum daily balance is held
The overdraft fees are relatively high
Wells Fargo
Key features:
Wells Fargo has gotten a lot of flak in the past which may turn people away from their small business banking options, but they offer three primary business accounts that are all effective. The basic account comes with a low $10/month service fee that can be waived by simply keeping $500 in your account daily or having a $1,000 average ledger balance. On top of this, there is no cash deposit processing fee on the first $5,000 deposited and no transaction fees on the first 100 transactions.
Pros:
The amount to waive the $10 monthly service fee is relatively low at just $500 in balances
There are no transactions fees on the first 100 transactions a person makes
Wells Fargo offers multiple business accounts which can help to scale a business
Cons:
The services offered by the account are relatively barebones
Bank of America
Key features:
When looking at the best bank for self-employed people, Bank of America should certainly catch your eye. Specifically, their Business Advantage Fundamentals Banking account should be an option to consider. Some of the standout features of this account include free cash deposits of up to $7,500 per month and impeccable customer support with extended hours. The overdraft fees on this account are also quite cheap at only $10. There is a $16 monthly fee that can be waived with a $5,000 minimum balance, though this may be high for those just getting their business started. The account offers a bonus of $200 at sign-up.
Pros:
Bank of America offers fee-free electronic transactions
There is a welcome bonus offered to those who sign up
The free cash deposit limit is far higher than other banks every month
Cons:
Waiving the $16 monthly fee is a challenge with $5,000 required as a minimum balance
Novo
Key features:
Novo is one of the best online banks for freelancers because it is genuinely free to have. There are no fees associated with the account beyond a $27 overdraft fee which is quite avoidable, and the $50 minimum opening deposit is low in comparison to other banks. The only downside to this bank account is the fact that you will not be able to earn interest on your funds, but the free nature of the account more than makes up for this. There are also trusted by hundreds of thousands of businesses currently, going to show their success in the small business market.
Pros:
The account is completely free of standard fees
There is a low minimum account opening deposit as compared to other banks
Hundreds of thousands of small business customers use their services
Cons:
There is an overdraft fee
The account does not earn any interest on balances
LendingClub
Key features:
LendingClub is a lesser known bank option for freelancers but is one that should certainly be considered. Their Tailored Checking account is one of the only accounts on this list that earns interest, with a rate of 1.50% with a $0 minimum balance to earn making this an enticing option. The $10 monthly service fee can be waived with just a $500 minimum balance, and unlimited free cash deposits only bolster this brand. Unfortunately, there is no sign-up bonus for this account.
Pros:
The $10 monthly service fee is easy to waive with a $500 balance
There is an unlimited 1.50% APY on balances up to $100,000 and 0.10% on all balances after that
Users can earn 1% cash back on debit card purchases
Cons:
The minimum deposit to open the account is higher than other options on this list
To earn the cash back rewards a person must have $500 in their account and actively be waiving the monthly fee
Axos
Key features:
The Axos Bank Basic Business Checking account is the bank for freelancers to consider when a simple option is all that is required. With a $0 monthly service fee, $0 minimum deposit to open, welcome bonus of $200, and unlimited free cash deposits, this account has everything a small business owner may need. It sadly does not earn a person any interest on their balances.
Pros:
There are no fees associated with this account beyond overdraft
There are unlimited free cash deposits offered on the account
There is a $200 welcome bonus to new joiners
There is no account opening deposit required
Cons:
The account does not earn any interest
BlueVine
Key features:
The Bluevine Business Checking account takes everything offered by Axos and expands on it by adding a 2% APY on a minimum balance of $0, making it stiff competition for the formerly mentioned bank. There is a $0 monthly service fee and $0 minimum deposit to open the account, along with no overdraft fees. However, the main downside to this account is a $4.95 fee per cash deposit which may make this account not ideal for small business owners with a lot of cash on hand.
Pros:
There are no fees associated with the account whatsoever
Interest is earned at a rate of 2.0% APY on up to $250,000
There are no fees at MoneyPass ATMs
Cons:
Cash deposits are not free
There is no sign-up bonus offered
How to choose the best freelancer bank account
After reading up on each of the above options for the best bank for gig workers, it's normal to still be unsure which is best for you. That's why looking at some of the top criteria for making your decision is important:
1. Eligibility
First and foremost, a business owner must look at whether or not they qualify to open the account they are looking at. Different banks will have different policies which must be met to open an account, so reading up on these requirements can help you narrow down the list of banks you are eligible to bank with.
2. Features
After determining if you are eligible to bank with certain providers, take a look at the features offered by bank accounts you are considering. Looking at a bank account as more than just a place to store money is a helpful way to find an account that actually provides meaningful services to you.
3. Fees
Whether it's an overdraft fee, monthly service fee, or fees on cash deposits, there are many fees with bank accounts that can become cumbersome to small business owners. Read up on the fees applied to certain accounts you are considering to see if they are too large to justify opening the account.
4. ATM network
Different accounts use different ATM networks, and if there is not a network in your area then you will be unable to use the account. Read the network that is used with the bank account so you can determine if it will work with those in your area.
5. Cash deposits
Different businesses have different needs and it's perfectly reasonable to assume that a business may have a large number of cash deposits. If this is the case, it's better to go with an account that doesn't charge for these deposits.
6. Savings
Finally, some accounts will offer interest on the balances in an account which can be a strong pro for many business owners. However, if you don't anticipate that you will carry many balances in the account then this may not matter as much to you and shouldn't be considered.
FAQs