Best Pet Sitting Apps and Sites for Finding Gigs
Written by:
Caitlyn Callahan
9 min

read
427 Views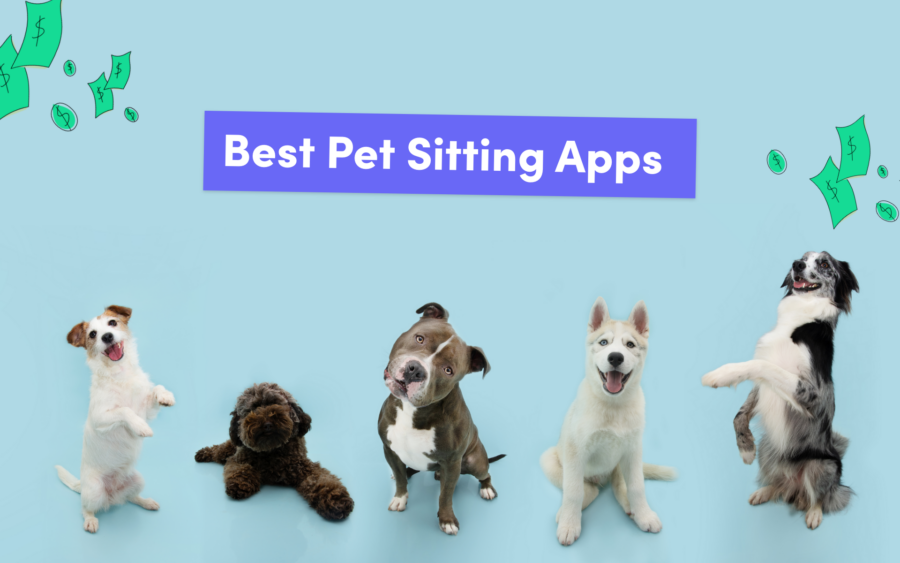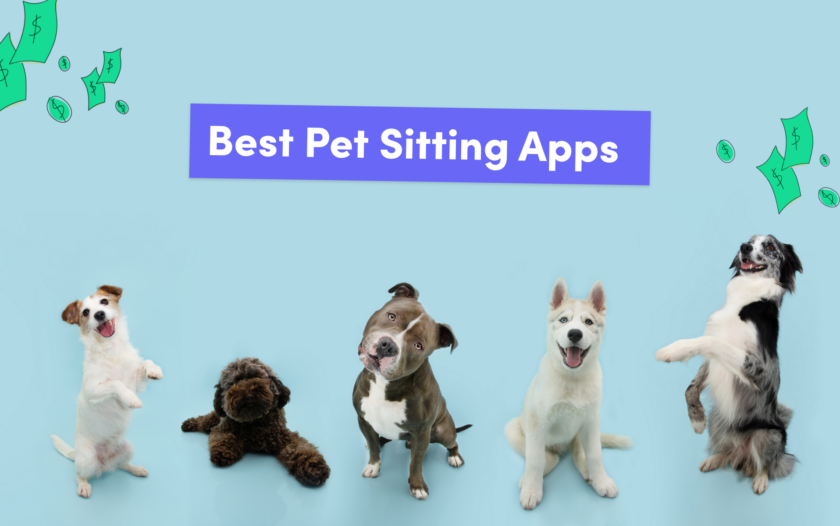 At a Glance
If you're an animal lover, it doesn't get much better than getting paid to hang out with pets all day. Services like dog walking, check-ins, overnight boarding, and more are in high demand, but being a pet sitter is also quite competitive.
Job perks include setting your own schedule and rates, and choosing which jobs you're interested in. The variety of pet sitting apps and sites out there make it easier than ever to land pet sitting jobs. However, there are some upsides and downsides to them depending on what you're looking for.
In this article, you'll learn:
Best apps and sites to find pet sitting jobs
Our top eight apps and sites for finding pet sitting jobs include:
1. Rover
Earning potential: $25-50 per night; $25-30 per hour
Founded in 2011, the Rover app and website connect pet parents with pet sitters and walkers across the U.S., Canada, the UK, and Europe. They are in more than 24,000 neighborhoods around the world with more than 2 million users. Rover lets pet owners find boarding, house sitting, dog walking, doggy daycare, drop-in visits, and dog training. They can search for care providers, read reviews, and pick a sitter who matches their needs. Then, all bookings and payments go through Rover.
Pet sitters must pass a background check, provide detailed profiles and personal information, and be approved by a team of sitter specialists. You must be at least 18 years old. And, be sure to check your local area for licensing and certification requirements.
Rover sitters can set their schedule and prices, offer any combination of pet care services, and set size, age, and other pet preferences that work for you. Rover offers The Rover Guarantee, which includes up to $25,000 in vet care reimbursement, 24/7 support (including vet assistance), and an easy-to-use app that makes managing your schedule simple.
Average earnings depend on the job you do, but boarding services earn the most. Unfortunately, there is a 20% commission fee. The average part-time salary reported is about $1,000 ($800 after the 20% fee) per month, while full-time is about $3,300 per month ($2,640 after the fee).
2. Wag
Earning potential: Up to $500 a month (sitting dogs 3x per week)
On average, the cost of an overnight stay for one dog is $39-59. Each dog costs an additional $24 per night.
If you're interested in being a dog walker, sitter, or trainer, consider Wag. With more than 400,000 pet caregivers completing more than 12 million pet care services across 5,300 cities in the U.S., it may not be surprising that 99% of Wag services result in a 5-star review.
Wag allows you to set your schedule and offers instant pay, real-time GPS tracking, automatic report cards, and live chat with clients. Services booked on the Wag platform may also be protected with up to $1 million in property damage protection.
To sign up, you must be 18 years old, pass a pet safety quiz, pay the sign-up fee, pass a background check, and sign the user agreement. On average, it can take 3-14 days for the background check process
Unfortunately, Wag takes a 40% cut for walks, drop-ins, boardings, and sittings, and a 30% fee for in-home and digital training services. However, sitters do get to keep 100% of their tips. How much you can make depends on your rates, how many appointments you complete each week, and the cost of living in your area.
3. Care.com
Earning potential: $11-18/hour pet walking; $13-20/hour pet sitting
Care.com offers a variety of caregiving needs, including pet care services like pet sitting, dog talking, training, and grooming.
Caregivers must complete a CareCheck (background check) to interact with families and are subject to recurring checks. You must also be at least 18 years old. Choose whether you want to work full- or part-time and set your rate.
Browse existing pet-sitting jobs and apply online, or create your profile and let customers come to you. The average pay is $11 per hour, but you can make more if you have special experience. Earnings also depend on where you live and whether you offer pet-sitting or pet-walking services.
Care.com says caregivers keep 100% of their earnings, but you may have to pay extra fees for background checks and membership plans (basic membership isn't free).
4. PetBacker
Earning potential: $20-40 per day (One to two 30-minute visits)
PetBacker offers services like boarding, walking, grooming, pet sitting, pet daycare, training, and even a pet taxi. Available in 50 countries, the app provides at least five recommendations for dog parents when they are looking for services.
There are no sign-up charges, and sitters set their schedules, prices, and requirements for their services. Once your listing is live, you can start accepting jobs. The mobile app provides instant notifications, and real-time dog walk reporting, and you can reply to jobs from anywhere.
PetBacker doesn't charge any upfront or ongoing fees, but does charge a 15-25% service fee from the amount quoted that will be charged after you win and complete the request, but the Terms of Use state you can get a reduced fee by logging in at least once per month. You can also avoid service fees by using Zelle to receive your payments.
One downside for pet parents is that this app does not undergo background checks. They do, however, offer premium protection coverage insurance should anything happen to a pet while in your care.
5. PetSitter.com
Earning potential: $10-20 per visit; $60 per night
More than one million people use PetSitter.com, and with different filtering options and search tools, it's easy to find a relevant, top-rated sitter for every occasion. Services can include boarding, walking, house calls, overnight care, feeding, grooming, and training (though pet sitting, overnight care, and dog walking are the most popular and competitive).
To become a pet sitter, simply complete and post your profile, view and apply to jobs posted or wait for customers to contact you, and get hired. Set your rates, though some gigs will have a fixed price, and for others, you're able to negotiate a rate. Prices vary, but $10-20 is typical for a visit, or $60 per night.
To create a profile, you must be at least 13 years old (with the permission of a parent or legal guardian), be legally permitted to work in your jurisdiction, and not have been the subject of a complaint, restraining order, or other legal action/criminal offense including anything that involves the safety of others.
6. Meowtel
Earning potential: $20 for 20 minutes
If you love cats, Meowtel may be the right site for you. With more than 25,000 clients and 2,400 cat sitters worldwide, it's the #1 cat sitting app in the U.S. Every reservation comes with a free meet and greet and premium insurance coverage (for visits at or above $20). Meowtel offers drop-in visits (1, 2, or 3x per day) or overnight status.
To become a Meowtel sitter, create your free account and showcase your cat's experience and knowledge. You'll be asked to submit two professional references and a background check will be completed. Then, once approved, you can set your rates and availability, though rates are all-inclusive and include food/water refresh, playtime and cuddles, litter box scooping, and message and photo updates.
Know that Meowtel takes its services seriously, and fewer than 10% of submitted profiles make it onto the site.
According to the site, prices start at $20 for 20 minutes of in-home cat sitting, but rates vary depending on the location and time of year.
7. Fetch!
Earning potential: $18-25 per hour
Fetch! offers services like pet sitting, dog walking, overnight care, pet taxi services, and pet medical administration. All pet sitters and dog walkers must pass a background check, go through an in-depth interview, and provide necessary personal information. They must also be bonded and insured (which is offered by Fetch!).
When pet owners schedule a service, they are partnered with a primary and backup pet sitter based on their needs and schedule. They can meet the sitter beforehand, and then any services needed will come from those sitters.
When you're a sitter for Fetch!, they book your appointments and provide you with insurance. Simply choose the Fetch! location you're applying for, submit the online application, interview with the local owner, and be assigned to pets. Income can vary by the quantity and types of services you accept and perform.
If you have specialized animal knowledge, Fetch! can be perfect for you. They service all types of animals including birds, lizards, fish, gerbils, and even farm animals.
8. Trusted House Sitters
Earning potential: $0 (free lodging)
Trusted House Sitters is a different type of app than the others on this list – sitters sit for free in exchange for free accommodations across the glove. Choose the Basic Sitter plan ($129 per year). Standard Sitter plan ($169 per year), or Premium Sitter plan ($259 per year), and get alerts for your ideal sits, insurance, and dedicated membership support.
Once you purchase your annual subscription, you have unlimited access to the site, meaning you can apply to unlimited sites and connect with different pet parents around the world.
Sitters are referenced, reviewed, and verified and have access to a free, 24/7 vet advice line should they need it.
While you won't earn money with this gig, it can allow you to travel and see other places without having to pay for a place to stay.
Tips to maximize pet sitting jobs
1. Work with multiple apps
You'll likely earn between $12 to $25 per hour doing pet care services, but to maximize the jobs and make as much as possible, you'll have to line up several pet service gigs each day. One of the best ways to do this is to use multiple companies to spread your services and give yourself access to a greater volume of customers.
2. Be flexible
If you want to maximize profits, you should prepare to work long days, nights, and even weekends. Offering different services such as pet sitting, boarding, drop-ins, and walking let you charge different rates for different services while also taking advantage of every day.
3. Go direct
Most pet care apps take a portion of your earnings, so it's a lot more profitable to find and land clients on your own. You can still set your rates and schedule, but you'll get to keep everything you earn. Start with your network of friends, family, and neighbors, and go from there.
4. Go through the job description
Pet care is more than just hanging out and playing with animals. Sometimes, it can be messy or frustrating business, especially for pets who are hyperactive, misbehave, or have other special needs. Regardless, people expect their pets to be cared for like family, so you must know what you're getting into with each job. Read the job description carefully so you know what to expect (and what's expected of you). That way you can be prepared and possibly adjust your rates if necessary.
5. Set aside money for taxes
When working with these pet care apps and sites, you're considered an independent contractor. That means you will have to pay taxes on the money you earn, but you won't do that until tax time each year. Setting aside money for taxes can help ensure you don't have a massive tax bill when you file. You can also work with a tax advisor to set up estimated taxes throughout the year.
FAQs
You'll want to check the laws and regulations in your local area to learn about any restrictions or requirements. Most places don't require a special license or certification for walking or other pet-sitting jobs, but you likely will need one for grooming or training.

This depends on your location, the services you offer, how much you work, and what pet care app you use (or if you work independently). Most people do pet care as a side hustle, but some do it as a full-time job by lining up enough gigs. You could make up to $50 an hour or more.

Yes, pet sitting is very competitive. Some of the larger walking and pet-sitting companies (like those listed here) have hundreds of thousands of pet sitters with profiles on the app. However, you may have better luck working within your network of friends, family, and neighbors.