Best Online Work From Home Jobs
Written by:
Caitlyn Callahan
9 min

read
414 Views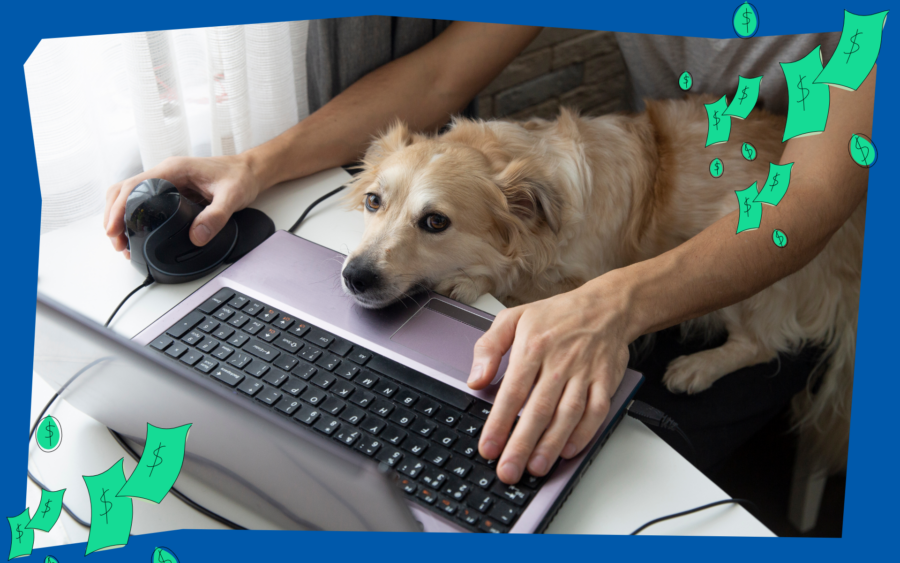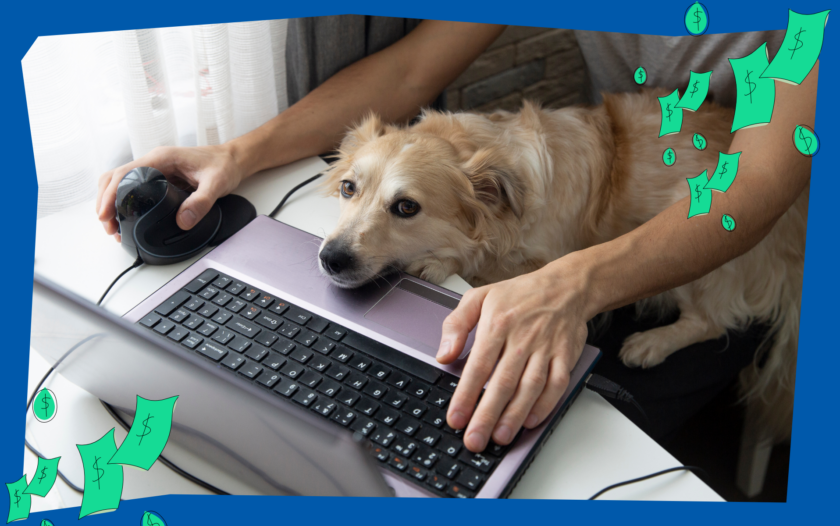 At a Glance
A lot of people dream of being able to work online from home (or anywhere in the world) and make good money. Luckily, more and more companies and people are offering remote work to employees or contractors for thousands of different positions. And, whether you want to work in your free time, part-time, or full-time, regardless of your education or skills, there's likely a job out there you can take advantage of.
In this article, you'll learn:
Best online jobs that you can do from home
Here are the 17 best online jobs you can do from home:
1. Take online surveys
Earnings: $0.50 to $2 per survey
This won't replace a full-time income, but downloading a survey app and completing surveys online in your free time is a straightforward way to earn a little extra spending money. Surveys cover various topics, though most serve as market research so you'll answer questions about products or services you may use or are familiar with. How fast you find and complete surveys and how many you do dictates how much you can earn.
Sites like Swagbucks, Branded Surveys, Survey Junkie, and LifePoints are good places to start.
2. Proofreading/editing
Earnings: $17-20 per hour
If you have great grammar/English skills or experience in English or journalism-related fields, proofreading and editing can be an easy online job. As a proofreader, you would review final articles, advertisements, captions, and other copy to ensure all grammar, spelling, and formatting is correct before it's published. An editor would work with the team throughout the process for ongoing editorial support. This may also include fact-checking.
3. Blogging
Earnings: $250 – $5,000 per month
Becoming a blogger can be a very lucrative gig and you can make hundreds and even thousands of dollars a month through affiliate marketing, advertising, and selling digital products (like online courses or services). You won't make this money starting and you'll need to put in a decent amount of time and effort, and there's no guarantee you'll ever make money at all. However, if you have talent, a niche, and dedication, the earning potential is almost limitless.
Or, if you don't want to start your blog, you can check out sites like Medium, an online publishing platform where you can share your writing on any topic and you get paid according to the number of reads and interactions your stories get.
4. Freelance writing
Earnings: $0.01 – $1 per word
Instead of starting your blog or writing your work, you can also freelance write. This could include content writing (blogs, articles, social media content, advertising copy, email copy, and more, ghostwriting, technical writing jobs (like user manuals and guides), and more. Start by creating a profile on a freelancing website like Upwork, Fiverr, or Freelancer. Or, search for postings on job boards.
There's a huge variety of companies looking to hire freelancers for thousands of topics and types of writing. And, you can charge by project, by word, or hourly – whichever is the most lucrative for you.
5. Affiliate marketing
Earnings: $25-35+ per hour
Affiliate marketing is when someone earns a commission for marketing another person or company's products. These people, also called influencers, refer to a product or service by sharing it on their blog, social media channels, website, or other platforms. Then, they make a commission every time someone uses their unique link or code. In some cases, you may get paid regardless if the customer purchases anything.
No expertise or experience is necessary, and you can get started earning with affiliate marketing quickly and at a low cost. However, this gig is competitive and payout rates may be low since there are no guarantees.
6. Data entry
Earnings: $15-20 per hour
If you have basic computer skills, you can likely do this job. Data entry clerks typically enter information from a paper document into a computer, or data from a spreadsheet into a database. You may also be asked to review records for accuracy, perform regular information backups, retrieve records or files from the database, and prepare digital files or materials for printing or sharing. The faster you are doing this, the more you can likely earn.
7. Virtual Assistant
Earnings: Up to $30+ per hour
Most people can be a virtual assistants even with prior experience as an assistant or secretary, though skills like reliability, time management, organization, and communication can be helpful. With this job, you'll work for a business, office, or executive and perform tasks like scheduling appointments, making phone calls, making travel arrangements, managing email accounts, customer support, and other administrative tasks.
8. Social media marketer
Earnings: $20-40 per hour
Most brands and businesses know how important social media is today, but they often don't have the time or knowledge to run a successful channel. As a social media marketer/manager, you'll help them run their organic and/or paid social media accounts by doing things like writing and posting content, responding to direct messages and comments, creating and managing paid ads, and more.
With so many social media platforms, it can take considerable amounts of time to effectively market and interact with audiences, so these positions are in high demand. The more experience you have and the more you can help with, the more you can charge.
9. Graphic designer
Earnings: $25-50+ per hour
Graphic design work is done completely on the computer, so it's a good online, work-from-home job. You'll likely need a graphic design (or similar) degree and in-depth knowledge of design software, but you may also be able to complete jobs on sites like Canva.
Graphic design takes time, which is why many companies need help creating things like social media content, marketing/brand collateral, advertisements, and more. You could also sell services as an illustrator, website designer, or brand expert. Or, create the templates that you sell to businesses for their use.
10. Website designer/developer
Earnings: $35+ per hour
Web designers and developers are in high demand and can make high earnings, and you don't necessarily have to be a coding expert to get gigs (though that can help). If you know programming languages and are an expert in either front- or back-end areas you can also likely charge more.
That said, you may be able to just use a drag-and-drop site creator because those services are cheaper, like Squarespace and Wix. WordPress is also popular. Whether you're making the website user experience smoother, designing something from scratch, or something else, these gigs can be a great option.
11. Photo/video editor
Earnings: $25+ per hour
If you have skills with a photo or video editing software, you can have consistent work as an editor, especially as the use of video marketing increases. Companies are often looking for someone to create/edit photos and videos they can use on their websites, social media channels, and even digital advertisements.
12. Travel agent
Earnings: $25 per hour/$44,000 per year
If you love to travel and/or are familiar with destinations, sales, itinerary planning, and booking software, you could work online as a travel agent. You technically don't need any formal training or certifications (though that would be helpful), but you can spend your days researching travel options, discussing arrangements and costs, advising clients about itineraries and plans, modifying reservations based on client needs, and more.
Most travel agents work full time and salary depends on experience and location, as well as what and how many trips you book.
13. Transcriptionist
Earnings: $15-18 per hour
As a transcriptionist, you'll listen to audio or video files and interpret the message into written words. These could be phone calls, market research recordings, interviews, medical notes, legal proceedings recordings, webinars, and more. To succeed, you'll likely need some typing and language skills, as well as the ability to listen carefully and pay careful attention to detail.
14. Bookkeeping
Earnings: $20-60 per hour
If you're generally organized and good with numbers, a bookkeeping job can be easy. Duties typically include managing accounts payable/receivable, processing payments, reconciling payments and business revenue, helping to prepare financial reports and ensuring the accuracy of financial transactions, and supporting in-house accounting departments as needed. You may work for an individual or a company.
15. Customer service
Earnings: $15+ per hour
Some customer service jobs can be done online, and you don't need experience or expertise to make money. You may be able to work at an online call center, work as a chat agent, offer technical support, do virtual assistant tasks, or more. A large number of companies – both big and small – offer customer service roles you can do from home. You will likely need good communication skills and patience to work with customer complaints and questions, and knowledge of the products or services for the company.
16. Online coaching
Earnings: $40-60 per hour
Coaching is one of the highest-paying online jobs, especially if you offer support within a specific niche like career coaching, health coaching, financial coaching life coaching, relationship coaching/counseling, etc. Find clients on social and business networking sites, or set up a professional website where you can accept contact requests and referrals. Because you get to set the rates and choose your clients, this job has a lot of flexibility if you have the expertise and you're willing to put in the effort.
17. Website/app tester
Earnings: $10-60 per test
Before companies launch a new website or app, they often want real people to look at it and provide feedback. You can make money by assessing the usefulness and usability of an app or site and letting the company know your thoughts and ideas for improvement. How much you earn depends on what you test and how many you complete, but it can be an easy way to earn extra cash in your free time.
How to avoid an online job scam?
There are a lot of people who work from home online, but it's OK to be skeptical about giving your time and details to someone you don't know and maybe haven't even heard of. Before accepting an online position, you'll want to feel comfortable and confident in your new employer.
There are thousands of legitimate jobs out there, but there are also unfortunately some scams. Here are a few tips for avoiding those scams:
1. Research the company
Do a quick Google search of the company. Check out their website and any social media presence they may have. Look for reviews on Glassdoor, Trustpilot, and the Better Business Bureau (BBB). Look for reviews from past or current customers.
2. Ask for upfront payment
If you're dealing directly with a client and have concerns about them paying, ask for at least 50% of payment upfront, then the remaining 50% once the work is completed. This ensures you're getting at least some payment for the work you do. If they hesitate to pay upfront, this may be a sign they aren't legitimate.
3. Use a trusted third-party site for freelancing
Some third-party websites are designed to match freelancers with clients, such as Upwork and Fiverr. While many of these sites take a cut of your profits, using them can provide you with some legal and payment protections you wouldn't have on your own. Never agree to leave the platform (unless you have a good relationship with the client), and all work and payments should go through the platform as well.
FAQs
There are several jobs you can do completely online from home. As long as you have a computer and internet connection, and sometimes a cell phone, you're set. The examples above are just a few of the hundreds that are out there.
Not necessarily: Many online jobs can be done without having a degree. Some may require at least a high school diploma, and others may suggest skills like typing, customer service, grammar, attention to detail, or others. You may be asked to provide a portfolio or examples of your work. It depends on the job and the company.
Some online jobs are designed to be done in your free time or part-time, while others could be full-time positions. Depending on the job and your dedication, you could make hundreds or even thousands of dollars each month. Blogging is one of the jobs that could make the most, but freelance writing and designing, development, virtual assistants, and others can make $30 or more per hour.