Ways to Save Money for a Wedding
Written by:
Caitlyn Callahan
12 min

read
354 Views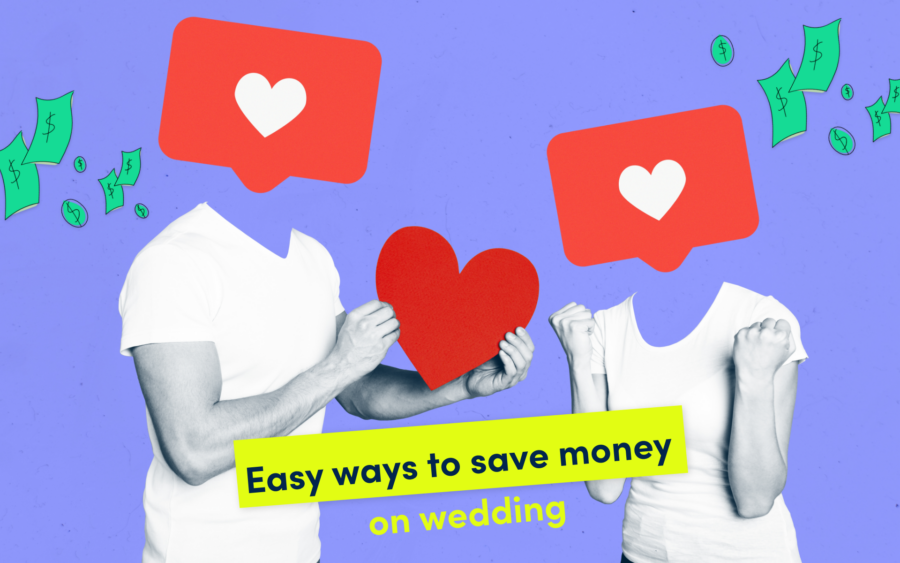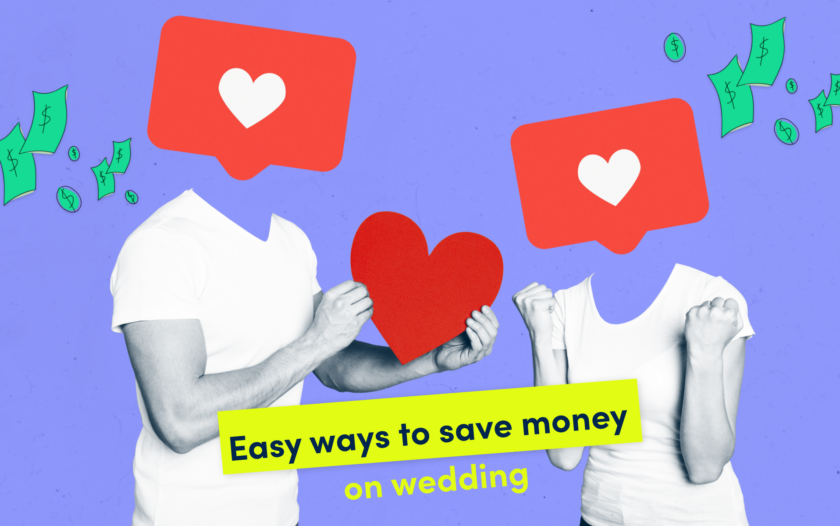 At a Glance
Whether you're newly engaged or have been planning your big day for a while, one of the first things you've probably done was sit down with your partner to discuss your day and priorities, create a vision for your celebration, and determine what is and isn't important. Then, you probably pretty soon realized that planning a wedding can be very expensive.
The good news is when it comes to planning and paying for a wedding, there are tons of ways you can save. Read on for a few tips to get you started saving on:
In this article, you'll learn:
Save on a wedding
According to The Knot's Real Wedding Study, the average cost of a wedding is $28,000. That said, it may seem impossible, or at least very complicated, to imagine planning your dream day without breaking the bank. However, we are here to tell you it's possible to have a beautiful, perfect-to-you wedding while also staying on budget.
If you don't have the savings to shell out for your big day, you can consider alternatives like taking out a wedding loan. Short-term, low-interest wedding loans (if you're a well-qualified borrower) can ensure you have the funds you need for your wedding without cleaning out your savings and emergency fund.
Don't be a person who regrets their day or their spending. Follow the tips below to save on your big day but still have the day of your dreams.
1. Hire a wedding planner
It may seem counterproductive to try to save money by spending money to hire someone. But hiring a wedding planner may be worth it. Not only is it one of their most important jobs to make sure you stay within your budget, but they can also often use their wedding industry contacts and extensive industry knowledge to help you get the best deals and savings without compromising your vision.
2. Use a wedding budget tool
If you aren't sure where to get started when it comes to budgeting for the different aspects of a wedding, you can use a wedding budget calculator. These tools can help you keep track of your budget, stay organized, and estimate where you may need to make cuts or adjustments.
3. Shorten your guest list
One of the most important parts of a wedding is celebrating your love with your friends and family. However, cutting your guest list is also one of the easiest ways to save money. Fewer people mean you can cut costs on almost everything, including venue size, catering, rentals, invitation costs, and more. When you estimate that each guest costs about $266, having 75 guests instead of 100 can save you nearly $7,000.
4. Organize a smaller wedding party
The average wedding party is about eight people on each side, and while the wedding party pays for a lot of expenses themselves, there are also expenses you'll incur such as bouquets and boutonnieres, wedding party gifts, etc. Having a smaller party means you'll spend less.
5. DIY your decor
DIYing your decor and other aspects of your wedding can save you money, but only if you DIY responsibly. DIY isn't free since you'll need to purchase supplies, and this can add up. Plus, it will take extra time (and probably stress) to finish these DIY projects, so be sure to factor that into your timeline. Perhaps choose only one or two DIY projects to keep yourself from spending too much and getting overwhelmed. But if you're thrifty and crafty, this can be a good way to save.
Save on your wedding venue
Your venue is going to be one of your biggest expenses, coming in at an average of nearly $11,000 on the venue alone. However, there are ways to protect your budget but still have a beautiful, dream-worthy venue.
1. Choose an off-season date
"Wedding season" typically runs from late spring through early fall, with weddings peaking in June and September. If you have some flexibility with your date, by choosing an off-season or shoulder season (like late winter and early spring) you may be able to book your venue at a cheaper rate.
2. Stick with a single venue
If possible, have both your ceremony and your reception at the same venue. This cuts travel time for you and your guests and makes the day more efficient, but it also cuts travel time for your vendors that you likely are paying by the hour. Many venues also give a discount if you host your entire day at one location.
3. Re-consider an at-home wedding
Backyard weddings were really popular amid the COVID-19 pandemic when social distancing was important and weddings were much smaller. While they may still seem like a great money saver, they may even be more expensive because you'll have to bring everything in yourself, separately, including tents, portable toilets, food prep stations, a bar area, and more. These expenses can add up quickly, and you may be better off booking a venue that has some of these amenities.
Save on wedding catering
Catering is going to be one of your second biggest expenses, with an average spend of $75 per person on food. However, you'll find there are several ways you can save on your catering costs while still giving your guests tasty and plentiful eats.
1. Set a simple menu
Premium items, fancy preparations, several courses – these all can be quite costly when it comes to your catering bill. You want your food to be good, but you don't have to go all out with expensive tastes. Keep the menu simple. Focus on seasonal ingredients, and consider a buffet style (which is typically cheaper than plated meals).
2. Limit hors d'oeuvres and entree options
Cocktail hour hors d'oeuvres, especially those that are passed, can be expensive per piece. If you want some snacks during this time, focus on self-serve bites and choose two or three options that everyone will love.
The same concept should be applied to your entree options. It's nice to give guests choices, but too many can be expensive. Choose one or two proteins or entree choices for guests to choose from.
3. Limit types of drinks
Alcohol, especially a top-shelf full bar, can add quite a bit to your budget. You don't necessarily need to have a cash bar, but you can limit your alcohol offerings. For example, instead of having a variety of types of liquors, consider beer, wine, and one or two signature cocktails (or some combination of these).
4. Skip the champagne
People can do a toast with whatever drink they have, it doesn't necessarily have to be champagne. If you are set on the champagne toast, skip the Dom Perignon and choose a more affordable option like Prosecco or another sparkling wine.
5. Buy your alcohol
If your venue allows you to purchase and bring in your alcohol for your day, this can mean big savings. However, keep in mind you'll still need a licensed bartender to serve the beverages, which may be a cost added to your catering bill.
6. Try a brunch-style wedding
Brunch food typically costs less than dinner food, but it's just as tasty and can give a fun vibe to your dining. Consider hosting a morning or early afternoon wedding not only to save on food but also to have a different and exciting experience for your guests (who doesn't love a fluffy omelet or fresh waffle?).
Save on decor
Wedding flower costs have increased over the last few years, with the average couple spending nearly $2,500. Working with your florist and their budget recommendations can be a great way to save, but there are others as well.
1. Select a natural venue
If your venue is in a naturally beautiful place, like a park, flower garden, or ornate building, you won't have to spend a ton on additional decor and can instead let the natural beauty speak for itself (while keeping dollars in your pocket).
2. Consider cheaper flowers
Greenery is cheaper than flowers, and it's also super popular right now. Use greenery to fill your tables, drape your altar, and add other pops of nature throughout your venue. You can also replace expensive flower varieties with less expensive ones. Your florist can offer recommendations for swaps that will be just as beautiful but less expensive.
3. Buy local
Local florists will guarantee the freshest blooms, and they may also cost you less. Choosing local, in-season blooms can also help save you money, or choose widely available, year-round blossoms. Plus, choosing local can help you save on transport costs.
4. Try non-floral decor
If you don't care about flowers or are looking for more ways to save, focus on non-floral decor. For example, candles, books, seashells, photos, or other non-floral elements can add a creative, unique flare.
5. Choose linens wisely
When it comes to choosing linens, there are dozens of options and it can be tempting to spend a "little more" on fancier tablecloths or napkins. But you can save by upgrading napkins but choosing less expensive tablecloths, or only putting fancy tablecloths on the cake or escort card table and putting the budget-friendly ones on the guest tables. Or, recognize that most guests will not notice or care one way or the other, and go budget-friendly all around.
Save on a wedding cake
If you hire a baker to make a wedding cake, you'll spend an average of $500. But these two tips can help you save on this treat:
1. Choose a smaller cake
Have a smaller, one-tier cake to share with your significant other for the cake-cutting moment and photos, but then choose cupcakes, cookies, or other smaller desserts for the guests. Or, have the baker create a sheet cake (hidden in the kitchen) to serve to guests, which will cost less since it won't need to be as decorated or fancy.
2. Minimize cake decorations
Ornate cake decorations will cost you. Keep any add-ons simple, choose fresh flowers instead of sugar flowers, and forego the fondant and opt for buttercream or another frosting instead (both tastier and less expensive).
Wedding invitation savings
Finding budget-friendly stationery can seem overwhelming, but it's not impossible:
1. Go for digital printing
Some printing techniques, like engraving and foil stamping, are beautiful details but also pricy. Digital printing can still give you class, but can also be more affordable.
2. Choose RSVP postcards or online RSVP
RSVP cards and envelopes require their postage, so choose an RSVP postcard (which may save you a bit in postage) or skip the standard RSVP card and offer RSVP online on your wedding website.
3. Avoid oversized invites
Don't forget to factor in postage when budgeting for your invitations. Oversized and heavy invitations will cost more to send, so keep your invitations standard-size and simple.
Save on wedding attire
You want to look amazing on your wedding day, not only so you feel amazing but also because it's the day you'll likely be photographed more than any other day in your life. Choose something that makes you feel comfortable and confident, but know you don't have to blow your budget:
1. Avoid rush shipping
Wedding dresses can take months to deliver, so start shopping at least eight months before your big day to ensure they will get delivered on time without having to pay rush shipping fees, which can be hundreds of dollars. You can also then avoid rush alteration fees since you'll have plenty of time between delivery and your day to get any alterations you need.
Or, you can choose a sample dress off the rack to avoid shipping fees altogether.
2. Rent attire
Encourage groomsmen, bridesmaids, and even the groom to rent their suits, tuxes, or dresses. There are several places online that provide rentals. And, often if the groomsmen rent from the same place, the groom's attire will be free.
Save on wedding favors
1. Keep one favor per couple
Instead of giving everyone their favor, give one per couple or family.
2. Double your escort card for a wedding favor
Items like potted plants, boxes of cookies or candy, luggage tags, etc. can be great two-for-one escort cards and wedding favors.
3. Skip the favors
Favors aren't a must, and you'll probably find that you end up taking home many of the favors left behind at the end of the night. Unless you're set on something in particular, save the money and skip the favors altogether.
Save on wedding photography and videography
Photography is an essential part of your day, and for many couples, so is videography. But it can also be pricey, with the average couple spending about $2,500 on photography alone. If you want to save, it's important to do your research and follow these tips:
1. Read packages carefully
Most of the time, you can work with your photographer/videographer to customize your packages, adding or removing things you don't need like extra hours, albums, flash drives, keepsake boxes, etc. Keep things within budget by eliminating things that aren't important to you.
2. Limit filming time
You likely don't need the photographer and/or videographer for the entire day, from the time you start getting ready to the end of the reception. Hire them for the ceremony (and an hour or two of getting-ready time if that's important to you) and a few hours at the reception. Cutting back the hours of filming and shooting time can save money.
3. Hire a local photographer
If they have to travel more than a certain distance to your event, you'll pay more for these professionals. Not only will you likely have to pay a per-mile or other rate for travel, but they may ask that you pay for their overnight accommodations as well. This can be expensive, so stick to a local pro.
Save money on music
Wedding music is so much more than a playlist. Hiring a professional DJ or live band for your big day can help ensure the day flows smoothly, timelines are followed, and guests enjoy themselves to the very end of the night. Typically, a DJ will cost less than a live band. And, if you can, hire a DJ or band who can do both the ceremony and reception.
If you do choose a live band, get one that's smaller (since that's fewer people and less equipment you'll have to pay for).
Save on transportation
Wedding transportation isn't required, but it can be a good idea to make sure you and your loved ones safely get to and from where you need to be. A professional transportation company can help you determine what you need and stick to your budget, but you can also consider skipping the limo or party bus and opting for a larger town car.
FAQs
One of the best ways to save money fast is to cut back on your current spending as much as possible, then set that cash aside for your wedding budget. Cancel subscriptions you no longer need, avoid eating out at restaurants and unnecessary shopping sprees, cut out that vacation with friends, etc. You can also start a side hustle or find a way to earn additional income to set aside. Little sacrifices can add up quickly.
If you are planning a wedding but don't have the money to pay for it, consider taking out a wedding loan to help. You can also use credit cards or if you own a home, take out a home equity loan. However, having a smaller, more simple wedding may be a better option than going into debt. You can also ask your family for help.
The first tip is to start saving early. The sooner you start planning and saving, the better. Set realistic expectations and determine what's most important so you can decide where to cut costs later. Create a realistic budget, do your research and shop around for the best costs, and work with your wedding planner and/or vendors on ways to save. Also, take a look at your budget and determine ways to cut down or out costs to put extra cash toward your wedding day.