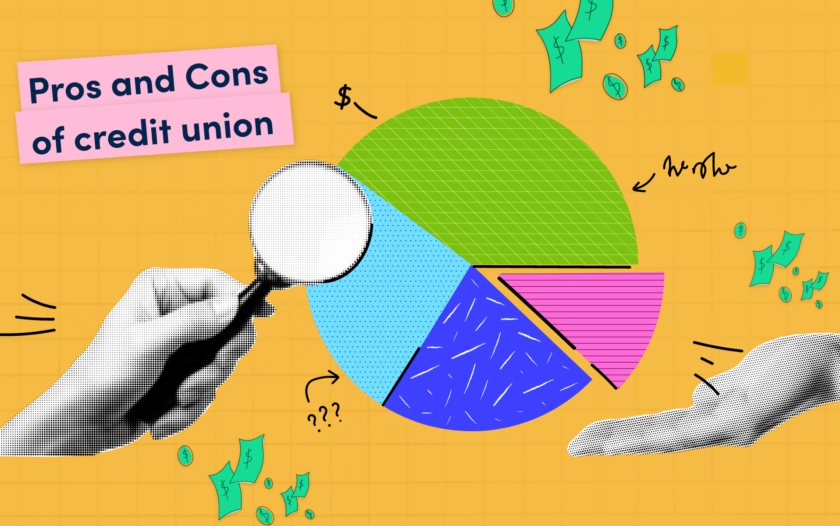 At a Glance
Credit unions are not-for-profit, member-owned financial institutions that offer many of the same services as banks, including checking and savings accounts, loans, credit cards, and others. While you must be a member of a credit union to get access to their products and services, many credit unions make it easy for you to join and enjoy the benefits.
There are several pros and cons of banking with a credit union that should be considered.
In this article, you'll learn:
How do credit unions work?
A credit union is a type of financial institution that offers checking and savings accounts, loan products, and other financial services and products. While similar to banks in many ways, credit unions are:
Membership organizations: You may be able to join based on your employer, family, location, or membership in a group.
Member-owned: A volunteer board of directors is elected by members to manage the credit union.
Not-for-profit: Profits made are returned to the members in a variety of ways.
Community-focused: Credit unions often provide financial education, outreach, and other financial services.
Because credit unions are not-for-profit, credit unions can return profits to their members in the form of:
Lower/no fees
Higher savings rates
Lower loan and credit card interest rates
Insured by the National Credit Union Share Insurance Fund, deposits are insured up to $250,000 (per share owner, per insured credit union), protecting the money of credit union members.
Pros of credit unions
Even though larger, commercial banks have a broader range of services and may be more accessible, credit unions still have several advantages including:
1. Lower borrowing rates
Because credit unions are not-for-profit, meaning their profits go back to their members, they can charge lower interest rates on loans (including personal loans and mortgages). Some credit unions are even regulated in a way that the interest rates on loans and credit cards cannot exceed a certain rate.
Credit unions may also be able to offer lower rates for borrowers with poor credit or limited credit history, especially compared to traditional banks.
2. Higher deposit yields
Another benefit to profits going back to members is that credit unions can pay higher yields on savings products, such as share certificates (which is a credit union's equivalent of certificates of deposit).
3. Fewer fees
The third benefit to the not-for-profit status and profits sharing back to members is that there's no pressure to find ways to make money off customers so they often offer free accounts with no minimum balance requirements. Credit unions typically waive most, if not all, fees. You'll also find that closing costs for a home equity loan or mortgage are typically lower.
4. Variety of products
Larger credit unions have a variety of financial products such as:
Checking accounts
Savings accounts
Money market deposit accounts
Share certificates
Personal loans
Mortgages
Auto loans
Student loans
Home equity loans
Credit cards
5. Insured deposits
If a credit union is a member of the National Credit Union Administration (NCUA), deposits are federally insured for up to $250,000 per depositor. This means that your money is safe at a credit union because should anything happen, your deposit is protected.
Even if your credit union isn't designated as a federal credit union, it is likely regulated and chartered by a state agency so you can feel confident your money is safe.
6. Educational resources
Credit unions are usually local or regional, meaning their services are often more personal. Additionally, they often stress financial literacy and education, so they often host seminars, share articles, and have calculators and other tools that help their members make better money decisions.
7. Member-owned
With a credit union, you're not only a member, but an owner. Credit unions are often rated higher in overall customer satisfaction, and members are also shareholders who can vote on leadership decisions and policies.
Cons of a credit union
On the other hand, there are some disadvantages to credit unions including:
1. Mandatory membership
You must be a member of a credit union to access their products and services. Eligibility requirements may include:
Living in a certain area
Having a certain employer/occupation
Education at a particular financial institution
Being a member of specific associations
Other factors
In some cases, membership may be as easy as making a small deposit into a savings account or a one-time donation to a sponsored organization or charity.
You can find information about a credit union's membership requirements on their website.
2. Does not provide a better annual rate
While many credit unions offer higher interest rates for savings accounts, you may be able to find a higher annual percentage yield (APY ) on a share certificate of a savings account, or a lower rate on a loan, at an online-only bank. These banks don't have the expense of maintaining branches so they can often offer better rates.
3. Limited accessibility
Most credit unions are smaller, so they often have fewer physical branches compared to traditional banks. In many cases, the locations are regional and may not be close to where you live or work. This also means there are fewer ATM locations. This could be a problem unless your credit union is a part of a shared branch network or larger ATM network as you might not be able to do any in-person banking.
4. Limited offers and products
While larger credit unions offer a variety of products and services, smaller credit unions may not have the ability to offer as many offerings. For example, they may have fewer loan and deposit products, or they may not offer credit cards.
Additionally, they may not offer the latest technology and online services such as online and mobile banking and peer-to-peer payment platforms (such as Zelle).
Things to consider when choosing a credit union
There are a variety of credit unions to choose from, so here are some things to consider to help you make the best decision for your needs:
Make sure you qualify. Because most (though not all) credit unions have specific membership requirements to join, research ones that you qualify for. You may have to live in a certain location or have a specific employer, or you may be able to make a one-time donation or a small deposit in a savings account to qualify.
Check ATM and branch locations. If in-person customer service and banking are important to you, make sure the credit union has branch/ATM locations in your area.
Compare rates and fees. Check rates for savings accounts and loan products, and compare fees such as ATM fees, monthly maintenance fees, and overdraft penalties.
Consider digital tools. Especially if online banking/transactions are important to you, research what technology the credit union offers. Check mobile app reviews and check what you can do online.
Make sure it's insured. The credit union should be insured by the NCUA, protecting in the case of a credit union's failure.
How to choose a credit union?
Keeping the above considerations in mind, you can use the NCUA's website to search for a credit union near you. Their search tool provides a list of credit unions by address, name, or charter number.
Search for credit unions in your area with membership qualifications you meet. Make sure they offer the products and services you need, including savings and lending rates, credit cards, and more. Check membership fees and customer service reviews to ensure you're making the best choice for you.
Why should I consider a credit union?
You may want to consider a credit union because they:
Offer personalized, community-focused service and education.
Typically charge fewer/lower fees and lower interest rates.
Often have higher savings rates.
Are insured by the NCUA.
Give members control over making decisions.
Have flexible membership requirements.
Provide a variety of banking and loan products and services.
Is it good to have a credit union?
Credit unions are member-owned, so they are member-focused. They can often do a better job supporting the needs of their members and community by offering exceptional customer service, lower rates and fees, higher APY, and a variety of financial products and services. While there are some downsides to a credit union, such as fewer products and locations as well as membership requirements, these financial institutions are worth checking out if you can.
FAQs