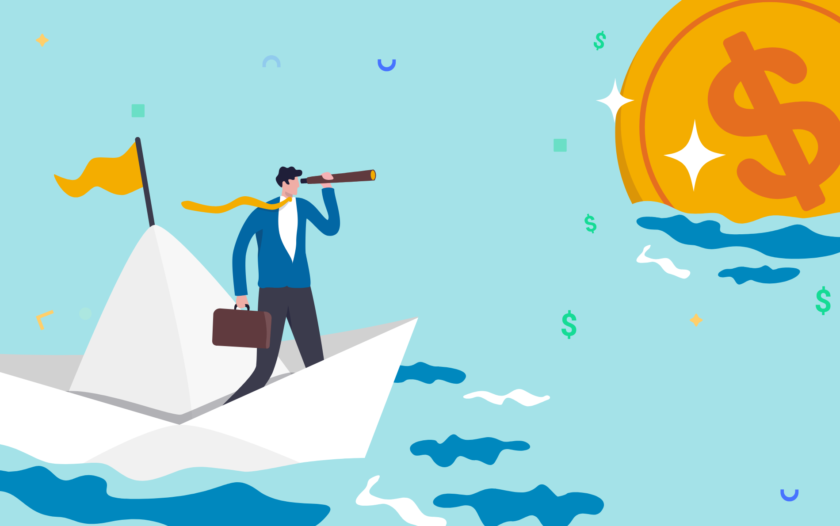 At a Glance
If you haven't saved enough cash but are looking to purchase a used boat to take on the open water, you may need to secure financing to be able to afford it. There are a few ways you can secure financing through a boat, though the most common is via an unsecured or secured loan.
Read on to learn more about:
What is a boat loan?
A boat loan is a type of installment loan with fixed monthly payments you'll make over the loan's term, typically two to 20 years. The financing can be secured through an online lender, bank, credit union, or dealer, with interest rates and loan terms varying based on the lender, the size of the loan you need, your credit score, history, and income, and other factors. You can then use the financing to purchase a new or used boat.
Learn more: Boat Loans
How does it work?
Most used boat loans are secured, meaning you use the boat you purchase as collateral for the loan. If you fail to make loan payments and default, the lender will seize your boat as payment. These loans may have higher loan amounts, longer repayment terms, and lower rates than unsecured loans, you just must ensure you can repay the loan or risk losing your boat.
In some cases, you may need to make a down payment, which means you need some cash up front.
Unsecured boat loans don't require collateral, but their rates may be higher and terms shorter because there's nothing backing the loan. Unsecured loans also typically have stricter requirements for things like credit score, income, and existing debt.
After shopping and comparing lenders, you can apply for a used boat loan online or through the dealer, bank, or credit union. Lenders then deposit the funds into your bank account, and you can withdraw the money to purchase the boat. Or, if you finance through a dealer, the dealer will receive the funds and you'll repay the lender directly.
Looking for the right used boat loan for you?
With just a few answers, we can generate a list of used boat loan options tailored to your needs.
What to consider before financing a used boat?
A used boat loan is a type of debt and using a loan to finance a boat can have an impact on your current financial situation. A few important considerations include:
1. Monthly payment
Owning a boat is a long-term expense. Once you buy a boat, you'll have several other costs such as insurance, registration, taxes, boating licenses, storage costs, marina fees, equipment, accessories, fuel, maintenance, and more. This, plus the fact that missing loan payments can significantly affect your credit score, means it's essential to consider your monthly payment amount and ensure it's something you can afford.
Additionally, if you have a secured loan and default, you could lose the boat.
2. Credit score
Even if you have a poor credit score, you may still be eligible for a secured used boat loan. However, your interest rate will be much higher, a down payment may be required, and your lender could restrict the type of used boats you can purchase.
As with most loans, the higher your credit score, the better interest rate you'll qualify for. This means you'll pay less over the life of the loan. If you don't have a great credit score, you may want to take some time to improve it prior to applying for a boat loan.
Related: Credit Score Ranges
3. Current and future finances
Think about current financial factors like your income, debt-to-income ratio, net worth, current outstanding debt, and savings. It's important that you have a steady income from a stable job and your debt-to-income ratio isn't too high; otherwise, your application may not be approved.
Additionally, you'll want to think about long-term financial goals before you invest in a boat. Taking out a loan for a "wanted" purchase instead of something necessary is a decision that shouldn't be taken lightly because it can affect your finances and ability to get loans in the future for possibly several years.
Where do you find a used boat loan?
If you're ready to compare boat loan lenders, know there are primarily four places to look: Online lenders, credit unions, banks, and dealerships.
1. Online lenders
Online lenders may be the best option for used boat financing due to their ease and convenience. The application process happens online from the comfort of your home, and online lenders are often most flexible with credit score and other requirements. The biggest challenge is that all customer service and support must happen online or over the phone, which can be difficult or time-consuming depending on the lender.
Compare: Best Boat Loans
2. Credit unions
Credit unions will offer secured boat loans to members of the credit union, often with lower rates than banks or dealers. Another benefit to using a credit union is they may consider a borrower's whole financial picture, including their relationship with the credit union, in addition to credit score and other factors. This can be especially beneficial for those with lower credit scores.
3. Banks
You're more likely to get a secured loan from a bank, as well as receive perks like discounts or more favorable loan terms if you're an existing customer. However, banks usually have the strictest qualification requirements and tend to be less flexible with interest rates and terms.
4. Dealership financing
If you're purchasing a boat through a dealership, you may want to finance directly through the dealer. Dealerships have relationships with manufacturers and lenders and can help customers secure financing. The downside is you'll likely pay an inflated APR and the dealer may add additional fees.
Other used boat financing options
A secured used boat loan isn't the only option you have for financing your new purchase. The most common alternatives include an unsecured personal loan or home equity line of credit (HELOC).
1. Unsecured personal loan
An unsecured loan is a personal loan that is not backed by collateral. These loans typically have fixed interest rates and have loan amounts ranging from $1,000 to $100,000. You can get a personal loan from a bank, credit union, or online lender, and the funds can be used for just about everything, including purchasing a used boat. Most terms range from 12 to 84 months depending on the lender, and you'd make monthly payments to repay the loan over that period.
Interest rates for unsecured loans vary depending on your credit score, history, income, debt-to-income ratio, the lender, and other factors. However, the higher your credit score, the lower the interest rate you'll qualify for.
Related: Secured vs. Unsecured Personal Loans
2. HELOC
You can get a home equity line of credit through a bank or credit union. This type of financing allows you to borrow from the equity of your house, up to a set limit. Then, like a credit card, you'd withdraw the money you need but only pay interest on that amount. Typically, these interest rates are variable which means they can change over time.
To qualify for a HELOC, you must have at least 20% equity in your property, which is the difference between how much you owe and its current market value. You also typically need a credit score of at least 720 or higher, though there are some lenders who will offer competitive rates to those with a score of at least 620.
Related: How to Qualify for a Home Equity Line of Credit?
What are typical boat loan terms?
Secured boat loans can be found with terms up to 20 years. This is because when taken care of, boats hold their value longer, depreciating at a slower rate than cars and possibly even increasing in value after 10 years. However, this is dependent on the lender. For example, unsecured loans typically have terms of five to seven years.
Keep in mind that buyers with better credit scores will get better loan terms. Other factors that affect boat financing terms include the amount of the loan, which type of boat you purchase, and whether the boat is new or used.
Learn more: How Long Can You Finance a Boat?
What is a good interest rate on a used boat loan?
Boat loan annual percentage rates (APR) depend on several factors such as:
The lender
Your credit score, history, and income
The amount of the loan
Whether the loan is secured or unsecured
Your debt-to-income ratio
Typically, secured loans have lower APRs, and most unsecured loans have an APR between 6% and 36%.
| | | |
| --- | --- | --- |
| If your credit is… | Score Range | Estimated APR |
| Excellent | 720 – 850 | 10.6% |
| Good | 690 – 719 | 15.5% |
| Fair | 630 – 689 | 19.6% |
| Bad | 300 – 629 | 25.6% and above |
Is financing a used boat a bad idea?
If you don't have cash on hand to purchase a used boat but it's something you want to do, you can consider financing it with a used boat loan. However, it's important to keep a few factors in mind:
You must ensure the monthly loan payments fit into your budget. If you default on the loan, you risk losing the boat or going to collections, significantly damaging your credit score.
A used boat loan is a type of debt, which can impact your credit score, debt-to-income ratio, and total amount of debt you have to repay.
The loan's interest rate and terms will depend on factors like your credit score, history, income, debt-to-income ratio, and other factors. To get the best interest rate, you'll likely need an excellent credit score.
It's important to research and compare all your options. Get prequalified when you can, which allows you to get an estimate of your interest rate, monthly payment, and other considerations based on the loan amount you need and your credit score. Plus, it doesn't affect your score.
FAQs
For the best interest rate and loan term, your credit score should be at least 720 or above. However, some lenders will work with borrowers who have credit scores of 680 or above. Depending on other factors, borrowers with a score of 620 or above may also be able to find financing, though the interest rate and terms will not be as favorable.
Yes, you can get a boat loan or personal loan for either a new or used boat.
Like a car lease, a boat lease involves making payments during a set term while you get to use the boat whenever you'd like. Then, when the lease is up, you'll have the option to return the boat or purchase it. The biggest advantages include no down payment, fewer maintenance obligations, and more options for boats. The downside is it can be costly, and you don't always get the best boat available.