How to Create a Moving Budget?
Written by:
Caitlyn Callahan
9 min

read
1119 Views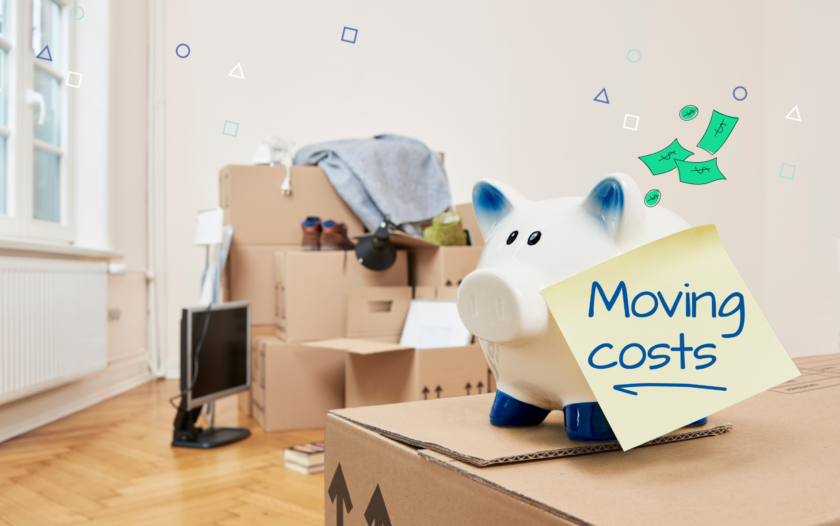 At a Glance
Once you've decided on a move, the to-do list can grow quickly. There's finding and closing on a new place, potentially selling your current home, working through moving logistics (like when you'll move), potentially hiring a moving company or planning a DIY move, and much more.
To help ease the stress of moving, one step you can take early is creating a moving budget. We've put together a list of things to do to create a moving budget, including:
Moving expenses to consider when budgeting
How far you're moving, whether you hire professionals or move yourself, how long it's going to take you to move, and other factors all play a role in the expenses you'll have and how much those costs will be. There are also ways you can save money, but to start, take the following expenses into consideration when beginning your budget:
Hiring professional movers
Hiring professional movers can be expensive, but if you're moving long-distance, it could actually be a better financial option. Hiring professionals can not only help save you time, but they may also help save money on some moving costs (such as renting a moving truck and moving supplies) in the long run.
Most professional moving companies charge by the hour, so you may also be able to save some money by doing some things yourself, such as packing and preparing furniture before they arrive.
Some costs associated with hiring professional movers can include:
Moving fees/rates
Packing services charges, including specialty item packaging services
Moving insurance
Hidden fees, like damages/claims, meals, tips, etc.
Unpacking services
Taxes
Moving yourself
Off the bat, moving everything yourself may seem like the best way to save money. However, this also comes with expenses. Carefully compare the costs associated with hiring moving professionals vs. moving yourself to determine which is the best financial option.
When moving on your own, some of the costs you'll face include:
Renting a moving truck (and additional costs that come with this such as fees and per-mile charges)
Gas
Moving insurance
Purchasing or renting moving equipment, such as a furniture dolly or straps
Packing materials, including boxes, tape, furniture covers, bubble wrap, and more
Also consider the time it will take you to pack and move everything by yourself. For example, if it will take you several days vs. only one day with moving professionals, factor this in.
Keep in mind that there are ways you can cut costs here, such as borrowing moving equipment or packing materials from family or friends or enlisting their help with moving day.
Packing materials
You'll need a variety of packing materials when you move, and it's important to invest in quality materials to protect your belongings and help the move go faster. Start gathering items like boxes and packing materials (like old newspapers) as soon as you know you're moving. Keep an eye out for sales on plastic bins as those are more sturdy. You can use blankets to cover larger, more fragile items.
Also, ask friends and family if they have any supplies you can borrow.
As you pack your things, be sure to tape up each box securely and label it with what room it goes in and what items are in the box to make unloading faster.
Transportation costs
Even if you're hiring moving professionals, you may still have transportation costs if you're moving a farther distance. Factor fuel, car maintenance, food and drink in your budget. Depending on how far you're going, you may need to include lodging expenses, or if you have to ship your car, include those costs as well.
Related: Average Cost to Rent a Moving Truck
Storage costs
Whether the place you're moving into isn't quite ready, or you're planning on renting in a new place before buying a home, you'll likely need to rent a storage unit to hold some of your things. These expenses can include storage unit rental costs and fees, insurance, and the cost to move items to and from the facility.
Additional costs
When moving, there are a number of other moving-related costs you may have to budget for. These can include:
Professional cleaning services for your old or new home.
Home inspections, lawyer/realtor fees, repairs, mortgage down payment, and/or rental deposits.
Purchasing new furniture, appliances, or other household items.
Setting up utilities.
Child care or pet care while you move.
If you have to take time off work to move and won't be compensated for those days, consider the loss in wages you may face. In this case, you may want to compare that loss in wages vs. the extra costs of moving over the weekend.
If you are planning a big move, cover all the moving expenses with relocation loans.
Find and compare the best loan options.
Advertiser Disclosure
Use the filters below to refine your search Sorry, we didn't find any options that meet your requirements. Please try modifying your preferences.
Congratulations! You're close to seeing your offers!
Please take a second to review the details you shared earlier

Steps to create a moving budget
Moving can be stressful, and being unprepared for the expenses that come with it can add additional financial burden. Creating a moving budget ahead of time can allow you to plan and save in advance to help make the move easier. Follow these steps to get you started.
1. Decide what must be moved
Before starting your budget, you need to take inventory of your belongings and decide what's coming with you to your new home. In this step, you'll want to go room to room and create an actual list of what needs to come vs. what will be sold, donated, or trashed. Note things like:
Estimated weight of heavier items, like furniture and appliances.
How much space your belongings will take up, estimated in cubic feet, to help decide which truck or container size you need.
Estimated value of your belongings so you can get an accurate moving insurance estimate.
Ultimately, knowing how much is coming with you can help you decide if you need to hire professional movers, the size moving truck you'll need to rent, and other decisions.
As you do this, take photos and videos of your belongings, especially valuable items, in case anything happens and you need to file an insurance claim. You can also purge as you go, creating a "sell" or "donate" pile so that you aren't taking as many unnecessary things with you.
2. Do research
With so many expenses related to moving, it's important to do research to have a good idea of what you'll be paying. While you can research average moving costs online, these can vary widely depending on where you're moving to, how far it is from your old place, the size of your move, and other factors. As you research costs, compare hiring moving professionals against a DIY move.
When researching professional movers, be sure to understand costs like:
Base moving fees
Specialty item fees
Moving insurance
Miscellaneous costs
When moving yourself, factor in costs like:
Moving truck and equipment rental
Packing supplies
Time lost to moving
3. Decide when you're moving
If you're moving for employment, you may not have much of a choice over when you move. However, if you have more flexibility, you may be able to save money by being strategic with your moving date. This is because truck rental fees and professional moving rates can vary based on the season, month, and even day of the week.
Late spring and summer, or May through September, are the busiest moving seasons, so prices are highest during these times. This shouldn't deter you if it's the best time for your move, but you may also want to plan on other ways to save. Winter can be the cheapest time to move, but it's also the riskiest (depending on where you live). Winter weather can delay a move or make it more difficult.
Save money by scheduling your move mid-month or even mid-week. The beginning and ends of the month, as well as weekends, often have higher costs.
4. Get moving quotes
You can request quotes from places you'll hire, such as professional movers or rental truck companies. Having done your inventory, you'll have a good idea of how much you'll be taking with you which can help you get a more accurate estimate. It's recommended to get quotes from at least three full-service moving companies and three self-service moving companies.
Be prepared to provide a full-service company information such as:
Where you're moving to and from
Desired moving date
Current number of bedrooms
Also be prepared to take additional steps before hire such as completing a moving inventory, scheduling a consultation or recording a walk-through of your home.
For self-service, get quotes from truck rental and portable moving container companies. These can often be done online, though you'll still have to provide some details about your move. In many cases, they will provide guides on sizes and other needs.
How to accurately calculate your moving budget?
Creating a moving budget may seem like a lot of work, but it will significantly help you in the long run. Not only will you have time to save, you won't be blindsided by costs you weren't ready for. Take the time necessary to put together a thoughtful and accurate moving budget to help avoid some moving stress.
That said, it can be difficult to create a super accurate moving budget because final costs will differ slightly from estimates and unplanned expenses can pop up. To protect against this, after you've calculated your total estimated cost, multiply that subtotal by at least 5%, giving you a better buffer.
Moving budget tips
Here are a few more tips to help make your moving budgeting easier:
1. Spare money for day-to-day expenses
Track your regular monthly income and expenses to get an idea of how much of an impact moving expenses will have on your overall spending. This can also help you understand if you need to make budget cuts or generate more income.
For example, carefully track how much you're spending on unnecessary expenses like eating out, subscriptions, or entertainment costs. Cut back on or eliminate these costs as much as possible until after your move, and put any savings aside into your savings account.
2. Find ways to save and earn money
Moving can be expensive, but there are ways to save.
Ask local retailers for boxes you can have for free.
See if friends and family have any leftover moving supplies they'd be willing to let you borrow.
Enlist the help of family and friends on moving day if you're DIY moving.
Research moving companies and request multiple quotes.
You can also generate some additional income. Selling some of your things at a yard sale or online can help generate some extra funds. Consider working a few extra hours or picking up extra shifts, put aside any monetary gifts you receive, or even ask your boss for a raise.
3. Create an emergency fund
You should always have an emergency fund, but creating one leading up to your move can help ensure you're covered should the unexpected happen. Experts suggest having at least three to six months worth of expenses set aside just in case.
4. Measure cost against convenience
It's easy to think DIY moving is cheaper than hiring professional movers, but carefully and realistically consider the trade-off between cost and convenience. While moving yourself may save you money, you'll also need to invest much more time and energy yourself into the move. Moving companies may cost more, but can also get your items packed, loaded, and unloaded faster and potentially safer.
FAQs
How much you need to save for your move depends on things like whether you're self-moving or hiring professionals, how far you're going, when you're moving, how much you have to move, whether you're renting or buying a new home, and other factors. It's recommended to save between $6,000 and $12,000 before you move out to cover the cost of moving, mortgage or rent down payment, purchasing any furniture or other items in your new place, and paying other bills.
1. Start by taking careful inventory of your home to get moving quotes that are as accurate as possible.
2. Request multiple quotes and compare the companies carefully.
3. Borrow as many moving supplies as you can, or rent them vs. buying.
4. Host a yard sale or sell things online that you won't be taking with you.
5. Pack as strategically as possible to save space.
Also, compare the costs of DIY moving vs. hiring a professional – depending on where you're moving, the costs may net out to be more similar than you initially thought.
This depends on where you're moving from and to, and ultimately comes down to your own needs. If you have flexibility, winter is the cheapest time to move but you also risk weather delays. Spring and fall usually have better weather for moving but may be slightly more expensive. Summer can be the most expensive, but also the easiest. Additionally, moving mid-month, and even mid-week (Monday through Thursday) can also help you save.