How Can You Be Financially Prepared for a Baby?
Written by:
Caitlyn Callahan
7 min

read
962 Views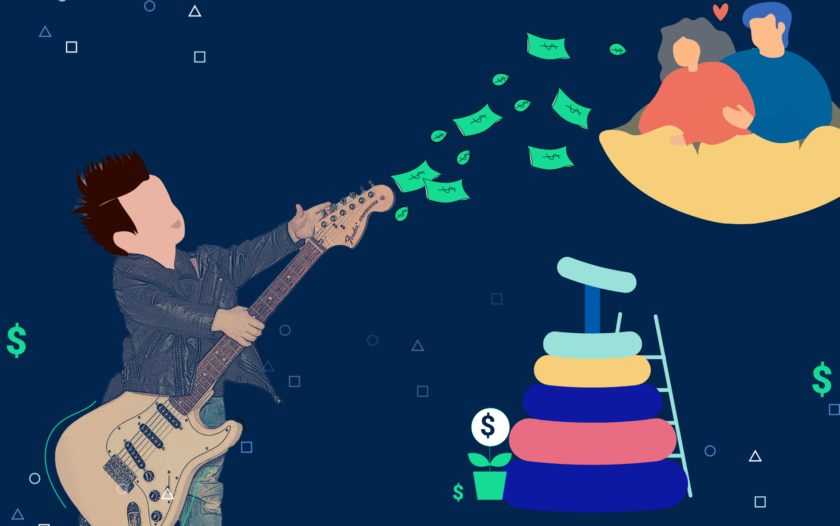 At a Glance
Having a baby can be an incredibly exciting time for new parents. Doing so marks a milestone in life that many families plan for for years. However, having a baby, including actual labor and delivery, can be very expensive. To avoid derailing future financial plans and goals and to set you and your baby up for success, it's important to be aware of expenses you may come across and plan for them.
To help, read on to learn more about:
What does it cost to have a baby?
The actual cost of a baby depends on several factors such as:
Where you live.
Where you're giving birth.
Your health insurance.
How you give birth.
Whether there are complications.
How long you stay in the hospital/what services you receive.
The health of your baby after birth.
There are even more, and all these expenses can add up quickly. Even with health insurance, the average cost of a healthy pregnancy and childbirth can total nearly $7,000 or more, while without insurance the total can be in the tens of thousands.
Here are a few of the primary factors that affect costs and how they compare.
1. Birthing center vs. hospital costs
A birthing center is a type of healthcare facility focused on holistic birth experiences. Staffed by nurse midwives, midwives, and/or obstetricians, they are designed for mothers in labor (assisted by doulas and/or coaches) with a focus on a non-medical environment. With fewer medical options as hospitals, these are an option for women with low-risk pregnancies.
On the other hand, hospitals are considered a more traditional place to give birth and they are better options for women with pre-existing conditions or who are at high-risk for complications. Hospitals also have a significantly more medical focus with more options.
Women who give birth at a birthing center often do so for the more comfortable, serene environment and increased control over the birthing process. Another reason may be the cost: The average prenatal care and delivery without complications is around $3,000 to $4,000 (without insurance).
Hospitals may be considered a safer option and have more medical intervention abilities, but they are also much more expensive, clocking in at more than $13,000 without insurance. However, with insurance the cost is closer to $2,800.
2. Vaginal vs. C-section delivery costs
Without insurance, the average cost of a vaginal birth is $13,024, including standard pre-delivery and post-delivery expenses. A C-section is much more expensive, costing an average of $22,646.
With insurance, a vaginal birth will cost closer to $2,655 compared to $3,214 for C-sections.
The higher cost for C-sections is due to them being a more intensive surgical procedure with longer admissions. In some cases, the parents may be able to elect a C-section over a vaginal birth, but in other cases, it's medically necessary or an emergency.
3. Additional hospital costs
It's important to understand all the potential costs you could face when giving birth, especially because these costs can add up quickly. While some costs can be avoided, others are just part of the birth experience. The actual charges and costs will look different for every family depending on several factors, but some of the most common include:
Hospital charges (equipment, room, etc.): $2,700
Lab tests: $500
Medications: $200
Obstetric care: $2,100
Anesthesia (if required): $900
Baby hospital charges: $900
4. State-wide breakdown of costs
The average cost of birth can vary significantly from state to state, so simply looking at national averages can make it difficult to accurately financially plan for the costs of delivery. Here are some of the most and least expensive states in the U.S. to give birth (without health insurance), assuming a healthy delivery:
Most expensive states to give birth
a. Alaska
Vaginal delivery: $20,243
C-section: $28,617
b. Wisconsin
Vaginal delivery: $17,888
C-section: $23,746
c. New Jersey
Vaginal delivery: $17,504
C-section: $21,294
d. New York
Vaginal delivery: $16,057
C-section: $22,059
e. Connecticut
Vaginal delivery: $15,000
C-section: $19,962
Least expensive states to give birth
a. Alabama
Vaginal delivery: $9,516
C-section: $13,589
b. Nebraska
Vaginal delivery: $9,655
C-section: $13,143
c. Utah
Vaginal delivery: $10,199
C-section: $14,252
d. Rhode Island
Vaginal delivery: $10,385
C-section: $14,088
e. Montana
Vaginal delivery: $10,244
C-section: $15,513
Other cost considerations
As you likely know, the costs associated with becoming a new parent don't stop with the labor and delivery. In fact, in the first two years of the child's life, expect to spend nearly $10,000 or more on things like:
Baby room furnishings (crib, rocking chair, changing table, etc.)
Baby clothes
Diapers and wipes
Baby food
Formula
Stroller, car seat, carriers, and other accessories
Toys
Again, these costs depend on the resources you have at your disposal and choices you make as a parent. But either way, having a child is an expensive investment that takes financial planning to prepare for.
Related: Cost of Raising a Child in US
How can you cover hospital bills after giving birth?
With costs varying so significantly and adding up quickly, it's important to have a plan for covering those bills prior to giving birth. This can help keep financial stress off your mind and give you the ability to just focus on your new baby. Here are a few ways you can cover those bills (depending on your financial situation):
1. Personal loans
A personal loan is a type of loan you can get from a bank, credit union, or online lender and the funds can be used for just about anything, including medical bills associated with giving birth. You would use the loan funds to pay off the medical bills in full, and then make monthly payments to pay off the loan.
However, depending on your credit score and other factors, the interest rates could be high which can make the loan more expensive in the long run. Use a loan calculator to estimate your expenses prior to applying.
Personal loans for labor and delivery
Learn more about your options for loan funds to help pay medical bills and other costs associated with having a baby.
2. Health insurance
Keep in mind that if you have insurance, under the ACA, pregnancy, labor, delivery, and newborn baby care must be covered by all health insurance plans. You'll have to meet your deductible and pay any copays or coinsurance, but once you meet your out-of-pocket maximum for the year, your insurance will cover the rest. This could save you thousands of dollars in medical bills.
Check with your health insurance provider to learn more about specific costs.
3. Medicaid
Medicaid provides health insurance coverage to eligible Americans with low or limited income and/or resources. This federal program includes coverage for costs associated with prenatal, care, labor, delivery, and other medically necessary costs. To see if you qualify and to apply for coverage, visit Medicaid.gov.
4. Other financing options
There is a plethora of other federal, state, and local organizations designed to help new parents who don't qualify for Medicaid but need financial assistance. They may offer emotional support, financial support, food, shelter, or other necessities to those who need it.
Tips to plan financially for a baby
Even though bringing a baby into this world is expensive, there are several things you can do to prepare and plan so that you're in the best financial situation possible. While it may seem impossible to plan for every possible scenario, there are a few ways to ensure you're as ready as possible:
1. Accommodate anticipated costs in your budget
If you're planning a pregnancy in the future, start budgeting for it now. Adjust your monthly budget to make room for anticipated birth costs as soon as you can, even if that means after you find out you're pregnant. Analyze your weekly and monthly spending and see where you can cut costs to pivot to savings for your new baby.
2. Stay in-network
If you have insurance, try to stay in-network. This includes pediatricians, doctors, obstetricians, hospitals, and other providers you may need. Costs will be much lower for those in-network providers vs. if you go out-of-network. Out-of-network services may not be covered at all and you'd have to pay the full cost out-of-pocket.
3. Understand your insurance coverage
Even before you start seeing doctors for your pregnancy, or at least as soon as possible, spend time researching and understanding your insurance coverage and what it does and doesn't cover regarding childbirth. Note how much you'd have to pay for certain services and keep track of potential out-of-pocket costs so you can start setting money aside and preparing for them.
4. Establish other accounts
You may want to consider establishing other accounts for your child, such as a future savings account or college fund. The sooner you start putting money into those, the better off your child will be in the future. Choose an account that earns interest and deposit/invest regular payments.
FAQs