Basement Financing – How You Can Fund Basement Remodeling
Written by:
Trevor Mahoney
5 min

read
221 Views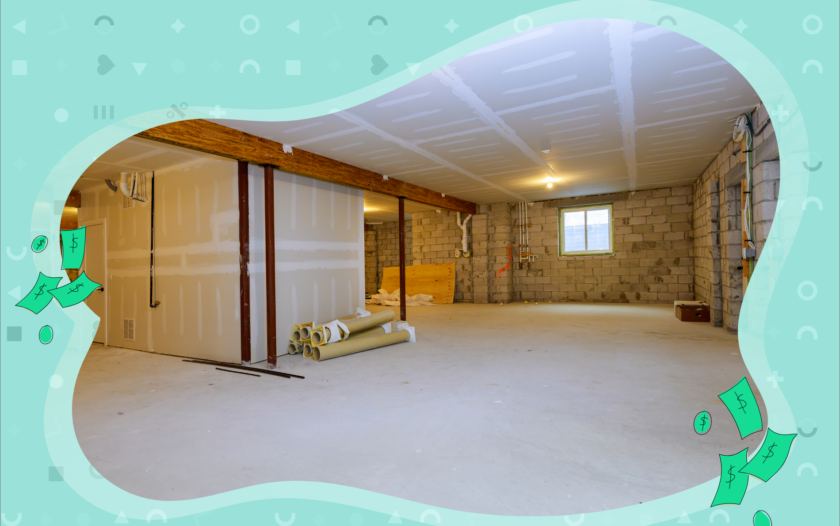 At a Glance
Fixing up your basement can be an expensive task, but financing options can take away some of the cost concerns. There are several different methods for basement financing, each of which has its own pros and cons that can make the financing decision vary from person to person. Read on to learn more about the financing options available to you.
In this article, you'll learn:
What is basement financing?
Before diving deeper into the financing options available for refurbishing a basement, it's important to cover what exactly a loan to finish basement work is. As potentially implied by the name, basement financing is financial assistance used for finishing work in a basement. This work can be expensive, which is why different kinds of financing assistance are available.
Different basement remodeling jobs can have different costs, which comes into play when considering how much a person can get from certain types of financing. Therefore, it's important to consider all financing options.
How does basement financing work?
The process of receiving financing for work on a basement is relatively simple:
Determine which type of financing option is best for you.
Apply for a basement loan by submitting personal and financial information.
Receive approval or denial for the financing.
Receive funds and begin repayments.
When applying for financing, depending on the type, you may have your credit pulled. A strong credit history will indicate to a lender that you are more likely to pay all the loaned money back in full. This can also help provide a borrower with a more favorable interest rate. Before applying, gather information such as your address, income level, and other factors that are required by the lender.
Costs of finishing a basement
Understanding the typical cost for finishing a basement is an important step in understanding why financing may be necessary. There are many factors that can go into the cost of finishing a basement such as:
Tiling or other flooring
Choice of walling
Items to be installed in the basement
Adding or improving lighting and existing ductwork
The above or just a few examples of what one may expect when finishing one's basement. On average, this results in a cost of somewhere between $6,000-$18,000 for most homeowners. As one can imagine, this is a difficult expense to pay out-of-pocket for anybody.
Financing options for a basement
With such a high average cost to complete a basement renovation, financing options become more appealing. Here are some of the most common ways to get a loan to finish basement work:
1. Personal loans
A personal loan is one of the most common types of financing options available. Under this type, you apply for either a secured or unsecured personal loan and request a certain amount of money. Personal loans will require a credit check along with income verification and other personal information.
As a borrower, you would be responsible for monthly payments on the principal of the loan that include any interest on top. Most personal loan options range from $1,000 all the way up to $100,000 depending on what you need the loan for, the information you provide to the lender, and more.
Personal loans are a strong option for financing home repairs.
Complete your basement work with a personal loan
2. Home Equity Loan and HELOC
A second option that could be used for basement financing is a home equity loan or a HELOC. Starting with a home equity loan, this is a type of financing option that is secured by the value of your home. This means that the amount you can borrow is only up to a certain limit of the equity in your home. Besides this, the structure is identical to a personal loan. However, not paying back the loan can result in you losing your home, which makes this a riskier form of financing.
As opposed to a home equity loan, a home equity line of credit works as a revolving form of financing. Rather than receiving a lump sum of money, you would receive access to funds up to a certain amount. You can borrow up to that amount, pay it back, and continue to borrow up to that amount. As with a home equity loan, though, the amount is determined by the amount of equity you have in your home.
Learn More: Home Equity Loans vs. Home Equity Lines of Credit
3. FHA loans
A federal housing administration (FHA) loan is issued by a bank or another approved lender. These loans tend to come with higher interest rates as they are designed for borrowers who have trouble getting access to funds from private lenders.
4. Contractor financing
Some basement work contractors may offer their own financing options that would allow you to pay back the total cost over time. In some cases, the interest rates offered may be competitive compared to those offered by third-party lenders, but they also may be more costly. Consider this type of financing in direct comparison to other options to see which is the least costly option.
5. Cash out refinance
With cash out refinancing, you are allowed to refinance your current home loan to free up cash for other projects. However, this can be a risky option if you already have an excellent interest rate on your current mortgage. Some people inadvertently refinance themselves into a worse interest rate and end up paying more money than necessary through this option.
Related: How Does Cash-Out Refinance Work?
Pros and cons of basement financing
There are several pros and cons of basement financing with even the best loan for basement work. Breaking down these benefits and drawbacks is an important step in determining whether financing your basement is the right option.
| Pros | Cons |
| --- | --- |
| Loan repayment means you need to set aside money every month for years to pay back the loan | You don't need to write one single check to cover the basement financing and can pay overtime instead |
| Certain loans may require collateral | Having access to a larger sum of funds will allow for more creative freedom |
| Potential for an unfavorable interest rate if you do not qualify for the best option | With a healthy credit score and income level, you can receive favorable interest rate terms that make the long-term cost acceptable |
Is remodeling your basement worth it?
The decision of whether to remodel your basement is entirely personal, but there are certain factors to consider that can indicate if it is financially worth it. In the long run, remodeling a basement can add great value to your home. However, if you cannot currently afford repayments on financing for the basement remodel, it may not be the smartest choice to undergo. Consider your personal and financial situation, as well as the long-term benefits of remodeling your basement, to determine whether you should.
FAQs
Recommended For You
Track your way to debt freedom with customized payoff plans.