This Report Says You Are Doomed If You Travel on These Days (and Out of These Airports)
Written by:
Harrison Pierce
6 min

read
1944 Views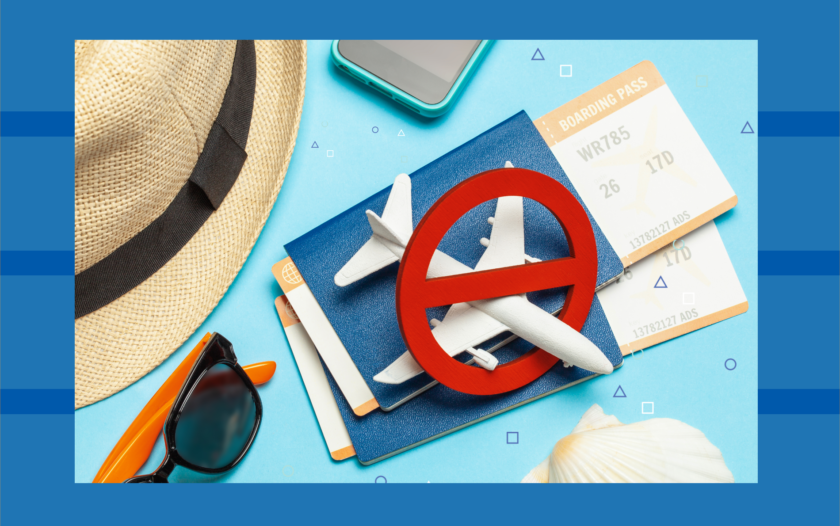 At a Glance
Unless you have been living under a rock that doesn't have WiFi, you know that flight cancellations, delays, and lost baggage have been at the forefront of everyone's travel experience, especially this summer. In this article, we share insights on the worst days, times, and airports to fly out of so you can be prepared for your next trip.
Summer travel has been a mess
After two long years of COVID restrictions impeding travel, things are now fairly back to normal now when it comes to having to take COVID tests or show vaccines while traveling. People were so thrilled to get back to the skies and live out all their Revenge Travel plans. However, that doesn't seem to be the case. It seems that travel is harder than ever right now. Instead of "Hot Girl Summer" now we have "Hot Girl is a Mess Because Her Flight Was Delayed Six Hours and Now She Has a Layover in Atlanta Summer."
Flight cancellation data
Since the beginning of June, almost 26,000- flights have been canceled and 260,000 have been delayed, according to FlightAware. That is a lot of cranky people being forced to use food vouchers at Panda Express because they have to live at the airport.
But which days and which airports are the worst? AirHelp, an air passenger rights company, compiled data on flight cancellations from May 27 through July 15. Understanding this data can help you make informed decisions about when to fly and out of what airport.
For New York-based passengers, it will come as no surprise that LaGuardia airport has the highest percentage of flight cancellations, with 7.7% of flights canceled during this timeframe. Newark Liberty airport is not much better, coming in at the second spot with 7.6% of flights canceled. If you are transiting through the NYC area, it looks like JFK is your best bet.
Here is the full list of the top 10 airports for cancellations:
LGA – New York LaGuardia Airport – 7.7%
EWR – Newark Liberty International Airport – 7.6%
DCA – Washington Ronald Reagan National Airport – 5.9%
PIT – Pittsburgh International Airport – 4.1%
BOS – Boston Edward L Logan International Airport – 4%
CLT – Charlotte – 3.8%
PHL – Philadelphia International Airport – 3.8%
CLE – Cleveland Hopkins International Airport – 3.7%
MIA – Miami International Airport – 3.7%
JFK – New York J F Kennedy International Airport – 3.6%
If possible, try and schedule flights in the morning. The majority of cancellations occurred for flights scheduled between 4:00 pm and 9:59 pm. Summer thunderstorms play a big role in these trends.
When it comes to the day of the week, Tuesday seems like the best day to fly. Here is a ranking of the worst days to fly:
Friday
Thursday
Wednesday
Saturday
Sunday
Monday
Tuesday
So, to avoid flight cancellations, try to fly on a Tuesday morning and avoid as many of the airports on the above list as possible.
Use Credello's credit card comparison tool to see which credit card is perfect for your next trip. Find cards without foreign transaction fees and ones that offer comprehensive insurance for cancellations or lost baggage.
What this means for travelers
If you have been traveling throughout the summer, you likely have experienced a delay or cancellation in some capacity. Lost bags and flight delays mean money lost in pre-paid hotel rooms, car rentals, parking, and pet care. In an already extraordinarily expensive summer due to inflation, a study from Forbes Advisor found that 83% of travelers lost money due to travel issues. Nearly 60% of those surveyed lost $500 or less but one in four lost over $500 and 14% lost over $1000. According to a 2021 survey from LearnVest, about 74% of Americans will go into debt for a vacation or trip without any issues so this summer of travel chaos will only add to their hole.

Check out lenders and solutions that will get you what you need We found 5 options for your requirement
Advertiser Disclosure

8.99% - 23.43%
Est. APR Range
$5,000 - $100,000
Loan Amount
Good For: High loan amounts available, no fees
Good For: High loan amounts available, no fees
7.99% - 35.99%
Est. APR Range
$2,000 - $36,500
Loan Amount

8.49% - 35.99%
Est. APR Range
$1,000 - $50,000
Loan Amount
Good For: Low loan amount
Good For: Low loan amount
8.99% - 35.99%
Est. APR Range
$2,000 - $50,000
Loan Amount
Good For: Getting funds quickly
Good For: Getting funds quickly
9.95% - 35.99%
Est. APR Range
$2,000 - $35,000
Loan Amount
Good For: Getting funds quickly
Good For: Getting funds quickly
These issues are not just plaguing the U.S., but are seen throughout the world. Almost every airline laid off many employees throughout the pandemic and is still not back up to the necessary number to accommodate a large amount of travel. In Europe, a shortage of ground workers has led to many lost bags and trip interruptions. We find it particularly useful to throw an AirTag or other tracking device into our checked bag so we always know where it is throughout our trip.
For travelers that can be flexible, try and vary the times and days of the week that you fly. Think outside the box of both departure and destination airports. Consider driving if it is a short distance, and always be prepared for the unexpected.
How credit cards can help
Several travel credit cards can help with not only paying for travel but assistance if something happens while you are on your trip.
The Chase Sapphire Preferred comes with trip cancellation and interruption insurance, auto rental collision damage waiver, and lost luggage insurance. The annual fee is only $95, which means you get comprehensive coverage for a small amount of money. Make sure you book your trip with your card to receive these benefits.
If you can invest more, the Platinum Card by American Express is the best of the best when it comes to protections and benefits. Receive up to $10,000 per covered trip in trip cancellation and interruption insurance. If your trip gets delayed more than 6 hours and was booked with your card, you can receive up to $500 per trip. Receive up to $2,000 for checked baggage and up to $3,000 for carry-on baggage if bags get lost, damaged, or stolen. You can also receive emergency assistance, which includes emergency medical evacuation, through the Premium Global Assistance Hotline whenever you are more than 100 miles away from home.
No matter which card you choose, having a travel credit card in your wallet to help with trip cancellation or interruption is a must.
How the department of transportation is helping
The United States Department of Transportation has recently released a proposal that expands consumer rights when it comes to cancellations and refunds when it comes to international and domestic flights. As of now, passengers are not legally entitled to any sort of compensation for delayed or canceled flights. The new proposal is modeled after the EU's Air Passenger Rights, which will require passengers to be refunded to their original form of payment, as long as they meet the criteria.
The criteria are as follows:
If your flight is canceled
If departure or arrival times are delayed by at least three hours for domestic flights or by at least six hours for international flights*
Anytime the departure or arrival airport changes or the number of connections is increased on an itinerary
If the original aircraft has to be replaced by another but there's a major difference in the onboard amenities offered and overall travel experience as a result
*flyers cannot accept alternate transportation AND receive a refund
In addition to these new rules, airlines would also be required to issue a travel voucher that does not expire if passengers are unable to fly for reasons related to the pandemic. Although the proposal is not law just yet, it marks an exciting time for travelers and will allow for much more seamless travel.
Bottom line
As of the time of writing, 3% of all flights in 2022 have been canceled and more than 20% have been delayed. To avoid these issues, try to fly at less popular times and through less busy airports. Make sure your travel credit card offers protection against trip cancellation and lost baggage, and be on the lookout for news regarding the DoT proposal.
Here's to another summer full of travel.