7 Credit Card Hacks for Black Friday
Written by:
Harrison Pierce
6 min

read
225 Views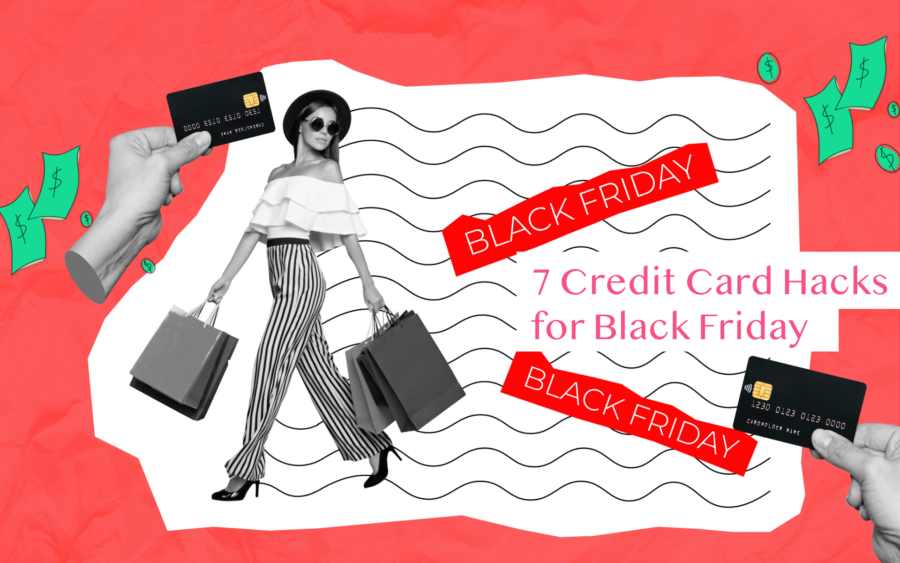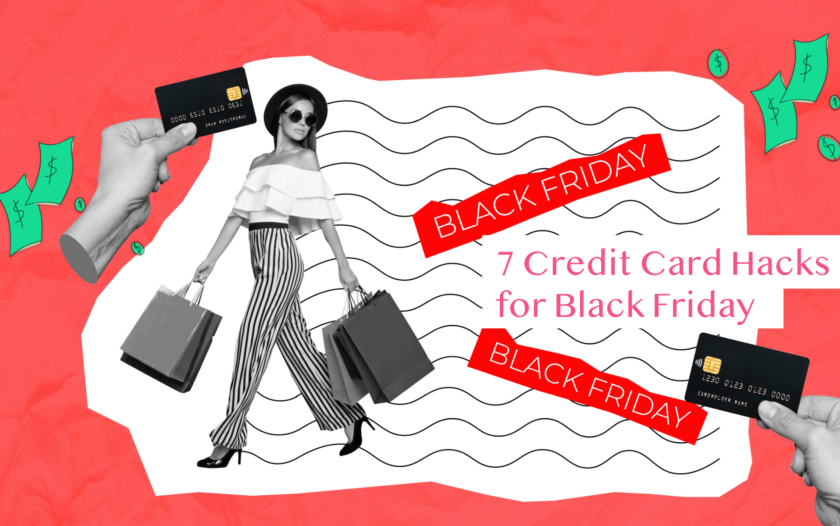 At a Glance
Ah, the chaos and thrill of Black Friday, where hoards of shoppers converge upon stores, eagerly seeking the best deals, often leaving with more purchases than intended and wallets significantly lighter. But fear not, savvy shoppers! In the realm of retail warfare, wielding your credit card can be a powerful weapon when used wisely. Here are seven credit card hacks to conquer Black Friday like a seasoned pro, helping you snag the best deals without breaking the bank.
9.12 billion
The total amount spent on Black Friday shopping in 2022.
FinFact
The top credit card hacks for Black Friday
1. Leverage sign-up bonuses and rewards programs
Credit card companies often tempt consumers with enticing sign-up bonuses, particularly around the holiday season. Take advantage of these offers to earn extra rewards or cashback on your Black Friday purchases. Some cards offer generous bonuses for new users, ranging from statement credits to boosted cashback rates during the initial months.
Additionally, if you possess multiple credit cards, consider which ones offer the best rewards or cashback for the types of purchases you plan to make. Prioritize using cards that reward you for Black Friday essentials, like electronics, clothing, or travel.
2. Timing is everything: Plan your purchase
The early bird gets the worm, or in this case, the best Black Friday deals. Some credit cards provide price protection features, allowing you to claim a refund if the price drops shortly after your purchase. Research the policies of your credit cards to leverage this benefit. Additionally, consider timing your purchases strategically to capitalize on limited-time deals or flash sales.
3. Maximize cashback and bonus categories
Understanding your credit card's cashback or bonus categories can be a game-changer. Some credit cards offer rotating categories with higher cashback rates during specific periods. Check if any of these align with Black Friday purchases, like department stores, electronics, or online shopping, and use those cards to maximize your savings.
4. Beware of spending thresholds
While rewards and cashback are tempting, be cautious of spending thresholds. Some credit cards offer lucrative bonuses after reaching a certain spending limit within a designated period. However, avoid overspending just to chase these bonuses, as the interest accrued can negate the rewards gained. Stick to your budget and only spend what you can comfortably afford to pay off.
5. Stay alert for fraud and identity theft
During the hectic Black Friday rush, fraudsters also amp up their game. Keep a vigilant eye on your credit card transactions and set up alerts for any suspicious activity. Many credit card companies offer real-time fraud monitoring, allowing you to receive immediate notifications for any unusual charges. Safety first, savvy shopper!
6. Utilize credit card price protection and extended warranty
Certain credit cards offer additional perks, like price protection and extended warranties, on purchases made with their card. These perks can be a lifesaver if the price of your newly purchased gadget drops or if it unexpectedly malfunctions after the manufacturer's warranty expires. Familiarize yourself with your credit card's policies to take advantage of these benefits.
7. Redeem points or cashback wisely
Don't let your hard-earned rewards go to waste. As you rack up points or cashback, consider the various redemption options your credit card offers. Whether it's redeeming for statement credits, travel rewards, gift cards, or merchandise, choose the option that offers the most value. Some credit card companies even offer bonus redemption rates during the holiday season.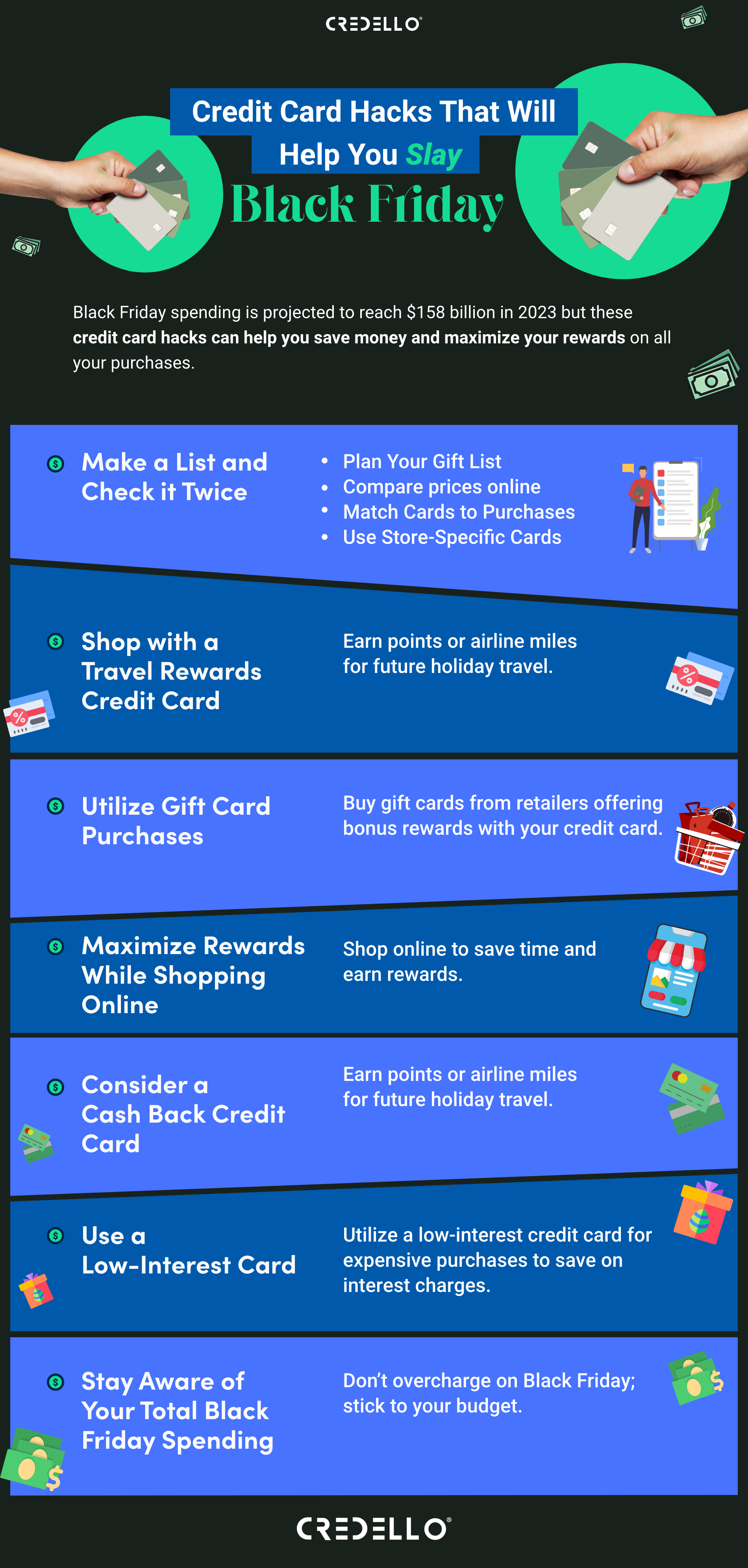 Unwrapping the perfect credit card: What to look for
Before diving headfirst into the chaotic sea of sales, it's essential to equip yourself with the right credit card. Here's what to consider when selecting the ultimate piece of plastic for your shopping extravaganza.
1. Rewards and cashback bonanzas
Find a credit card that dances to the tune of rewards and cashback offers. Seek those that provide enticing perks tailored for the shopping spree ahead. Higher cashback percentages, bonus points, or special rewards for specific categories can make a significant difference.
2. Introductory offers and sign-up bonuses
Some cards tantalize with sign-up bonuses or limited-time introductory offers, offering you a sweet taste of savings right from the start. Keep an eye out for these to supercharge your savings.
3. Price protection and purchase benefits
The real MVPs of Black Friday are credit cards with price protection and purchase benefits. These hidden gems offer you peace of mind, ensuring you won't lose sleep if the item you just bought drops in price post-purchase.
4. Annual fees and APR
Don't let annual fees sneak up on you like a surprise guest at a party. Look for cards with reasonable or waived annual fees, and always keep an eye on the Annual Percentage Rate (APR) to avoid post-holiday blues due to high-interest charges.
Top credit cards for Black Friday bargain hunting
1. Chase Freedom Unlimited®
This card is a chameleon, effortlessly adapting to various shopping scenarios. Its flat-rate cashback rewards and no annual fee make it a solid choice for those wanting a straightforward, no-nonsense cashback experience. Plus, during the introductory period, it offers a 0% APR on purchases, making it a heavyweight contender for Black Friday.
Apply now: Chase Freedom Unlimited
2. Citi Double Cash® Card
Imagine a card that gives you cashback twice – the Citi Double Cash® Card. It offers 1% cashback on purchases and another 1% as you pay them off. With no annual fee and a simple cashback structure, it's like a reliable friend who always has your back.
Apply now: Citi® Double Cash Card
3. American Express® Gold Card
This luxurious piece of plastic is for high rollers. With impressive rewards in various categories, especially on U.S. supermarket purchases and dining, it's a go-to for those who prefer the finer things in life. The Amex Gold Card showers you with Membership Rewards points, and let's not forget its lucrative sign-up bonus.
Apply now: American Express Gold Card
4. Discover it® Cash Back
A wild card in the pack, the Discover it® Cash Back card doubles all the cashback you earn in the first year, and it's accepted at most retailers. Its quarterly rotating bonus categories could align perfectly with your Black Friday wish list, making it a strategic choice for deal-hunters.
Apply now: Discover it Cash Back Credit Card
5. Capital One Venture Rewards Credit Card
Don't let its travel-centric name fool you; this card offers much more. With a competitive flat-rate rewards structure and a sizable sign-up bonus, it's an excellent choice for those who want to reap the rewards beyond the holiday season.
Apply now: Capital One Venture Rewards Credit Card
Bottom line
Black Friday can be a shopper's paradise or a budgetary nightmare, but armed with these credit card hacks, you can navigate the frenzy with finesse. Remember, the goal is to shop smartly, not impulsively. Prioritize your needs, set a budget, and let these credit card strategies serve as your trusty sidekicks as you conquer the Black Friday battlefield. Happy shopping, and may the deals be ever in your favor.