5 Signs You Should Not Buy a House
Written by:
Harrison Pierce
6 min

read
2952 Views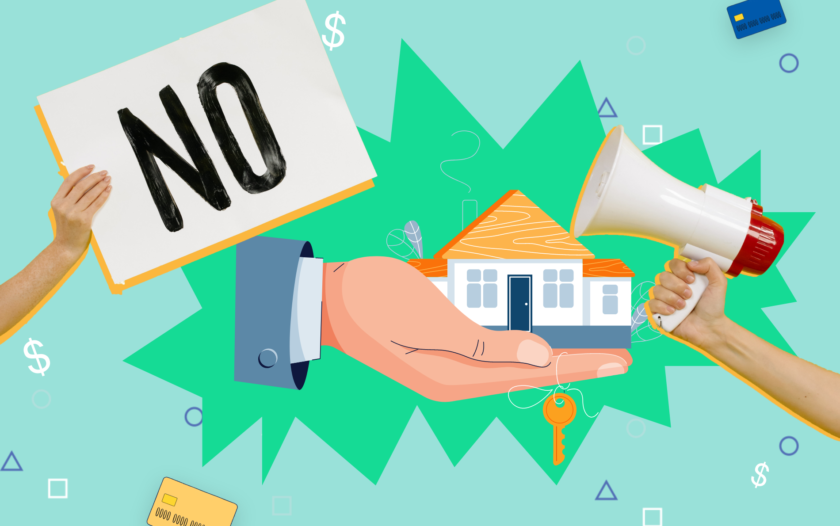 At a Glance
You may want to buy a house but there are several indicators telling you it is not the time. Do you have debt? A bad credit score? You can't afford the down payment? What about problems with the house itself? You don't want to find yourself in a "The Money Pit" situation (as great as that movie was.) Is the market too crazy right now? What are the big signs you should look out for?
Many of us dream of having a beautiful house we can call our own. I mean isn't that one of the main reasons why we watch Nancy Meyers movies (well that and the vague but catch titles)? Owning a house with a little yard or porch is one of the pillars of the American dream. However, dreams are not reality and you may not be in the right place financially, or even mentally, to buy a house in the near future.
You are struggling with debt
If you are struggling with debt, now is not the time to buy a house. Of course, some debt is okay. However, if you have a lot of debt between student loans, auto loans, and credit cards, then it might be difficult to get approved for a mortgage. If you do get approved, you might get hit with very high interest rates, which will make your mortgage too expensive. With too much debt, you will be considered a high-risk borrower, so lenders will be hesitant to move forward on your application.
Instead of focusing on buying a house, focus on paying off your debts as quickly as possible. Cut down your expenses and put more of your income towards your debt payments. See if you can consolidate or negotiate your debts so you can pay them off quicker. Becoming debt free prior to purchasing a home will not only convince lenders that you are trustworthy but will help you feel confident in your decision.
If you are struggling to pay off debt, you have options. Personal loans can be a great way to pay off high interest debts like credit cards. Use Credello's personal loan lender comparison tool to get personalized recommendations on loans.

Check out lenders and solutions that will meet your needs We found 8 options for your requirement
Advertiser Disclosure

8.99% - 23.43%
Est. APR Range
$5,000 - $100,000
Loan Amount
Good For: High loan amounts available, no fees
7.99% - 25.49%*
Est. APR Range
$5,000 - $100,000
Loan Amount
Good For: Offers longest loan term, no fees
7.99% - 35.99%
Est. APR Range
$2,000 - $36,500
Loan Amount

8.49% - 35.99%
Est. APR Range
$1,000 - $50,000
Loan Amount
Good For: Low loan amount
8.99% - 35.99%
Est. APR Range
$2,000 - $50,000
Loan Amount
Good For: Getting funds quickly
9.95% - 35.99%
Est. APR Range
$2,000 - $35,000
Loan Amount
Good For: Getting funds quickly
11.69% - 35.99%
Est. APR Range
$1,000 - $50,000
Loan Amount
Good For: low income criteria, fast funds
21.99% - 35.9%
Est. APR Range
$2,501 - $12,000
Loan Amount
Good For: flexible payment options, fast funds.
Congratulations! You're close to seeing your offers!
Please take a second to review the details you shared earlier
Your credit score is low
If you have poor credit, your options for lenders and mortgages are low. Instead of worrying about purchasing a house, you should work on improving your score. There are a variety of ways that you can boost your score, like paying off debt, making sure you pay all payments on time, and keep utilization as low as possible. If you make it a priority to boost your credit score, then you will be ready to purchase a home in a few years. With a higher credit score, you not only have more options when it comes to getting a mortgage, but you will seem like a less risky borrower, which will likely result in lower interest rates.
You can't afford a down payment
If you can't afford a down payment, then now is not the time to buy a house. You should be putting at least 10% down on a home, but ideally, you can put 20% down. Anything below 20% will need private mortgage insurance, which is basically a safety net for the banks if you default on your loan. The more money that you can put down, the better. By putting money down upfront, you lower your monthly mortgage expenses. This way, you can ensure that your mortgage does not exceed 25% of your income so you have plenty of room in your budget for savings and unexpected expenses.
If purchasing a home is an important goal for you, then try and set aside a small amount of money each month to save for a down payment. Before you know it, you can have a nest egg that is ready to be used on a down payment when you are ready.
You don't know what to look for
Not all houses are created equal, so you need to know what to look for when you are interested in purchasing a home. Thoroughly look at both the inside and the outside for any signs of damage or things that will need repairs. Get an inspection to see if there are any hidden problems that will end up costing you a lot of money. Ask your realtor about the ownership history of the home. If there is a lot of turnover, that can be a red flag that the house is a money pit. When you are walking through the house, look at the floors and the walls for signs of water damage or mold. Notice what it sounds like outside and try to tour at multiple times of the day to see if it gets particularly noisy.
When it comes down to the price, make sure you look at comparable properties in the neighborhood to see what the true value of the home is. You also want to look at the market to see if now a good time for you is even to purchase a home. In a sellers' market, you are going to pay top dollar for a home that you might not get a great return on in a couple of years. If you do not know what to look for, you can end up overpaying for a home that will cost you a lot of money.
You don't know what the future holds
Buying a house is a huge decision, so you should be thinking about what the future holds before you make that decision. If you are planning to move in the next few years, then now might not be the best time to buy a house. You should have emergency savings accounts, money to plan for retirement, and know what other big expenses you have in store in the next few years.
Life is never easy to predict, but you should feel relatively settled in one place before you decide to purchase a home. Think of your career, your desire to have a family, weddings or big trips that are planned, and other big-ticket items before buying a home. If things seem too up in the air, wait until you are more settled to make that purchase.
Bottom line
Purchasing a home is a huge decision, and not one that should be taken lightly. If you are not ready to buy a home just yet, spend the next couple of years getting more prepared to make that decision. Work on improving your credit score, paying off debt, saving up for a down payment, and research exactly what you need to look for. When you are ready to buy a house, shop around for mortgage lenders and realtors to assemble a team that will work with you to make this dream a reality.