These 18 Inflation Hacks for Halloween are Scary Good
Written by:
Ashley Jones
5 min

read
2360 Views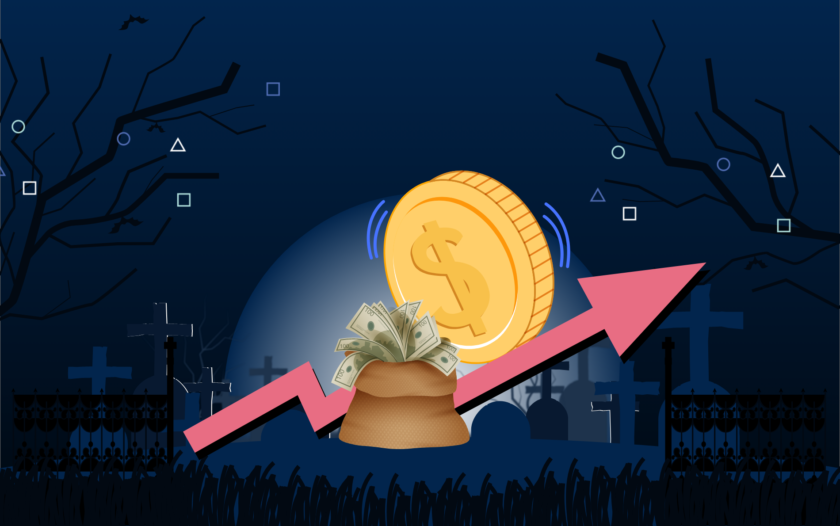 At a Glance
Halloween is a fun time to enjoy candy and costumes, but it can also be a budget buster. Record-high inflation in the U.S. means higher prices not only on necessities but extras like holiday decorations and party supplies as well. Families who are looking for ways not to go broke getting ready for Halloween despite the challenging economy can benefit from spending smart.
How will inflation affect Halloween in 2023?
$12.2 billion
The amount of money Halloween spending is expected to reach in the U.S. in 2023, exceeding last year's $10.6 billion. Candy spending alone is $3.6 billion.
FinFact
Despite soaring inflation, American shoppers are still expected to spend $108.24 per person this Halloween. A reported 73% of American consumers plan to celebrate Halloween in some way this year, according to the National Retail Federation's 2023 Halloween trends report. If estimates hold, Halloween spending in the U.S. could total a record $12.2 billion. But when you need to trim your spending, extras like holiday decor and party supplies are usually the first to go.
From handing out candy to carving a pumpkin or throwing a Halloween party, the expense of getting ready for Halloween can add up. Above and beyond sticking to a budget, use these 18 Halloween inflation hacks to minimize the dent this spooky season will make in your wallet.
Even if you are using all the inflation hacks and not making progress on your debt, you have options. Consider consolidating your debts with guidance.
Find the Best Debt Consolidation Loan for You
Answer these simple questions to find solutions you're likely to get approved for
What debt do you want to consolidate?
Select all that apply
Others does not include mortgage
1. Shop second hand for Halloween costumes
Most people only wear their Halloween costume once. So, you can typically find great deals on secondhand costumes on Facebook Marketplace, apps like Offer Up, and local "buy nothing" groups.
2. Go DIY this Halloween
Make your own Halloween costumes and decorations whenever possible. There are plenty of ideas online to spark inspiration that won't break the bank. DIY projects are not only more budget-friendly, but they can also be a fun activity.
3. Shop around for Halloween essentials
Price match things you know you'll need like candy, costumes, and party supplies. Don't let store brands scare you — they're usually just as good as their brand-name counterparts for a fraction of the cost. But sometimes if you catch a name brand on sale, the deal is better, so always be sure to shop around.
4. Buy Halloween candy in bulk
Big bags of Halloween candy will typically cost less per piece than smaller quantities. It also helps to plan ahead. You can often find good deals on candy purchases made well in advance of Halloween.
5. Pay attention when party planning
Ask guests to RSVP ahead of time to your Halloween party. Knowing how many people will attend can help you plan better, so you're less likely to overbuy or overspend on party supplies and food.
6. Use a browser plug-in to shop online for decor & costumes
It's fun to shop in-person for Halloween decor, costumes, and party supplies, but shopping online with a browser plug-in can help you save. Use an app like Rakuten to get cash back for online purchase through select retailers or Honey by PayPal to get instant access to coupon codes.
7. Consider shopping at wholesale stores
If you need to stock up on party supplies or are feeding a crowd on Halloween, wholesale stores can help you save. Retailers like Costco, Sam's, and BJ's do require the purchase of a membership upfront, but the savings are worth it. They also have great deals on costumes around Halloween.
8. Make your own Halloween treats
Homemade Halloween goodies like cookies and cupcakes can be just as much fun as store-bought, and they'll save you money. There are plenty of recipes and ideas online to explore.
9. Take advantage of Halloween sales
Many stores offer special Halloween sales, so be sure to keep an eye out for deals. Sign up for retailer emails and texts to recieve free shipping codes, loyalty bonuses, coupons, and more in your inbox.
10. Avoid impulse purchases
It's easy to get caught up in the Halloween spirit and buy more candy or decorations than you need. Stick to your budget and resist the temptation to overspend.
11. Time your Halloween shopping just right
Get a jumpstart on holiday spending by shopping for Halloween earlier in the season. Or skip buying new decorations this season altogether and wait for Halloween items to dramatically decrease in price the week after the holiday. This will prevent you from having to spend more when next season rolls around. Spread the expenses throughout the season instead of just buying everything at once.
12. Take advantage of free local Halloween activities
Instead of paying the entry fees to haunted houses, find free events in your area to participate in. Many communities offer trunk-or-treat events, hayrides, and other fun festivities that don't cost a thing.
13. Enjoy Halloween at home
Especially if you have kids, Halloween activities can add up. Save money and celebrate at home with low-cost and free activities like printable coloring sheets, Halloween games, or watching scary movies. You can also play spooky music, listen to ghost stories on your smart device, or make Halloween crafts.
14. Costume swap
Instead of buying second-hand costumes, consider organizing a costume swap with friends or neighbors. This way, everyone gets a fresh look without spending a dime, and it can be a fun pre-Halloween event.
15. Buy non-perishables early
Purchase non-perishable items like party supplies, decorations, and canned goods for Halloween well in advance. Retailers may offer discounts on these items in the months leading up to Halloween, helping you save money in the long run.
16. Host a potluck party
If you're throwing a Halloween gathering, consider making it a potluck. This way, your guests can contribute by bringing their favorite dishes or treats, reducing your overall party expenses and ensuring everyone has a spooktacular time.
17. DIY party games
Entertain your Halloween party guests with DIY games and activities. Ideas like pumpkin carving contests, mummy wrap races, or a Halloween scavenger hunt can be budget-friendly and provide hours of enjoyment.
18. Reusable decorations
Invest in reusable Halloween decorations that can be used year after year. While the initial cost may be higher, you'll save money in the long run by not having to buy disposable decorations annually. It's also better for the environment.