11 Ways to Make Extra Money During the Holidays
Written by:
Tim Thomas
9 min

read
1980 Views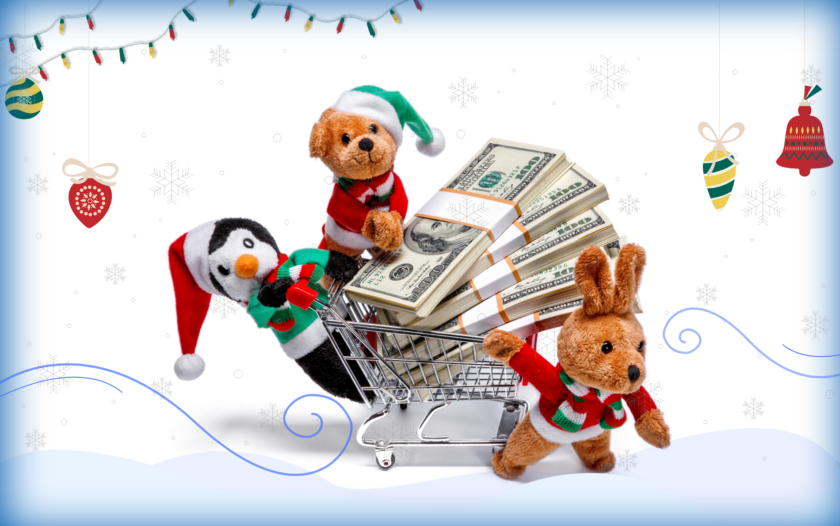 At a Glance
These 11 money-making ideas will have your wallet feeling more jolly this holiday season.
In this article, you'll learn:
1. Play games on your phone
Yes, it's a thing – your childhood dreams have come true. Finally, you can get paid to play games on your mobile device. The more you play, the more you earn. So squeeze in some play time during your lunch break, as you're standing in line at the grocery store, or waiting at school pickup. This is the perfect gig to fit into the margins of your day.
It's simple to start. Download some games that pay to your phone or tablet, play as often as possible, and cash out your points for real money or free gift cards.
These are some of the most popular gaming apps to try:
Mistplay
Solitaire Cash
Dominoes Gold
2. Pet sit
If you're an animal lover, pet sitting is a no-brainer.
Pet sitters are in high demand during the holiday as people travel without their furry friends. In many cases, pet sitting doesn't require much work. Still, it does require a flexible schedule and a willingness to love on other peoples' pets just as you would your own.
You may be surprised to learn that pet sitting can pay pretty well. According to Zippia, pet sitter salaries range from $22,000 to $34,000, depending on location.
Try some of these methods to book some 4-legged clients quickly:
Post in your neighborhood or local Facebook groups
Ask friends and family for referrals
Create a profile on pet-sitting apps like Wag! or Rover
If a side hustle still isn't making ends meet, check out our debt consolidation tool to see what's available to help you pay down debt fast.

Find the Best Debt Consolidation Loan for You
Answer these simple questions to find solutions you're likely to get approved for
What debt do you want to consolidate?
Select all that apply
Others does not include mortgage
3. Pick up a part-time job
You may have written off the option of finding a part-time job to supplement your holiday expenses, but it could be worth a second thought. Typically, starting a new job takes a few weeks; however, the holiday season is the exception to this rule.
The majority of retailers and delivery companies need help around the holidays. Unfortunately, they need a lot of help, and they need it fast. While big corporations like Target, Amazon, and UPS are undoubtedly hiring, getting through their corporate processes and training may take too long.
Visit businesses local to you. Smaller, private, or family-owned businesses can likely onboard employees more quickly, allowing you to collect your paycheck before the holiday shopping window closes.
4. Sell your old stuff
Forget old-school flea markets and garage sales that take hours of your time and may earn you some spare change – if you're lucky. Instead, list your unwanted clothing and household items on online platforms like Poshmark and Mercari.
These popular platforms allow you to command much higher prices for your items and take much of the work out of selling your stuff.
The process is quick and painless. Begin by signing up for a free account on either site – or signup for both. Next, you'll want to take quality photos of your items and create a listing. Finally, enter the required information in each field and publish your listing.
Incorporate these tips to make sales quickly:
Include a lot of pictures. Potential buyers want to see all the details before making a purchase.
Accept the platform's pricing recommendations. These are made based on prior sales data.
Be honest – don't try to hide any flaws your item may have. That can result in poor reviews and returns.
5. Become an online tutor
Tutoring is another industry that has experienced a recent migration to the internet and is a great way to earn quick money if you possess the necessary skills. Of course, you can still tutor someone in-person; however, it's no longer a requirement.
Getting hired by a tutoring company will likely require more advanced skills or certifications. Another option is privately tutoring a friend, neighbor, or family member. In this case, the only real skill required is that the potential client feels you're qualified for the job.
For example, a high school student who earned good grades in math is likely qualified to tutor a middle schooler struggling with Algebra 1.
Tutoring can get you paid quickly, plus you'll be well-compensated for your time as private tutor jobs pay an average of $24 per hour.
The hiring process for online tutoring companies like Kaplan or VIPKid can take anywhere from a few days to a few weeks, with each paying different rates. As a private tutor, you can set your own rates, book one-on-one or group sessions, and offer times that fit your schedule.
Try these methods to find online or in-person tutoring clients quickly:
Ask friends and family for referrals
Post your services in local Facebook groups or on your personal profile
Inquire with local schools
List your services on sites like Care.com
Apply to an online tutoring company
6. Complete online surveys
Your opinion is valuable. So valuable that many companies are willing to pay you to share it.
Market research firms hire online survey companies to gather consumer data and feedback. Businesses then use this information to better tailor their products and services to the wants and needs of their customers.
Completing online surveys does not require any skills but does require available time and attention. Of course, you can complete surveys while eating or watching TV, but you will need to be able to read the questions and comprehend what it's asking.
The process is quick and easy. Once you create a free account on an online survey app or website, you're usually prompted to answer some questions giving some basic information about yourself. This information allows the survey company to match you with the correct surveys.
When you receive survey requests, you can choose to complete them or not; however, you will only be paid for the surveys you complete. Each platform has different guidelines, rewards, and payment options.
Signing up for multiple online survey companies is a great way to maximize the number of available surveys you receive.
Get started with these legit survey companies:
Survey Junkie
Swagbucks
InboxDollars
Surveys2Cash
Toluna Influencers
7. Do freelance work
Companies are constantly looking for professionals to handle additional tasks and projects. These services range from logo design-making to computer repairs, copywriting, freelance writing, e-commerce, marketing, and more.
Freelancing is a great way to make money fast. Sites like Fiverr and UpWork allow new freelancers to easily market their services to the public.
As a freelancer, you're only limited by your imagination and current skillset. You can offer freelance services in almost any industry. Take a few minutes to brainstorm specific skills you possess that can be useful to other people or businesses. If you're feeling stuck, browsing Fivver will likely give you multiple ideas of offers you can create to earn money.
Follow the steps to list your "gig" online and choose a reasonable price to encourage people to hire you. Then, ensure you return good-quality work to build your profile with positive reviews.
8. Deliver food
A reliable means of transportation and a mobile phone are all you need to make money delivering food. Food delivery services exploded in popularity during the pandemic – and it appears they're here to stay.
Delivering for companies like DoorDash, Postmates, GrubHub, and Uber Eats requires drivers to pick up food orders from restaurants and deliver them to customers. Companies like Shipt and Instacart use a similar model for delivering grocery orders.
Delivering food allows you to set a schedule that works around your other commitments. For example, as a driver, you can use mobile apps to accept or decline pickups and schedule your availability.
It may take up to a week to be approved as a driver, but once approved, you can begin delivering immediately.
9. Monetize your hobby
In this day and age, you can sell almost anything. So whether you love to bake, cross-stitch, make jewelry, or paint, there is a market for the stuff you make. And if there's one sure thing about the holiday season, people are looking to spend money – you just need to find them.
Getting paid to do something you love is one of the most fulfilling ways to make money.
Check out these marketplaces to sell your items:
Handmade items or crafts: Etsy, Amazon Handmade, eBay, vendor shows, local Facebook groups
Personalized items (t-shirts, jewelry, etc.): Etsy, Amazon Handmade, eBay
Baked goods or homemade treats: Vendor shows, local Facebook groups, local markets and shops
Digital Products (printables, photos, graphics, etc.): Etsy, Creative Market
While you can make good sales using the marketplaces listed, the lowest-hanging fruit is to set up a table at vendor or craft shows in your local community. They are often free or low-cost to participate in, and you can get paid immediately for each sale. Check local schools, churches, businesses, and Facebook groups to find upcoming shows in your area.
10. Shop online
This may sound slightly counterintuitive; however, you'll leave money on the table if you do your holiday shopping without using a cashback site.
Many online retailers pay people and companies to refer customers to their sites. Then, when you do your online shopping through a cashback site, they will refund a portion of that referral fee back to you, the shopper, in the form of a cashback rebate.
While that may not sound particularly lucrative, these rebates can be surprisingly large, especially during the holiday shopping season.
Some sites pay you in actual cash via PayPal or a paper check, while some may only provide free gift cards as payment, which you can use to purchase your holiday gifts. Remember to use cashback sites each time you shop, as rebates add up quickly.
These cashback sites partner with thousands of retailers, offer a welcome bonus when you sign up, and will also pay you to refer your friends and family:
Rakuten
Top Cashback
BeFrugal
11. Rent out your space
Maybe you don't have an extra room in your home, or you do, but you're not thrilled by the prospect of having a stranger sleeping in the room next to you.
Apps like Neighbor now help you rent out any extra space you have. Think driveway, parking spots, empty lots, garage bays, and spare office space.
Create a listing on the Neighbor app for your unused space so someone in need can put it to good use. Once you take the time to get your space listed, the income you generate is virtually passive.
If you don't have any extra space to rent out but you're traveling during the holidays, you can list your house on Airbnb or VRBO while you're gone.
Have an RV you only use periodically? List it for rent on RVShare or Outdoorsy. Have an extra car you don't drive often? Turo and Hyrecar are apps that let you rent your vehicles to other people.
Boost your holiday earnings
While it can be challenging to squeeze in more work during the busy holiday season, these flexible options allow you to make extra cash in your spare time so you can enjoy your holiday free of financial stress.