Work and Money Survey: 1 in 3 Women Don't Think They are Paid What They're Worth
Written by:
Meredith Lepore
3 min

read
2871 Views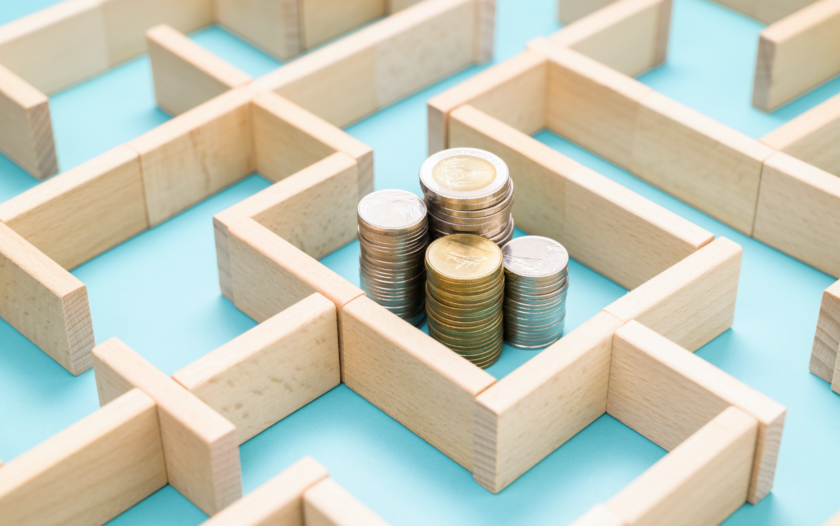 At a Glance
Women are constantly told they can do any job a man can do, but it sure is hard when they get paid less for doing the same one. In fact, according to a new survey conducted online by Credello and the third-party research firm YouGov, one in three women in the workforce (33%) don't think they're being paid what they're worth currently. The study of 2499 adults, both men and women, which took place in March 2022, uncovered not only how money would positively impact women in the workforce in their daily lives, but also their current attitudes regarding pay transparency, salary negotiation and where they'd cut back if money became tight.
Here are some of the key takeaways from Credello's 2022 survey on Work Money:
About one in three women in the workforce (33%) said $300 or less a week (about $1200/month) would make them feel confident in their personal finances.
One in three (33%) women in the workforce also don't think they're being paid what they're worth currently.
Only 12% of women in the workplace report that they have financial health related perks at their job – such as student loan repayment assistance or financial counseling
With an increase in yearly finances, women would be able to increase their quality of life in major ways, such as: 57% would be able to save for the future,43% would pay off major debts faster (healthcare, credit card, student loans) and 35% would stop living paycheck to paycheck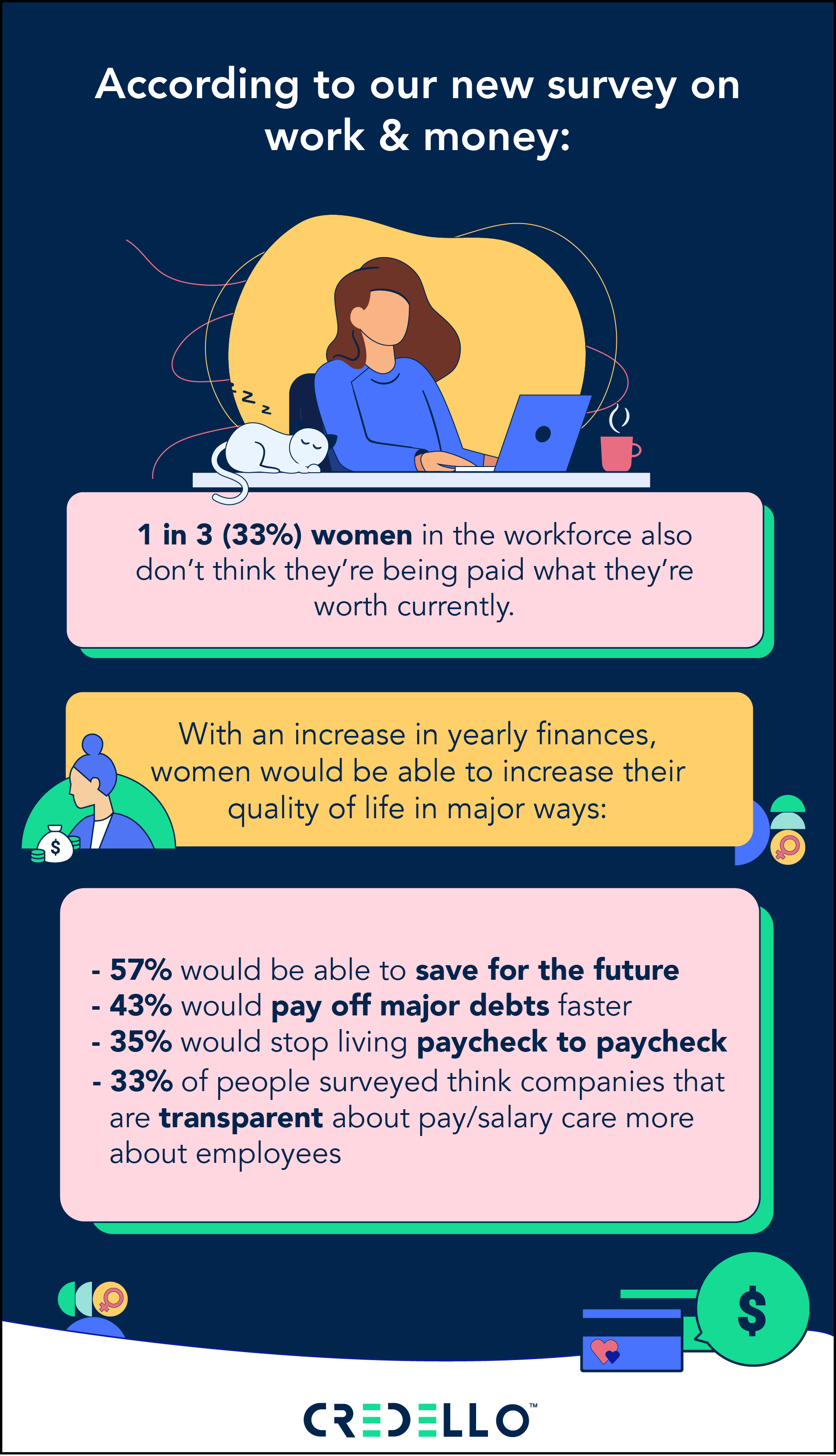 Pay transparency could help women break the glass ceiling
Women make up about 45% of the workforce and as of 2020, white women earned 84% of what men earned – that's an extra 42 days of work women would need to put in to earn the same as men. For black women the gap is 64 cents and for Hispanic women it is 57 cents. The pay gap is smaller for women ages 25-34 (93 cents for every dollar) but this segment is also paid the least amount out of all the age groups, according to The Pew Research Center. It should also be noted that more women over 25-years-old also have a bachelor's degree than men.
Pay transparency in the workplace has been a much-discussed topic when it comes to improving the gender wage gap. And now with more transparency legislation passing throughout the U.S. this could become a reality and a subject many women are contemplating. According to our survey, 33% think companies that are transparent about pay/salary care more about employees than those that don't and 28% think it should be law that companies are required to list/share salary requirements. Pay transparency could be the secret to employee retention as 22% are more likely to stay at their current job if they had better insight into future pay/what others make.
Money is financial freedom
Whether we like it or not, money can help pave the way to a more powerful life or at least provide more options. Women are fighting for salary transparency because simply getting paid what they are worth could help them progress in so many ways. According to the survey with an increase in yearly finances, 57% would be able to save for the future, 43% would pay off major debts faster (healthcare, credit card, student loans), 35% would stop living paycheck to paycheck, and 20% would be able to pursue their passion projects.
What women are willing to sacrifice
Conversely, women also know what they would have to sacrifice if they had less income suddenly or less money in general. So many women experienced this during the Coronavirus pandemic as 1.1 million women were in the labor force as of February 2022 compared to March 2020. Many lost their jobs or were forced to quit to take care of homebound children. The survey found that 37% of women would find a better job, 32% would downsize their living situation, 23% would stop paying their student loans or refinance them, 13% would take out a loan and 13% would stop paying off their credit card debt.
Credello is here for you
Credello is a personal finance resource that harnesses the power of data and technology to help women make smarter, more personalized decisions around their finances. Whether it is debt consolidation, selecting the right credit card or taking out a personal loan, Credello helps navigate the intricacies with ease.
This survey was conducted online in partnership with a third-party platform, YouGov, The total sample size was 2499 adults, of which 593 were women in the workforce. Fieldwork was undertaken between March 4th and 8th, 2022. The results have been weighted and are representative of all US adults (aged 18+). For more information, please visit Credello or follow them on Twitter or LinkedIn.