When are Credit Cards Charged by Hotels?
Written by:
Caitlyn Callahan
6 min

read
623 Views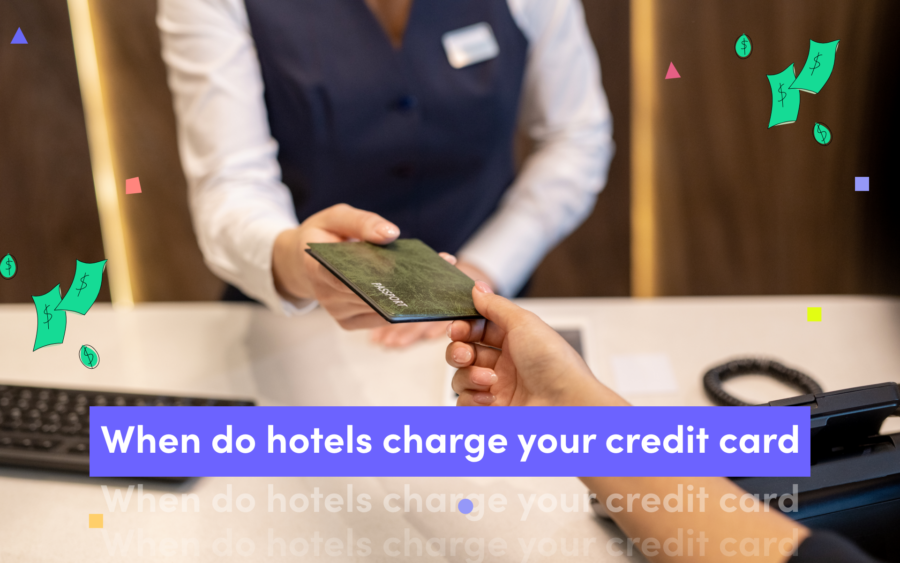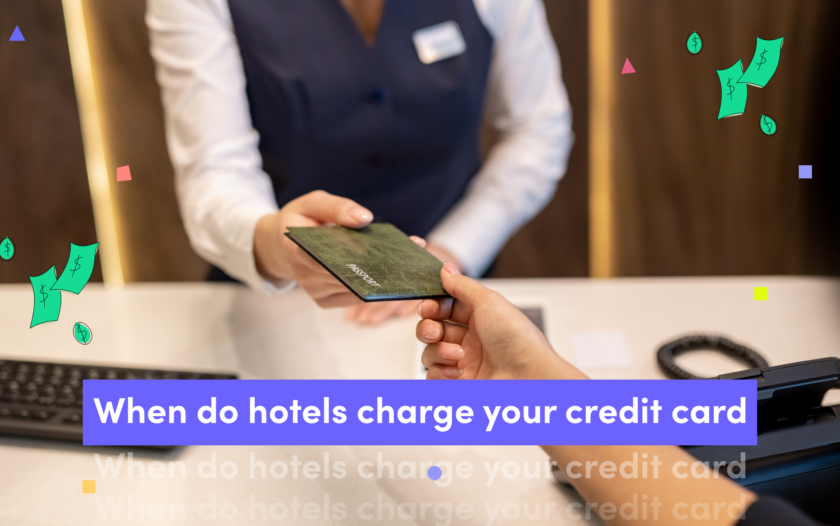 At a Glance
Hotel costs can be expensive and add up quickly depending on where you're staying, how long you're staying, and your individual preferences. As you plan for your trip, it's one of the biggest costs to take into consideration, especially because you'll likely book the hotel weeks or months in advance.
However, budgeting for a hotel can be tricky because when the hotel actually charges your credit card depends on the hotel, its policies, and how you book the room. In some cases, it may be when you book it, and in others, it might not be until check out.
Knowing when your card will be charged and what types of charges you may see on it can help ensure your trip is properly budgeted for and you'll have no surprises.
In this article, you'll learn:
When does a hotel charge your card?
Before you book the hotel, it may be helpful to know when you'll actually have to pay for it. There are several different types a hotel may charge your card depending on factors like:
The hotel and its policies
The type of room you book
The platform you're using
1. At the time of booking
Some hotels require that you pay for your entire stay at the time of booking. Typically known as "prepaid rates," these are often charged if you're receiving a discount on the room you book. These may be refundable if you cancel, or they may be nonrefundable (depending on hotel policy).
You're typically charged these rates if you book through a third-party website. Sometimes you'll be charged the amount for the entire stay, though that's not always the case so you should check with the hotel on their specific policy.
The primary benefit to paying for a hotel upfront is that you're able to pay for different parts of your trip over time versus all at once. However, the downside is you'll have to budget and prepare in advance to ensure you have the funds to cover the cost initially.
Keep in mind that regardless of when the hotel charges the card, you'll likely have to provide your credit card information at the time of booking.
2. Prior to check-in
Sometimes the hotel may ask you to provide your credit card at the time of booking, but they may only charge it a certain number of days before your reservation, such as when the payment is no longer refundable. This is typically between 24 and 72 hours prior to your reservation beginning.
For example, the policy may be that a reservation is no longer refundable beginning 48 hours prior to check-in, and that's likely when your card will be charged. If you cancel your reservation after this, you'll lose your money.
3. At check-in
A hotel may also require payment when you first check-in, especially if you have a long stay planned. They may charge the full bill upfront, or they may ask that you pay for a certain number of days at a time.
4. At check-out
Most hotels require payment when you check out, often charging the card on file (that was entered during booking). You don't really have to do anything to make this payment as you usually aren't required to physically check out. Instead, just leave when you're ready and the hotel will automatically charge the card on file for you.
If you want to pay with a different card, you'll have to stop at the desk and let them know.
Charges when booking through third-party websites
Policies can be different whether you book directly with the hotel or through a third-party website such as Priceline, Trivago, Kayak, Expedia, and others. For example, you may be charged additional or nonrefundable fees if you book through a third-party website vs. booking directly with the hotel.
Additionally, because these websites often offer discounted room rates, they will likely require an upfront payment.
Credit card charge vs. hold
When you book a hotel room, you'll eventually be charged the full cost of the hotel, typically a per-night rate plus taxes and fees. The charge is how much you actually pay for the transaction.
Then, no matter if a hotel charges your card the full rate prior to check-in, at check-in, at check-out, or otherwise, they will likely also place some kind of hold on the card when you book the room. This "hold," known as a pre-authorization, is a temporary pending transaction that will likely be less than the cost of your stay. The amount of the hold depends on several factors as well, including the price of the room, but is typically between $20 and the full price of one night of the room, or it could be a specific percentage of your expected bill.
The charge is usually released once you've checked out and paid your full bill.
When a hold is placed on your card you won't have to pay for it right away but know that it may use up part of your credit limit. Or, if using a debit card, the money may temporarily come out of your account.
Why hotels use hold
There are a few primary reasons a hotel may use a hold:
It allows hotels to verify your credit card information so that they can ensure they will be able to charge your card when it comes time to settle the bill.
It makes it easier for hotels to go back and charge your card for the full room rate later.
It can cover any incidentals, such as room service, entertainment, restaurant tabs, mini-bar purchases, damage to the room, etc.
Credit card charge vs. room deposit
In addition to or instead of a hold, you may be charged a room deposit. This is money you'll likely have to pay upfront and may or may not be refundable depending on your rate and the hotel/resort. Or, it can go toward your final balance. Typically, the deposit is the same amount as the first-night stay, though sometimes it can be a random amount.
Even if you don't show up for the hotel stay, you will likely still lose the deposit.
Why hotels charge room deposits
Deposits are charged because they can:
Serve as a down payment on the room, especially if you're planning a longer stay.
Cover any unexpected costs, such as room service, damage to the room, etc.
What if you cancel your booking?
If you must provide credit card information when you book a hotel room (which is standard), it's important to know what happens if you cancel – the answer is again, it depends. A hotel's policy dictates what happens if you cancel your booking.
For example, many prepaid rates are nonrefundable, so if you've paid that bill or fee, you likely lose the money if you cancel. Sometimes you may only lose a room deposit (if charged). In other cases, hotels may have more flexible cancellation policies and you may not lose any money.
It can also depend on where you booked. If you book the hotel room through a third-party website, you may not be able to get any money back. But if you book directly through the hotel, you may be able to get some or all returned.
Can hotels charge your card without any notification?
No one can charge your card without permission – they must always get your authorization. Your consent must be obtained before hotels charge your card. Typically, this happens when the authorization hold is placed on your card. The hotel must share its policy of what will be added on for "incidentals" such as mini-bar purchases or restaurant tabs.
Then, your card will be charged in full when you check out (or whenever is the hotel's policy). If you've added additional charges, you must pay this difference.
Note that they don't need to notify you every time they charge your card. Instead, they will get your full authorization when they place the hold and it includes permission for any additional charges incurred.
FAQs