Should You Get a Travel Credit Card?
Written by:
Caitlyn Callahan
4 min

read
588 Views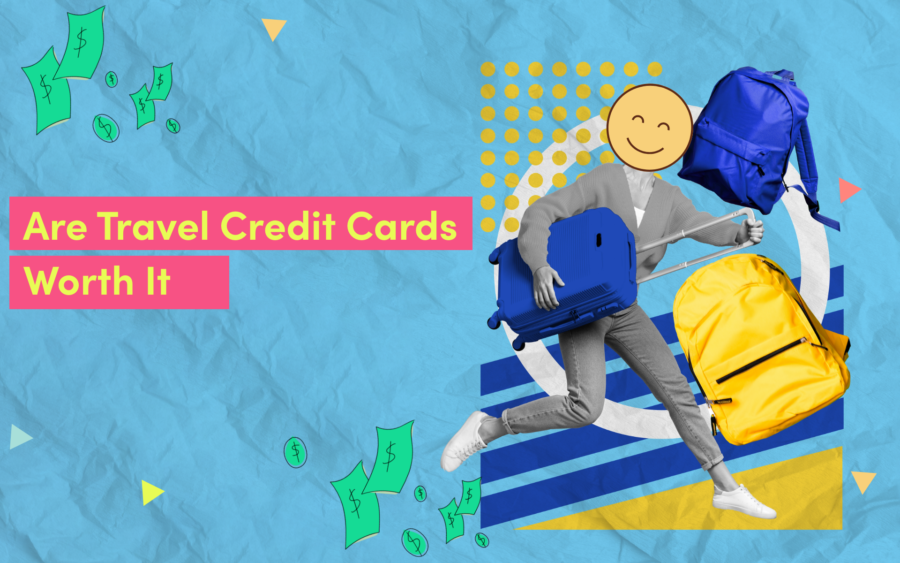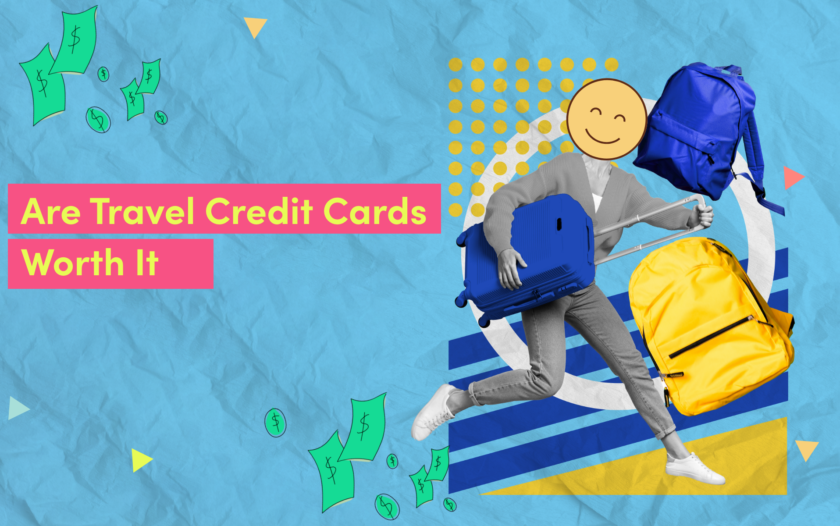 At a Glance
Travel credit cards are a type of credit card designed to earn points or miles that can be put toward travel-related purchases like flights and hotel stays. There are different types of travel credit cards, including hotel credit cards, airline credit cards, and general travel cards, each that allow you to earn rewards as you spend.
Depending on the card you get you may also be eligible for additional perks and benefits such as travel insurance, airport lounge access, free upgrades, etc., However, there are also some downsides and other considerations to consider when making a decision.
This article will go look at:
Pros and cons of travel credit cards
| Pros | Cons |
| --- | --- |
| Large sign-up bonus offers for new cardholders. | |
| High rewards rates on travel-related spending (airfare, hotels, car rentals, trains, taxis, rideshares, and more). | Rewards may come with blackout dates or destinations. |
| Earn points/miles for every dollar you spend. | |
| Travel insurance coverage such as travel accident insurance, auto rental collision coverage, trip cancellation insurance, and other security features. | Devaluation of points possible. |
| Can transfer points/miles to airline/hotel loyalty programs. | Points/miles value can vary and fluctuate. |
| Travel-specific benefits such as upgrades, lounge access, free nights, and more. | Must have good to excellent credit. |
| Can also be redeemed for gift cards and statement credits. | Difficult to get value for those who aren't frequent travelers. |
| Bonus spending categories earn greater rewards. | |
| Authorized users can also get some card benefits. | |
How to decide if a travel credit card is worth it for you
You may want to consider getting a travel rewards card if you:
Want to redeem rewards you earn on spending for travel-related purchases.
Plan to pay off your credit card balance in full each month (to avoid the higher APR).
Take advantage of the perks and benefits that come with being a cardholder, especially in order to offset any annual fee.
Already spend in the rewards categories, such as groceries, dining, gas, travel, and more.
Are enrolled in a hotel or airline loyalty program.
Travel often.
You may want to consider a co-branded airline credit card if you take two to three domestic flights or at least one international flight each year.
Also consider your travel goals. For example, if you'd prefer to road trip vs. fly, a travel credit card may not be as beneficial because most of the perks and rewards are built for flying and hotel stays. If you redeem points/miles for cash back, credit cards, or statement credits, you can actually lose value (depending on the program).
If you don't travel much and/or want to keep the rewards you earn more simple, you may benefit more from a card that earns cash back instead of miles.
When should you get a travel rewards card?
If you decide a travel credit card is worth it and right for you, there are some particular times during the year you may find it's better to apply for one compared to other times. For example, get a travel rewards card when:
You can pair a sign-up bonus offer with an upcoming trip or purchase. Most cards come with a sign-up bonus of extra points/miles for spending a certain amount of money within the first few months of opening the account.
For example, you may earn 50,000 points if you spend $4,000 in the first three months. If you're planning a large purchase that can get you to the spend minimum, or planning a trip where you can take advantage of those bonus rewards, this could be a good time to apply.
The annual fee is waived. Some cards will waive their annual fee for the first year after you open the account.
You can use the additional perks on future travel. Most travel credit cards come with additional perks you can put toward travel such as upgrades, airport lounge access, free checked bags, priority boarding, and more. Some may even include travel protections such as trip cancellation/interruption insurance.
If you have a trip in your future, applying for a travel credit card so that you can take advantage of those perks can make your trip more enjoyable.
Compare: Best Travel Credit Cards
In summary, getting a travel credit card makes sense if you're a frequent traveler who spends a lot of money on traveling, meaning you're most likely to reap all of the benefits of these cards (especially if you maximize all the perks and benefits that come with these cards). It also is helpful if you have good to excellent credit and can pay off your bill in full each month.
On the other hand, if you don't travel (or don't plan to much in the future), getting a travel credit card may not make sense. Not only will you not be able to take advantage of the points/miles redemption, but you also likely won't use the additional benefits. Instead, you may want to consider a different type of rewards card (such as cash back).
FAQs