The Best Food Delivery Apps to Work For
Written by:
Harrison Pierce
5 min

read
169 Views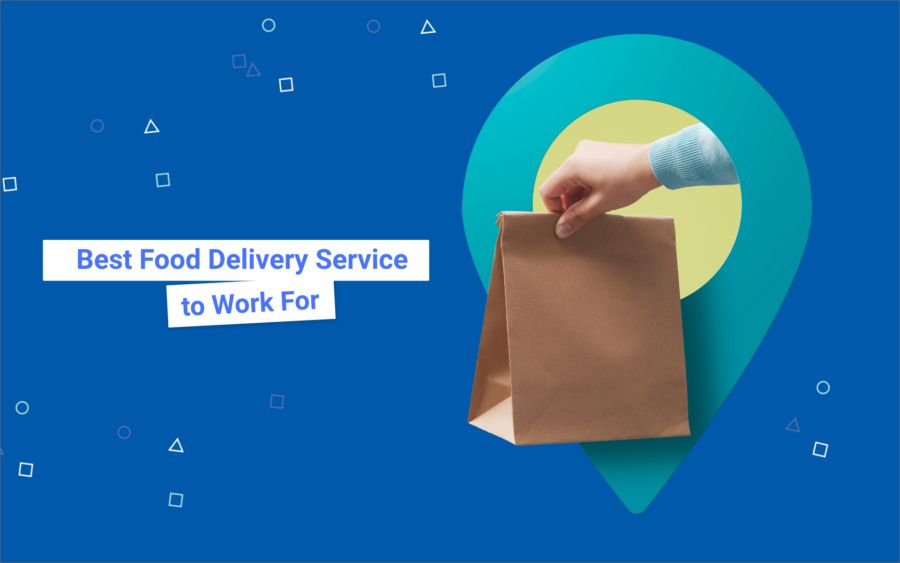 At a Glance
In recent years, the food delivery industry has experienced tremendous growth, creating new opportunities for individuals looking for flexible work options. With the rise of food delivery apps, people can earn money by delivering meals, groceries, and other items to customers' doorsteps. If you're considering joining this gig economy, choosing the right food delivery app to work for is crucial. Let's explore some of the best food delivery apps to work for, their key features, earning potential, requirements, and pros and cons.
$19 an hour
The average salary of a food delivery driver per hour in the U.S.
FinFact
Top food delivery services to work for
DoorDash/Caviar
DoorDash is one of the most recognizable names in the food delivery industry. It operates in more than 7,000 cities across the U.S., Canada, Australia, and Japan, offering a wide range of delivery opportunities. In addition to restaurant meal deliveries, DoorDash dashers can also pick up groceries or goods from local retailers. Dashers have the flexibility to work in their hometown or even in cities they may be visiting.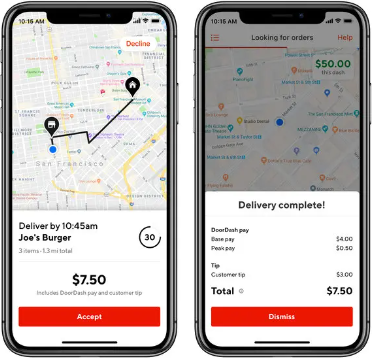 Key features:
Available in thousands of cities globally
Offers opportunities beyond restaurant deliveries
Flexible work schedule
Earning potential:
Base pay starts at $2 to more than $10 per delivery
Additional earnings from tips and promotions
Average earnings of about $16.30 per hour
Requirements:
Vary by location
Generally, you need to be at least 18 years old with a valid driver's license, insurance, and a reliable vehicle or mode of transportation
Pros:
Wide availability in many cities
Various delivery options beyond food
Flexible work schedule
Cons:
Earnings may depend on tips
Delivery distances and traffic can affect the efficiency
Grubhub
Grubhub is another major player in the food delivery industry, with a vast network of over 320,000 restaurant partners in more than 4,000 U.S. cities. It delivers a wide range of meals to 32 million active diners daily.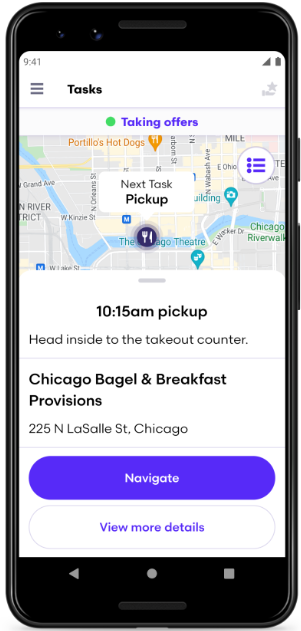 Key features:
An extensive network of restaurant partners
Large customer base
Offers delivery from various types of cuisines
Earning potential:
Base rate plus 100% of tips
Average earnings of about $20 per hour
Requirements:
Generally, you need to be at least 19 years old with a valid driver's license
In some markets, you may need to use an insulated bag or a Grubhub Driver Card for payment
Pros:
Extensive restaurant options
Well-established brand
Competitive earnings
Cons:
Limited to the U.S.
You need to provide your own insulated bag in some markets
Uber Eats/Postmates
Uber Eats, a division of the ride-sharing company Uber, has partnered with more than 825,000 merchants worldwide. Its app is available in over 11,000 cities globally, making it one of the most widely available food delivery services. Uber Eats also owns and delivers for Postmates.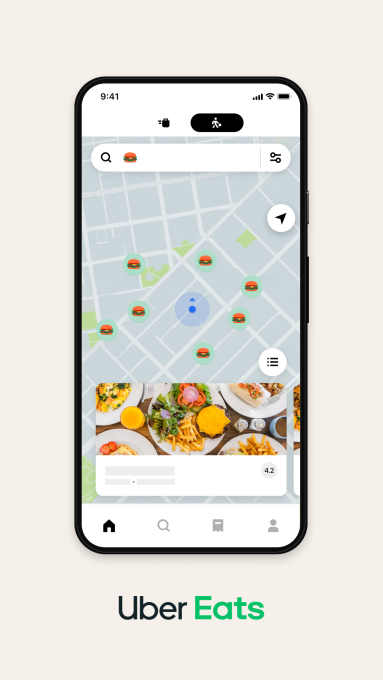 Key features:
Extensive network of partner merchants
Global availability
Opportunities for additional earnings through surge zones and quest goals
Earning potential:
Flat fee for pickups and drop-offs, plus tips
Average earnings of approximately $18.12 per hour
Requirements:
Vary by location and mode of transportation
Generally, you need to be at least 18 or 19 years old with a valid driver's license, insurance, and a vehicle or mode of transportation
Pros:
Global availability in thousands of cities
Additional earning opportunities
User-friendly app
Cons:
Fierce competition in some markets
Reliance on customer tips for higher earnings
Instacart
Instacart is a popular grocery delivery service operating in over 5,500 cities across the United States. It partners with over 40,000 stores, providing customers with convenient access to groceries and household essentials.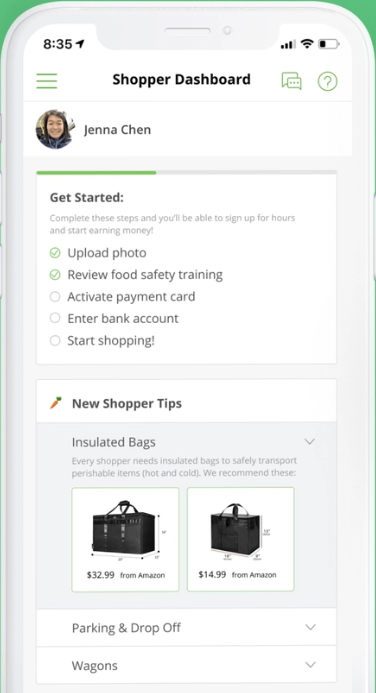 Key features:
Wide availability in the United States
An extensive network of partner stores
Opportunities for in-store shoppers and full-service shoppers
Earning potential:
Pay structures vary for in-store shoppers and full-service shoppers
Full-service shoppers earn per order and receive 100% of tips
Personal shoppers and store shoppers earn around $24,000 to $25,000 per year, according to Indeed
Requirements:
Vary by role
Generally, you need to be at least 18 years old with a valid driver's license and a vehicle or mode of transportation for full-service shoppers
Pros:
Flexible scheduling options
Opportunities for both in-store and full-service shoppers
Regular access to grocery stores
Cons:
Some roles may require heavy lifting
Limited to the United States
How to choose the right delivery app to work for
Choosing the right food delivery app to work for can significantly impact your earning potential, job satisfaction, and overall experience. Here are some factors to consider when making your decision:
Availability: Check if the app operates in your city or area of preference. Some apps have a broader reach, while others may be more limited.
Earning potential: Research and compare the earning potential of different apps. Consider factors like base pay, tips, bonuses, and incentives.
Flexibility: Assess the app's flexibility in scheduling, accepting or declining orders, and choosing work hours.
Delivery options: Look for apps that offer various delivery options, like restaurant meals, groceries, or other goods. Having more choices can provide additional opportunities for work.
App usability: Consider the user-friendliness of the app. A well-designed and intuitive app can make your job easier and more efficient.
Requirements: Review the app's requirements, like age restrictions, vehicle type, driver's license, insurance, and background checks. Make sure you meet the necessary criteria.
How to make the most of a food delivery job
To maximize your earnings and make the most out of a food delivery job, consider the following tips:
Optimize your schedule: Familiarize yourself with peak hours when demand is high, and earnings are typically better. Schedule your work hours accordingly to take advantage of these periods.
Plan your routes: To minimize travel time and maximize the number of deliveries you can complete in a given shift. Utilize navigation apps to find the best routes.
Provide excellent customer service: Be friendly, polite, and professional when interacting with customers. Timely and accurate deliveries and good customer service can lead to higher tips and better ratings.
Stay informed: Keep track of the app's promotions, incentives, and bonuses. Take advantage of opportunities to earn additional income.
Manage expenses: Keep track of your mileage and other business-related expenses for potential tax deductions. Also, consider fuel-efficient driving techniques to save on gas costs.
FAQs
The earning potential can vary depending on location, demand, tips, and incentives. However, based on available information, some delivery apps known for higher earnings include DoorDash, Grubhub, Uber Eats, and Instacart. It's essential to research and compare your area's earning potential to make an informed decision.
Both food delivery and grocery delivery services have their pros and cons. Food delivery services offer various options, including restaurant meals and other goods. On the other hand, grocery delivery services provide access to essential household items and groceries. The choice depends on your preferences, availability in your area, and the demand for each service.
The decision between working for DoorDash or Uber Eats depends on various factors, like the demand and popularity of each app in your area, earning potential, and personal preferences. Both apps have a broad reach and offer flexible work schedules. We recommend researching and comparing the specific details, earnings, and opportunities provided by each app in your location to determine which one suits you best.