All You Need to Know About Joint Personal Loans
Written by:
Caitlyn Callahan
5 min

read
1050 Views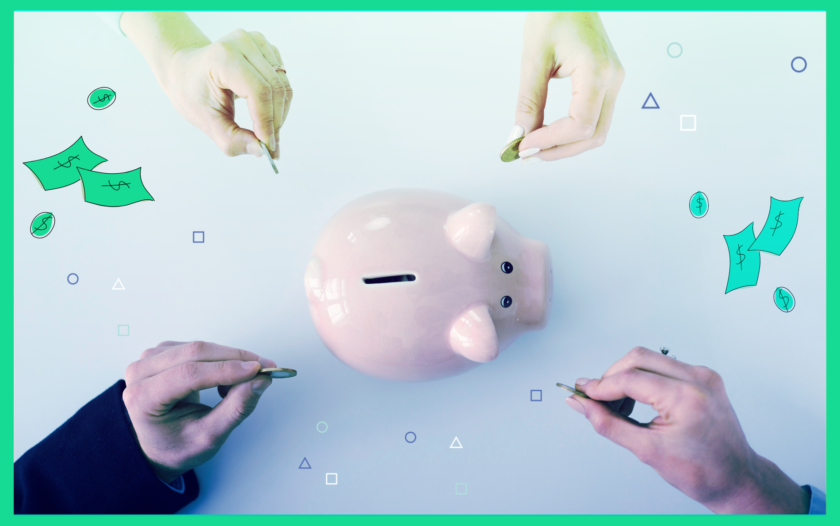 At a Glance
When considering applying for a personal loan, there may be some situations when you'd want to include a co-borrower, or a person who will be equally responsible for the repayment of the loan. A co-borrower also has access to loan funds.
Taking out a joint loan should be carefully considered, especially because each borrower's qualifications are taken into account and both credit scores will be impacted. There are some nuances and differences between a traditional personal loan and a joint personal loan that you should know:
In this article, you'll learn:
A joint personal loan is a type of loan in which two borrowers assume the same responsibility for repaying the balance. Each borrower has their creditworthiness assessed, they sign the same loan documents, and in most cases, the loan is used for something that benefits both borrowers, such as a large home renovation or mortgage.
Because there are two borrowers applying, there are two credit scores and two incomes that are considered when approving the loan. This makes it easier to qualify and receive more favorable terms or a lower interest rate. Or, if one of you has poor credit, a lender may be more willing to approve your application if the co-borrower has a stronger credit history.
Related: Co-Borrower Vs Co-Signer
How do joint personal loans work?
Joint personal loans are given to two borrowers who both meet loan requirements and agree to repay the loan. When applying, the borrowers will indicate they want a joint loan or to be a co-borrower. Then, the lender will run a hard credit inquiry to look into the credit, incomes, debt-to-income ratios, and other factors for both borrowers.
If approved, both borrowers will have access to the loan funds to use for whatever they like. For example, they could use the funds for a home renovation, vehicle purchase, wedding, or adoption expenses. Then, they are both responsible for ensuring monthly payments are made.
When it comes to joint personal loan eligibility, co-borrowers have a better chance of being approved if they:
Are married
Are related
Have good credit scores/histories
Have regular income/employment
If payments are missed or the loan is defaulted, the credit of both borrowers will suffer
Pros and cons of joint personal loans
| Pros | Cons |
| --- | --- |
| | Could have a negative impact on the relationship. |
| Can be used for a variety of purposes. | One borrower's bad credit may mean higher interest rates. |
| Better chance of loan approval. | Both credit scores are damaged by missing payments. |
| | Could be on the hook for the entire loan. |
| | |
| Combined income presents lenders with higher-qualifying borrowers. | |
| Can offset a borrower's weak credit history. | |
Is a joint loan right for you?
You may want to consider a joint loan if:
You cannot qualify for a loan yourself, whether to poor credit or low income.
You have a spouse or relative who is willing to take on ownership of the loan with you.
Adding a co-borrower will help you get a better loan rate, larger loan, or better term.
You can afford the monthly payments.
However, if you have great credit and can afford the monthly payments, you may not want to consider a joint loan and instead just apply for the loan yourself.
How to apply for a joint personal loan?
The process for applying for a joint personal loan is very similar to other types of loans:
Check your credit: Know you and your co-borrowers' credit scores and histories. Make sure you meet minimum requirements, though the higher your score, the better. If necessary, take steps to improve your credit score before applying.
Get prequalified: This can be done online in a few minutes and doesn't have an impact on your credit, but can give you a better estimate of loan interest rates, amounts, and terms you'd qualify for.
Research and compare: Look into several lenders who offer joint loans. Compare minimum requirements, average interest rates, loan minimums and maximums, customer service reviews, fees, and other loan factors. This will help ensure you find the best option for you.
Fill out the joint loan application: When filling out the application for the loan, check the "joint" or "co-application" box. You and your co-borrower will then be prompted to provide any necessary information.
Accept the loan: Once you've applied for the loan that best suits your needs, you'll verify and provide any additional information, and the lender will run a hard credit inquiry. If approved, you'll accept the loan and you and your co-borrower will both sign the loan agreement. You'll also set up your loan for funding at this time.
Tips for comparing joint personal loans
When shopping around for joint personal loans, there are a few things you'll want to keep in mind:
Check the credit and qualifications for both borrowers. If one borrower doesn't qualify for the loan, you both will be denied. Check your credit scores, income, credit history, and other requirements before applying. If necessary, take time to improve your scores before applying.
Get prequalified. Find the best rates and loan terms without damaging your credit. You can get prequalified with multiple lenders.
Be aware of fees and other costs. Origination fees, late payment penalties, prepayment penalties, and other fees may be tacked on to the cost of your loan. Some lenders charge all of these fees white others charge none. Be sure to look at the fee structure and how that would impact the total cost of the loan.
Consider customer support. Having great customer support can be significant if you encounter challenges with payments, face financial hardship, have questions, or need other assistance. Review customer service ratings and reviews to ensure you'll get the support you need.
Don't borrow more than you can afford. Analyze your budget and know how much of a loan you can afford and what monthly payments you're comfortable with. Only borrow what you need to avoid paying unnecessary interest, and don't borrow more than you can afford or risk defaulting on the loan.
FAQs