Everything You Need to Know About $15,000 Personal Loans
Written by:
Caitlyn Callahan
8 min

read
65 Views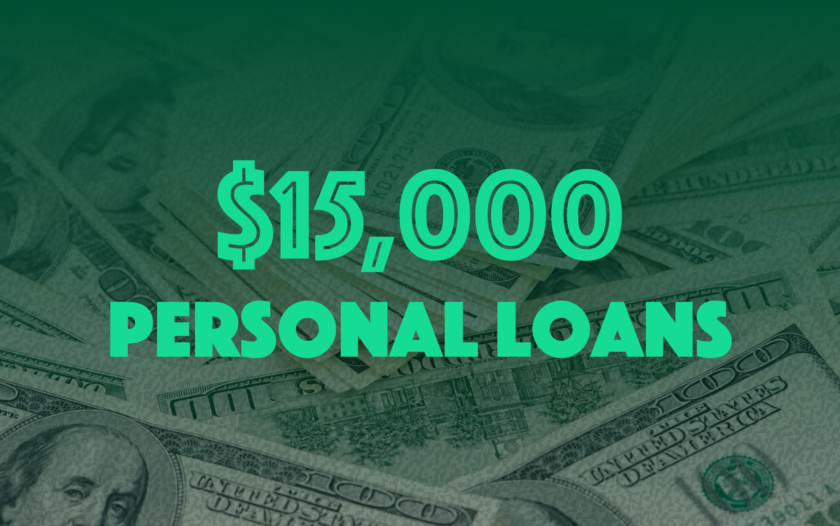 At a Glance
Personal loans can be used for just about anything, which is why they are a good option if you need funds fast. However, taking on $15,000 in debt is a major financial decision that shouldn't be taken lightly. It's important to be prepared with all the information you need to make the best decision for you.
Read on to learn more about:
How to determine if you need a $15,000 personal loan?
Deciding whether to take out a loan is a big financial decision. While the loan funds can help you afford something you couldn't otherwise, it's important to be a responsible borrower or risk damage to your credit score and other repercussions. Two main steps to determine if you need to borrow a $15,000 loan include:
1. Know how you intend to spend the funds.
You should only apply for a loan if you absolutely need it, and you should only borrow as much as you need. Consider whether you intend to spend the funds on something you need, or something you want. Can it wait until you have more savings and don't have to take out a loan? Or is it a more immediate need?
Ideally, you want to have a plan for the funds before applying so you only apply for what you need. This can help reduce the overall cost of the loan. In some cases, you may find you don't know the exact amount you need (like if you're paying for a wedding or home renovation), so estimating as close as possible but giving yourself a little cushion can be helpful.
In other cases, if you have a specific purchase amount or are consolidating your debt, you'll know how much you need to borrow. If it's lower than $15,000, you should apply for a smaller loan. However, most lenders offer loans up to $15,000 or more, so you should be able to get the amount you need.
2. Analyze your budget
Reviewing your finances before applying for a loan can help you determine whether you can afford the monthly loan payments. Compare how much you're spending to your monthly income and ensure there's room in your budget for the loan payments. Not having a stable income and budget can lead to late or missed payments, which can hurt your credit score.
If you don't have a budget, you may want to create one to ensure you have enough funds each month to cover all your needs.
Where can you get a $15,000 loan?
Most online lenders, banks, and credit unions offer personal loans up to $15,000 or more. Deciding which one is right for you depends on factors like:
Whether you're an existing customer or member.
Your credit score and history (as well as if you meet other loan qualifications).
The level of customer service desired.
How fast you need the funds.
1. Online lenders
If you need your funds fast and want a more flexible experience, an online lender may work best. Online lenders typically accept a larger range of credit scores, and some tailor to borrowers with poor credit. Many offer higher loan amounts and competitive interest rates. The application process is typically faster because it's done completely online, and the approval and funding process usually happens more quickly (sometimes even in the same or by the next business day).
One downside to online lenders is they do not offer in-person customer service support, but online or phone support is typically accessible 24/7.
Find and compare the best loan options.
Advertiser Disclosure
Use the filters below to refine your search Sorry, we didn't find any options that meet your requirements. Try changing your loan amount.
2. Banks
Most major banks offer personal loans, though interest rates tend to be higher, and their qualifications are stricter. In most cases, you'll need a higher credit score to qualify. However, they may be more flexible for existing customers, and some banks offer discounts or other benefits.
While the approval and funding process can take longer (sometimes several business days), banks usually have online, phone, and in-person customer service and support, which can be beneficial depending on your preferences and needs.
3. Credit unions
While you must be a member of a credit union to apply for a loan through one, they can be a great choice for personal loans because they usually offer lower interest rates and more flexibility for borrowers. They may be able to consider factors other than your credit score, such as your income, history with the credit union, and others to determine whether to approve your application.
Like banks, approval and funding of loan funds can take a few business days, but they offer the ability to apply and get customer support online, over the phone, and in-person in many cases.
How to go about getting a $15,000 loan?
Eligibility for a personal loan depends on the specific lender, but in general, these are the steps to take to get a $15,000 loan:
1. Check your credit score. Borrowers with good to excellent credit (670 or above) are more likely to get the best interest rates. There are lenders who work with borrowers with poor or no credit, but it's best to take steps to improve your score as much as possible before applying.
2. Ensure you meet minimum requirements. Most lenders have minimum requirements for your credit score, income, and debt-to-income ratio:
Income: It's likely the lender will require you to provide proof of a steady income to ensure you can make your monthly loan payments.
Debt-to-income ratio: Your debt-to-income (DTI) ratio is all your monthly debt payments divided by your gross monthly income. This number helps show lenders if you can afford to take on a new loan, or if these monthly payments would be too much. A general rule of thumb is to keep your overall DTI ratio at or below 43%, though the lower the better.
Collateral: Most personal loans are unsecured, meaning you don't need collateral to get approved. However, if you're applying for a secure loan, you do need collateral (like a car, home, cash savings, or other assets). This may make it easier to qualify for a loan or get a better interest rate. Keep in mind if you default on the loan, the lender can seize the collateral.
You'll also likely need to provide proof of these, such as pay stubs, W-2, or other documentation, so gathering that ahead of time can make the application process smoother and faster.
3. Get prequalified. This doesn't affect your credit score but can help you get a better estimate of interest rates, loan amounts, and loan terms you may be eligible for. This only takes a few minutes but can help you shop and compare lenders more accurately.
4. Shop and compare lenders. Compare different lenders to find the best one for you. Pay attention to details like interest rates, fees, loan terms, loan minimums and maximums, minimum requirements, and others. Take your time to explore all your options.
5. Apply. Once you've decided on a lender, the next step is to complete and submit the loan application. This will include supplying personal information, contact details, documentation, and desired loan information. The lender will run a hard credit inquiry to review your credit profile and information and determine whether you're approved and what your rate and terms will be.
6. Accept the loan and start making payments. Once approved, the lender will require you to accept the loan terms and then they will transfer the funds into your account. You can use those funds for any approved expense. You then must start making your monthly payments to repay the loan.
What to consider when applying for this loan?
Before applying for a loan, there are number of factors to investigate and consider such as:
1. Interest rates: Most personal loans have fixed interest rates, meaning the rate doesn't change over time. But because the interest rate affects how much you'll repay over the life of the loan, it's important to shop around for the lowest rate.
2. Fees: Some lenders charge fees, such as origination fees, late payment fees, or prepayment penalties. These can add to the overall cost of your loan, so be sure to understand what fees you may have to pay so you can be better prepared.
3. Discounts: Some lenders offer discounts such as loyalty discounts, autopay discounts, or others. Pay attention to any discounts or perks you may be eligible for as this can help save you money or get more out of your lender.
4. Monthly payment: Because personal loans have fixed interest rates, the monthly payment will be the same each month. Make sure this payment fits into your budget, especially because late or missed payments, or defaulting on the loan entirely, can significantly hurt your credit score.
5. Repayment terms: A loan's repayment term is the amount of time you must repay the loan. For most personal loans, repayment terms range from two to seven years. A shorter repayment term means you will have a higher monthly payment, but you'll pay less in interest over the life of the loan. A longer repayment term means you'll have a lower monthly payment, but you'll pay more in interest over time.
If you can, choosing a shorter repayment term can save you hundreds or even thousands of dollars in interest over time.
6. Customer service: It's important to have excellent customer service experience if you ever have a question or need assistance. Read current and past customer reviews online and make sure you can access the service agents in your desired way (such as online, in person, or over the phone).
Cost of obtaining a $15,000 personal loan
The cost of obtaining a $15,000 personal loan depends on factors like your loan's interest rate, lender fees, repayment terms, where you live, and other factors.
To keep costs down, make sure your credit score is as high as possible, so you qualify for the lowest interest rate, and be sure to shop around to compare all your options. Choose a lender who has low or no fees. You can also opt for a shorter repayment term so you'll pay less interest over time, which can help save you hundreds or thousands of dollars.
Enter your specific details in a personal loan calculator to estimate your monthly payment and the total cost of borrowing a $15,000 loan.
FAQs