You'll Never Believe Which State Demands Over $400 if Their Flight Gets Canceled
Written by:
Harrison Pierce
5 min

read
1524 Views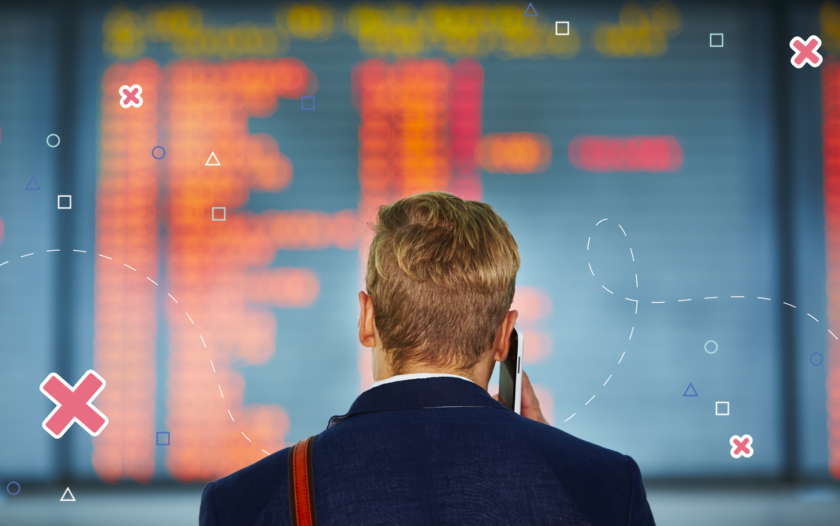 At a Glance
Flight delays and cancellations are expected in the age of overwhelmed airports. However, people in different states put a different cash value on these trip interruptions.
Which state expects the most
Flight interruptions are the new norm, and many people are unhappy about it. While some travelers take their delays and cancellations in stride, others demand cash refunds for their troubles. According to a recent survey of 3,014 travelers from FamilyDestinationsGuide.com, the state that demands the most money is Wyoming. Wyomingites feel entitled to $466.22 in cancellation compensation, which is higher than the national average of $283.68. This might be due to the lack of large airport hubs in the state, so those living there must travel longer and farther to reach their destination.
On the lower end, Delawareans only expect $85.60, which shows how different the country's attitudes on cancellations are. Nebraska, which borders Wyoming, is also below the national average, coming in at $197.38 in expected compensation for airline cancellation compensation. Most other states are in the $200 to $300 range.
Use Credello's personal loan widget to estimate your monthly loan payments and compare lenders before taking out a vacation loan.

Check out lenders and solutions that will get you what you need We found 6 options for your requirement
Advertiser Disclosure

8.99% - 23.43%
Est. APR Range
$5,000 - $100,000
Loan Amount
Good For: High loan amounts available, no fees
Good For: High loan amounts available, no fees
7.99% - 35.99%
Est. APR Range
$2,000 - $36,500
Loan Amount

8.49% - 35.99%
Est. APR Range
$1,000 - $50,000
Loan Amount
Good For: Low loan amount
Good For: Low loan amount
8.99% - 35.99%
Est. APR Range
$2,000 - $50,000
Loan Amount
Good For: Getting funds quickly
Good For: Getting funds quickly
9.95% - 35.99%
Est. APR Range
$2,000 - $35,000
Loan Amount
Good For: Getting funds quickly
Good For: Getting funds quickly
21.99% - 35.9%
Est. APR Range
$2,501 - $12,000
Loan Amount
Good For: flexible payment options, fast funds.
Good For: flexible payment options, fast funds.
Alternatives to flying
Almost 30% of travelers have decided to drive instead of fly this holiday season, mainly in response to widespread troubling delays and cancellations. When people only have a short time on vacation or to see family, they want to ensure that nothing will get in the way of those precious moments. However, around 20% of people who would typically drive decide to fly instead in response to increased fuel costs. Long road trips are not economical anymore when the current national gas average is $3.87 per gallon, peaking at an average of $5.44 on the West Coast.
Flying is certainly the most straightforward option when loved ones live thousands of miles away, but that does not mean everyone is eager to deal with these issues.
What to do if your flight gets canceled
Before you book your trip, you should consider purchasing travel insurance to cover your expenses if you need to cancel or make changes. Travel insurances tend to be very comprehensive, making sense for the extra fee. You can also purchase additional insurance on sites like Airbnb, so you are covered if flight cancellations disrupt your plans.
You need to know your rights if your flight gets canceled or delayed. When flying to or from the European Union, you may be entitled to compensation if your flight was canceled or had a significant delay resulting in arriving at your final destination more than three hours late. The United States is slowly adopting some of these regulations, so read up on the most up-to-date policies. Unfortunately, many airlines do not verse their staff on these regulations, so they might be hesitant to reimburse you the money you are owed and instead offer you a small voucher for your troubles. As long as you know your rights, never take less than what you deserve.
Another great thing to do is build a buffer day at the beginning and end of your trip, so if you are delayed or canceled, you are not missing anything. Do not schedule fun excursions for the day that you arrive, and make sure you have at least one day before you need to return to work when you get back. If you are flying a common itinerary, you can ask to be moved to a different flight or even another airline if you are in a rush to get to your final destination.
The most important thing you can do is to expect the unexpected and be flexible regarding changes. Look at your flight in the days leading up to your travel so you can have the most current information.

128,934
flights were canceled in the U.S. from January to July of 2022, according to Reuters.
FinFact
How to use credit cards to your advantage
Credit cards are a fantastic tool to use when booking flights. Not only will you earn miles that can be used to redeem flights in the future, but you will also get added trip protection and earn toward airline status, which can cover fees if you need to change your trip. When deciding which credit card to use for your flight, think of which airline you will fly and what kinds of rewards you are looking for. General travel rewards cards can give you points you can transfer to numerous hotels and airlines, while co-branded credit cards give you the most towards a specific airline.
Some cards, like the Capital One Venture X, will also give you added protection on rental cars, so you can decline coverage at the counter and still be protected. Using credit cards to your advantage saves you money and increases your coverage if an issue does arise.
If you want maximum protection against cancellations and interruptions, you should use a credit card for all travel purchases.
Bottom line
You can almost expect that a bump in the road will arise while traveling this holiday season. However, there are things you can do to make the process go a bit smoother. As long as you are flexible and prepared for anything that may come your way, you can have an enjoyable trip in the coming months. Purchase travel insurance, know your rights, and stay safe.