35 Best Black Friday and Cyber Monday Travel Deals for 2023
Written by:
Harrison Pierce
12 min

read
143 Views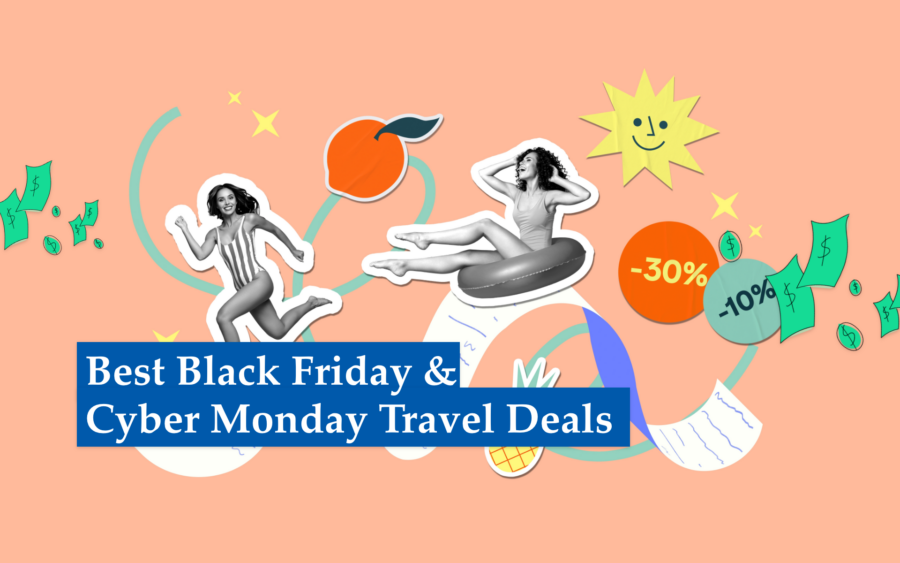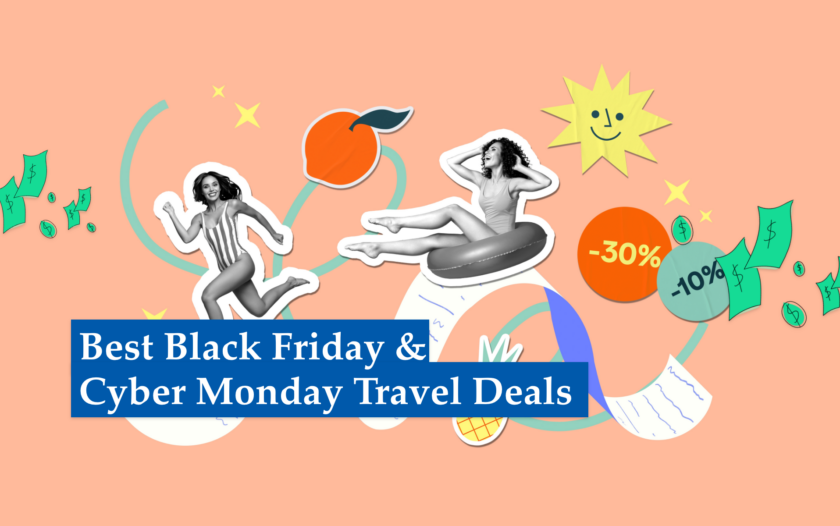 The smell of turkey is fading, and the echoes of holiday laughter still linger, but what's on everyone's mind? The promise of epic adventures in 2024! The post-Thanksgiving tradition of bagging incredible travel deals on Black Friday and Cyber Monday has become as anticipated as Aunt Mildred's fruitcake. So, grab your virtual shopping carts because we're about to navigate the exciting terrain of the best Black Friday and Cyber Monday travel deals for 2023.
$11.3 billion
The total amount spent on Black Friday each year.
FinFact
Hotels
1. Outrigger's wave of savings
For those dreaming of the Hawaiian shores, the Outrigger 40% off Cyber Sale from November 22 to December 4 is a wave of savings not to be missed. Snag up to 40% off stays at properties like OUTRIGGER Reef Waikiki Beach Resort, and enjoy additional perks like a luau or a chance to swim with manta rays.
2. Turquoise dreams with sandals and beaches
If your idea of paradise involves turquoise waters, the Sandals Resorts and Beaches Resorts Black Friday sale is here to make it a reality. Book by December 21 and indulge in air credits up to $750 and resort credits up to $250. Use promo code GOB2023 for these savings available for travel through November 3, 2024. Plus, every booking made between November 23-28 contributes $50 to the Sandals Foundation, supporting ocean conservation.
3. Arlo Hotels – Where chic meets savings
For urban adventurers, the half-off Arlo Hotels deal from November 24 to November 27 is a treasure. Slash 50% off stays at U.S. properties like those in New York, Miami, or Chicago, valid for reservations anytime until December 30, 2024.
4. World of Hyatt – Where savings meet elegance
Indulge in sophistication with World of Hyatt savings. Book before December 5 and enjoy 20% off at over 900 participating hotels worldwide, with stays eligible until April 30, 2024. World of Hyatt members can sweeten the deal with double points in select regions.
5. A Scottish landscape with Marine & Lawn Hotels & Resorts
For those enchanted by the Scottish landscape, enjoy 50% off stays at Marine & Lawn Hotels & Resorts properties until March 31, 2024. This includes iconic hotels like Rusacks St Andrews and the newly opened Slieve Donard.
6. Buy one, get one free – A sweet deal from Freehand and Generator Hotels
If your heart desires a vibrant cityscape, consider the buy one, get one free deal from November 21 to November 27 at Freehand and Generator Hotels. Book a stay of at least two nights and receive the second night free, valid for stays in the first quarter of 2024. Use code BLACKFRIYAY for this tempting offer.
7. Rosewood Hotels & Resorts – Where luxury meets affordability
For a touch of opulence, the 30% off Cyber Friday deal at Rosewood Hotels & Resorts is a gem. Book between November 24 and November 28 for stays until June 30, 2024. Extend your stay to at least five nights, and watch the savings soar to 50% off the regular rate. Also, grab a 10% bonus on gift cards of $500 or more between December 7 and January 2, 2024, because luxury should always come with perks.
8. The Standard Hotels – Where quirk meets savings
For those seeking savings with a touch of playfulness, The Standard Hotels' 35% off deal from November 24 to November 28 is a win. Save as much as 35% off a stay at any of The Standard Hotels properties globally, valid for stays until the end of August next year.
9. Splash into savings with Great Wolf Lodges
Families looking for a splash-tastic getaway can dive into savings with Great Wolf Lodges. On Black Friday, enjoy room rates as low as $24 per person (minimum of four people). On Cyber Monday, snag up to 50% off stays, with rates starting as low as $100 using promo code CYBER. Both deals are available for stays through February 29, 2024.
10. Half off at Westgate Resorts – Because you deserve it
From November 20 to November 29, save up to half off at Westgate Resorts. Use promo code CYBER at checkout to unlock this discount at vacation destinations like Park City, Orlando, Myrtle Beach, Las Vegas, and New York.
11. Hilton's Tropical offers in Colombia and Brazil
If a tropical escape to Colombia or Brazil beckons, Hilton Hotels has you covered. Book a bed and breakfast rate between now and November 29 and save up to 35% off your stay. This offer is valid for stays at any time within the next year and includes hotels like Hilton Rio de Janeiro Copacabana and Hilton Cartagena, among others.
12. Savor the savings at Salamander Collection
For U.S. and Caribbean indulgence, the Salamander Collection offers savings of up to 50% off stays in the coming year. Use promo code CYBER23 to relish this special offer, complete with a resort credit of up to $100 at many properties.
13. Hard Rock's "press play on your stay" deals
For a good time check out the Hard Rock's Black Friday promotions at their Hard Rock Hotel Cancun and Hard Rock Hotel Punta Cana, amongst others. You can get 20%- 30%+ off all hotels room rates including (but not limited to) the brand-new Hard Rock Hotel New York, the beautiful Hard Rock Hotel Budapest and the bustling Hard Rock Hotel Madrid, to name a few. Flexible Check-in/out based availability and you can upgrade based on availability. The booking window is November 22nd – December 5th 2022 and the stay dates range includes December 12th 2022 – March 31st 2023.
Cruises
14. Cruising into savings with celebrity cruises
Let's start on the high seas with Celebrity Cruises' buy one, get one cruise deal. From now until December 5, take advantage of up to a 75% discount off a second guest, coupled with up to $300 in onboard credit. The offer spans nearly all sailings until April 30, 2026, making it the perfect time to embark on the stunning Celebrity Ascent launching this December.
15. Seabourn's Black Friday "sail" into luxury
Sail into luxury with Seabourn's Black Friday "sail." Book between now and November 27 on over 400 global sailings for perks like a two-category veranda suite upgrade, up to $2,000 in onboard credit, and half-off sailing deposits. The offer spans enchanting voyages to Antarctica, the Mediterranean, the Caribbean, and around Australia, among others.
16. Uniworld's 12 days of Christmas extravaganza
Uniworld Boutique River Cruises invites you to unwrap the magic with its 12 Days of Christmas promotion. Starting from Black Friday, each day reveals a new deal, including savings of up to $3,000 on select European and South American sailings.
17. MSC cruises – Sailing into savings
MSC Cruises sets sail with Black Friday and Cyber Monday savings. Book by November 30 to enjoy up to $400 in onboard credit, flexible booking changes, and kids sail free on select sailings.
18. AmaWaterways – Sail into serenity
Sail into serenity with AmaWaterways. Book by December 3 and save up to $1,500 per stateroom on select 2024 river cruises. Experience the enchanting rivers of Europe, Asia, and Africa with this incredible offer.
General travel and packages
19. Xanterra's "thankful for travel" extravaganza
Xanterra Collection, in a fit of gratitude, offers up to 30% off various vacation experiences between November 21 and December 1. This includes Windstar Cruises, national park lodges, and prestigious hotels like The Broadmoor Hotel in Colorado Springs and Sea Island Resort in Georgia. Say thanks to yourself and shave a considerable chunk off your 2024 vacation plans.
20. Priority pass – Elevating your airport experience
For those who crave a touch of luxury during layovers, Priority Pass is offering up to 30% off memberships from Black Friday to December 3. Access over 1,300 airport lounges worldwide and enjoy a peaceful retreat from the airport hustle.
21. Go card – Savings on attractions around the globe
Explore the world's wonders at a discounted rate with Go Card's Black Friday sale. From November 21 to December 1, save up to 20% on all-inclusive passes to top attractions in cities worldwide. Unleash the explorer in you without breaking the bank.
22. Delta vacations – The sky's the limit
Delta Vacations takes your travel dreams to new heights with up to $600 off per booking. Book a flight and hotel package to select destinations in Mexico, the Caribbean, Hawaii, and more. Use promo code SM600BF for travel between now and August 31, 2024.
23. Save on travel insurance with Allianz
Travel with peace of mind by snagging up to 25% off travel insurance from Allianz Global Assistance. From November 22 to November 28, use code FRIDAY2023 to ensure your travels are protected.
24. Trafalgar's world of savings
Embark on a guided journey with Trafalgar's World of Savings. Book by December 5 to enjoy 15% off select 2024 trips, including destinations like Europe, Asia, and North America. Elevate your travel experience with expertly crafted itineraries and insider experiences.
25. Adventures by Disney – Where magic meets savings
Bring a touch of magic to your travels with Adventures by Disney. Book an adventure by December 31 and save $500 per person on select 2024 departures and river cruise vacations.
26. Blaze a trail with backroads
For the adventurous souls, Backroads offers savings on active vacations. Book by November 27 and enjoy $300 off per person on 2024 trips, exploring destinations like Europe, North America, and beyond.
27. Rail Europe – On track for savings
Discover the beauty of Europe by rail with Rail Europe's Black Friday sale. From November 24 to November 27, enjoy $100 off on bookings of $1,000 or more. Uncover the charm of European cities with this fantastic deal.
28. Insight vacations – A world of luxury awaits
Indulge in luxury travel with Insight Vacations. Book by December 5 to enjoy 15% off select 2024 journeys. Explore Europe, North America, and beyond in style with Insight Vacations.
29. Amtrak Vacations – On the right track for deals
For those who prefer the scenic route, Amtrak Vacations offers up to $500 off per couple on rail journeys across the United States. Book by December 1 and experience the beauty of America by train.
30. Epic savings with Intrepid Travel
Intrepid Travel invites you to embark on an epic adventure with Black Friday savings. Book by December 1 and enjoy up to 30% off on over 1,500 trips to destinations worldwide. From cultural discoveries to active adventures, there's something for every type of traveler.
31. Globus family of brands – Discover more, save more
The Globus Family of Brands invites you to discover more and save more. Book by December 5 to enjoy $200 off per person on select 2024 vacations. Whether you dream of exploring Europe, North America, or beyond, this deal opens the door to unforgettable experiences.
32. Eurail – Journey across Europe
For those with dreams of a European adventure, Eurail's Cyber Week sale is a ticket to savings. From November 22 to November 29, enjoy 10% off all Eurail Global Passes. Plan your rail journey across Europe and create memories that will last a lifetime.
33. National Geographic Journeys with G Adventures – Explore with purpose
Explore the world with purpose through National Geographic Journeys with G Adventures. Book by November 28 and save up to 20% on select 2024 trips. Delve into the wonders of the world with these expertly curated journeys.
34. CIE tours – Irish adventures await
For those drawn to the Emerald Isle, CIE Tours offers savings on Irish adventures. Book by November 28 and enjoy 15% off escorted tours to Ireland in 2024. Experience the magic of Ireland with CIE Tours.
35. Costsaver – More for less
Costsaver invites you to enjoy more for less. Book by December 5 and save 15% on select 2024 trips. Whether you dream of exploring Europe or embarking on an adventure in Asia, Costsaver makes it possible.
Black Friday travel deals – Tips and tricks
Set alerts: Keep a close eye on your favorite travel providers and set up deal alerts to be notified as soon as the offers go live.
Flexible dates: If your travel dates are flexible, you'll likely find incredible deals. Be open to adjusting your plans to score the best savings.
Compare prices: Don't settle for the first deal you find. Compare prices across different platforms and providers to ensure you're getting the most value for your money.
Bundle and save: Consider bundling your flights, accommodations, and activities to maximize your savings. Many travel providers offer discounts for package deals.
Join loyalty programs: Sign up for loyalty programs with your favorite airlines, hotels, and travel agencies. Loyalty members often get exclusive access to special deals and discounts.
Follow on social media: Stay connected with your preferred travel brands on social media. Many companies release exclusive Black Friday and Cyber Monday deals to their followers.
Be quick: The best travel deals often have limited availability. Once you find an offer that suits your needs, act quickly to secure your booking.
Read the fine print: Carefully read the terms and conditions before booking. Pay attention to cancellation policies, blackout dates, and other applicable restrictions.
Consider travel insurance: Given the uncertainties of travel, especially in the current global climate, consider purchasing travel insurance to protect.
Bottom line
As we embark on the season of giving thanks, it's clear that the travel industry is also in a giving mood. With an abundance of Black Friday and Cyber Monday deals, the opportunity to turn daydreams into itineraries has never been more enticing. From the high seas with Celebrity Cruises to the picturesque landscapes of Scotland and Northern Ireland, and the cosmopolitan charm of Rosewood Hotels & Resorts to the adventurous escapades with Seabourn, the options are as diverse as the wanderlust in our hearts.
These deals not only cater to jet-setters but also extend a welcoming hand to those seeking a cozy retreat or an adrenaline-filled adventure. Whether you're a beach bum, a history buff, or someone just looking to unwind in a luxury hotel, this year's travel deals have something for everyone. So, dust off your suitcase, check your passport, and get ready to seize the incredible offers presented by travel brands eager to make your dreams come true.
Remember, the joy of travel doesn't just lie in the destination; it's also in the journey of securing the best deals. As the holiday season unfolds, let these travel bargains be the gift that keeps giving, allowing you to create memories that last a lifetime. So, whether you're venturing into the unknown, reclining on a cruise ship deck, or sipping cocktails by the poolside bar, these Black Friday and Cyber Monday travel deals are your ticket to making 2024 a year filled with unforgettable adventures. Happy travels!