Survey Reveals People Are Not All Doom and Gloom About Recession
Written by:
Meredith Lepore
4 min

read
1274 Views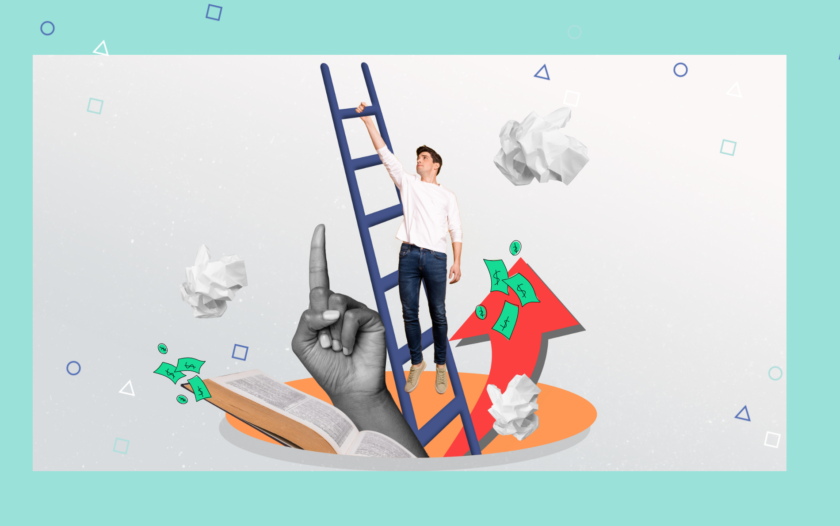 At a Glance
Survey reveals people are worried about jobs in recession, but they are taking actions.
Though the latest GDP report presents a stronger-than-expected fourth quarter, economists are still expecting a recession. But if you think people are curled up in fetal positions waiting for a tragic recession, you would be wrong. Though they are worried about their jobs, according to our latest survey, they are also taking steps to make themselves recession-proof.
Credello conducted an online survey in collaboration with Pollfish of 1,000 people ages 18-plus through 54-plus and found that though nearly 60% of people are worried that the recession will put a strain on their everyday life, they aren't letting it stop them from living. Job security, financial wellness, and mental health are concerns but they are taking steps to protect themselves by cutting back on daily spending and buying alternative brands. Close to 35% also plan to take advantage of the lower interest rates and prices that often accompany a recession.
Here are some key takeaways from Credello's 2023 survey on recession fears:
To combat the recession, people are tightening their budgets by reducing daily spending (53%) and looking for cheaper alternatives when buying things (41%).
Almost 69% of respondents will cut back on food expenses such as dining out.
Of those who are employed, 27% are worried about losing their job.
While 51% of employed/self-employed people are extremely or moderately concerned about their careers, 41% are picking up new income streams, and 36% are upskilling themselves.
43% were extremely concerned about their financial wellness, and 32% were extremely concerned about the impact of the recession on their mental health.
They are looking to take advantage of opportunities during the recession. When it comes to their investment portfolio 45% of men said they want to invest in undervalued stocks.
Check out our infographic below on the survey data: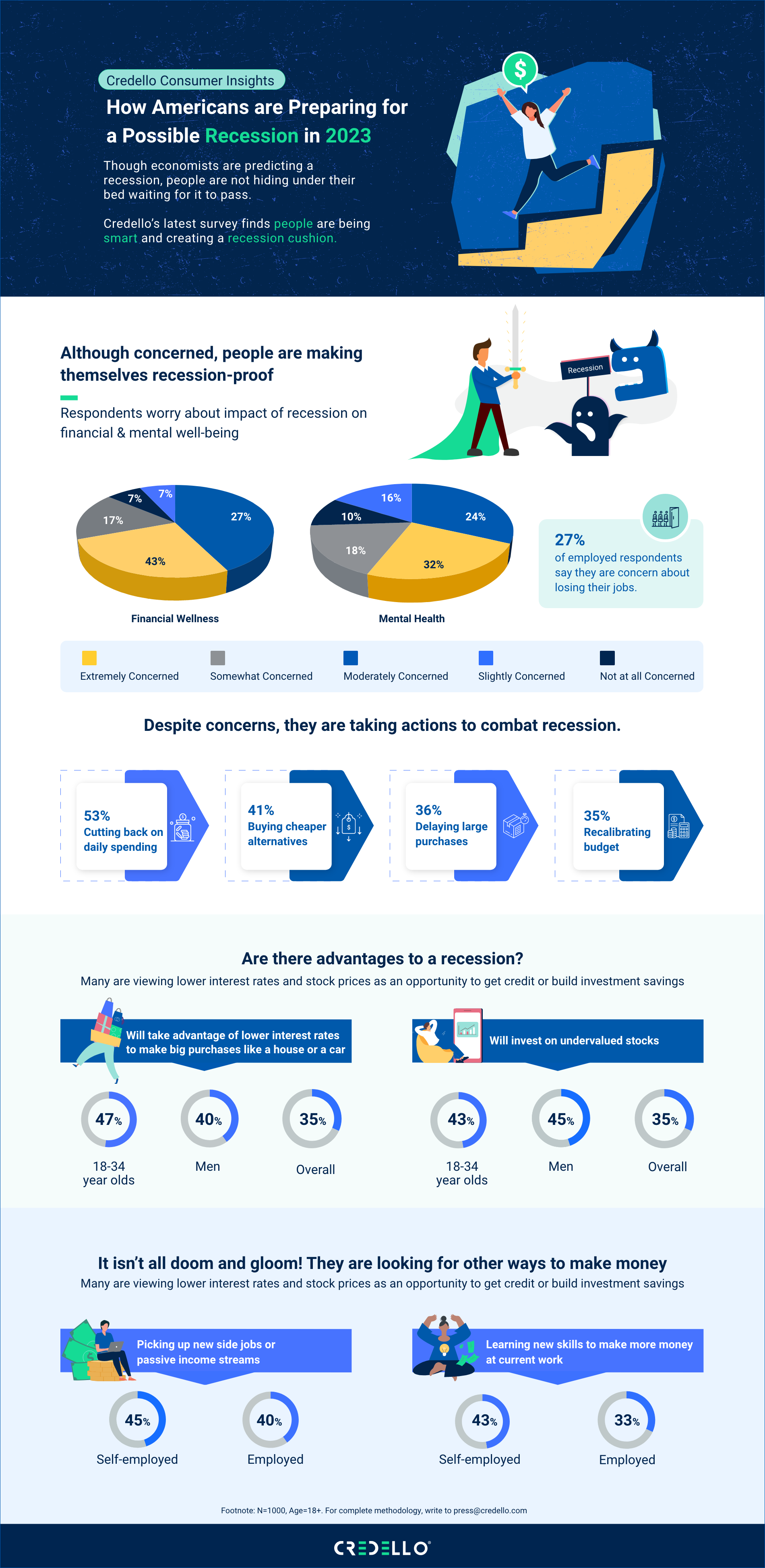 People aren't going to take the recession sitting down
There is clearly concern about layoffs, especially when giants like Microsoft, IBM and Hasbro have already made major cuts. The unemployment rate rising is one of the clear signals of a recession as high inflation hurts consumer and business spending and companies respond with layoffs. However, the pandemic may have prepared people better for a recession. They are equipping themselves with other ways to make money besides their 9 to 5. In addition to just cutting back on daily spending—nearly 53% said they planned to do this—of the employed people that were surveyed almost 33% are learning new skills for a side hustle and 40% are picking up passive income streams. They are being optimistic, and intelligent and creating a recession cushion.
Taking advantage of the recession
Though one school of thought during a recession is to wait for more economic stability before making large purchases or experimenting with one's investment portfolio, not everyone feels that way. Over 40% of the male respondents said they plan to take advantage of the potential decrease in interest rates and prices, and 45% said they would invest in new stocks (as opposed to 26% of women.) Denise Chisholm, Fidelity Investments' director of quantitative market strategy, said in a recent interview that based on the historical performance of stocks around recessions 75% of the gains in the market happen before the recession is over. She believes there are opportunities for stock investors around a recession, especially with mid-cap stocks, material stocks, financial stocks, and cyclical consumer stocks.
Smaller changes instead of bigger ones
When asked if the recession would make them delay more significant purchases, only 36% said they would do this. Most people are trying to take small steps that will add up eventually, like the nearly 53% that said they will cut back on daily spending and 41% said they would choose cheaper alternatives when buying things. Food expenses will take the biggest hit, with almost 69% of respondents reporting that they will cut back on dining out and buying premium food ingredients. So long Whole Foods and Seamless!
People are also cutting back on entertainment events (well, they couldn't go to Taylor Swift even if they wanted to.) Over half of the respondents said that entertainment is the first area they will cut back on, and then come subscriptions with 48% of people slashing expenses in that category. No Netflix? Hulu? Guess reading is about to make a comeback.
Bottom line
Recession-proofing yourself is what most respondents in Credello's survey reported doing: Cutting back on spending and trying to earn more. And if you don't have an emergency fund, now is the time to grow it. Also, if you have any debt, now is the time to tackle it. It may feel impossible, but you have so many options to help you with this feat. including debt consolidation.
This survey was conducted online in partnership with a third-party platform, Pollfish. The total sample size was 1000 adults in the United States aged 18+. The results have been weighted to balance responses to census statistics on the dimensions of age and gender. For complete survey methodology, please contact  support@credello.