TD Cash Credit Card Review

Credit CardsBalance Transfer ReviewsTD Cash Credit Card Review
TD Cash Credit Card Review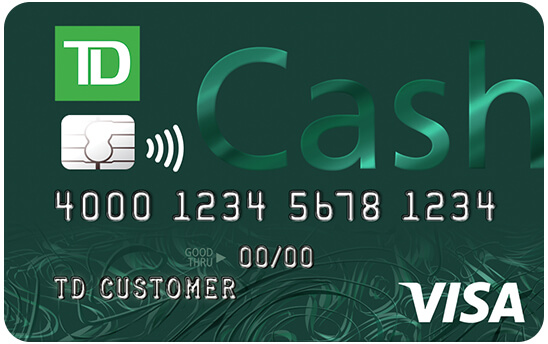 The basics
Balance transfer details
Intro Period
15 billing cycles
Fee
3% or $5, whichever is greater
Regular APR
12.99%, 17.99%, 22.99% var
Credit Score Required
Excellent
Good for:
Foodies looking for cash back rewards
Our verdict
If your primary use of your credit card is buying food—whether that be at a restaurant or a grocery store—the TD Cash Credit Card may be a good fit for you, your belly, and your wallet. The card offers 3% cash back on dining and 2% cash back on groceries. The downside is the 0% introductory APR is on the shorter side at 15 months.
Apply Now
Beyond the basics
Signup bonus
No annual fee
Bonus rewards points in certain categories
Purchase APR
0% for 15 billing cycles
Foreign Transaction Fees
0%
J.D Power Customer satisfaction Index 2019: 786/1000
Full review
Lender description TD Bank is among the largest banks in the nation and has a wide array of financial offerings for retail, small business, and commercial banking.
Best used for
Debt consolidation
Home improvement
Wedding
Moving and relocation
Vacation
Pros & Cons
3% cash back on dining and 2% cash back on groceries

No annual fee

0% introductory APR for first 15 billing cycles on purchases and balance transfers
Balance transfer fee of $5 or 3% of the amount transferred, whichever is greater

0% introductory APR offer on shorter side
Most suitable for
Consumers looking for food-related benefits
Consumers looking to pay down high-interest credit card debt
Consumers looking for an everyday card after initial balance transfer
Card Reward Details With the TD Cash Credit Card, users can earn $150 cash back when they spend $500 within 90 days of opening their account. This card offers 3% cash back on dining, 2% cash back on groceries, and 1% cash back on all other purchases.
How to apply Apply online by providing basic personal information. If you're already a TD Bank customer, you can log in with your existing credentials.
COVID-19 resources TD Bank is offering financial relief for those affected by COVID-19 through its TD Cares program.
Available The TD Cash Credit Card is available nationwide.
Balance transfer example If you have a balance of $6,200 with an APR of 18% and pay $426 toward the balance each month, you would pay off your debt in 17 months with a total interest of $788.01. If you transferred that balance and still paid $426 each month, you'd pay off your debt before the end of the introductory offer and avoid paying interest. But there would be a balance transfer fee of $186.