Wells Fargo Platinum Card Review

Credit CardsBalance Transfer ReviewsWells Fargo Platinum Card Review
Wells Fargo Platinum Card Review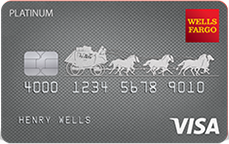 The basics
Balance transfer details
Fee
3% or $5, whichever is greater
Regular APR
16.49% – 24.99% var
Credit Score Required
Good
Good for:
Repaying high-interest and short-term debt
Our verdict
The Wells Fargo Platinum Card is a solid offering for those looking to pay down debt with the lengthy 18-month 0% introductory APR offer. But with no rewards program or signup bonus, and a regular APR starting on the higher side at 16.49%, this isn't a great everyday card after you've paid off the amount you transferred.
Apply Now
Beyond the basics
No annual fee
0% introductory APR for 18 months
Overdraft protection
Cell phone protection
Purchase APR
0% for 18 months
Cash Advance APR
23.99% to 25.99% var
Foreign Transaction Fees
3%
J.D Power Customer satisfaction Index 2019: 827/1000
Full review
Lender description Wells Fargo is a diversified, community-based financial institution with a focus on helping to strengthen communities with its work in diversity and inclusion, economic empowerment, and environmental sustainability.
Best used for
Debt consolidation
Home improvement
Wedding
Moving and relocation
Vacation
Pros & Cons
No annual fee

0% introductory APR for 18 months on purchases and balance transfers

Cell phone coverage for damage or theft up to $600 with a $25 deductible
No rewards program or signup bonus

Introductory balance transfer fee of $5 or 3% of the amount transferred, whichever is greater; 5% for each balance transfer after

High regular APR (16.49%-24.49%) after intro period ends
Most suitable for
Existing Wells Fargo customers
Consumers looking to pay down high-interest credit card debt
Card Reward Details The Wells Fargo Platinum Card has a lengthy 0% introductory APR period on both balance transfers and new purchases, which makes the card ideal for paying down or eliminating debt. Customers can get overdraft protection when they link their Wells Fargo Platinum Card to their Wells Fargo checking account.
How to apply Apply online by providing basic information about you and your finances. You'll need to be a U.S. citizen or permanent resident. Consumers who opened another Wells Fargo credit card within 15 months of when they apply for the Wells Fargo Platinum Card may not be eligible for the introductory APR offer.
COVID-19 resources Wells Fargo has COVID-19 resources for all of its offerings, including credit cards and personal lines of credit. Consumers can submit an online payment assistance request form if they're struggling to make payments because of COVID-19.
Available The Wells Fargo Platinum Card is available nationwide.
Balance transfer example If you have a balance of $6,200 with an APR of 21% and pay $355 toward the balance each month, you would pay off your debt in 21 months with a total interest of $1,186.44. If you transferred that balance and still paid $355 each month, you'd pay off your debt before the end of the introductory offer and avoid paying interest. But there would be a balance transfer fee of $186.